It is well understood that history repeats itself, and has been doing so on what seems to be an ever more frequent basis. It is also well understood that markets and economies run in cycles, despite the Fed's best efforts to dictate otherwise. In light of both, I envision a scenario unfolding in the year ahead that has some stark similarities to what transpired in the early 2000s. I think it presents investment opportunities for investors who have been gradually reducing exposure to U.S. equities, or who have simply eliminated exposure all together, because they see, as I do, a gradually deteriorating fundamental backdrop in the U.S. coupled with reckless, uncharted and manipulative monetary policy.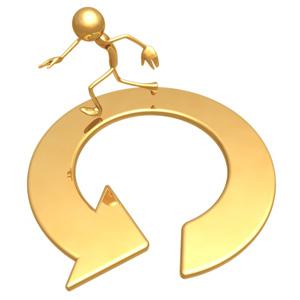 Following the recession in 2001, corporations significantly cut back on capital expenditures, leading to declines in manufacturing output. The decline in real private domestic investment was due primarily to a fall in the purchases of plant and equipment and the building of inventories. The Federal Reserve had lowered short-term interest rates to 1% by the summer of 2003 in hopes of boosting the economy, and Chairman Greenspan was open about the threat of deflation. Prices were rising at an annual rate just above 1%. Greenspan was hoping to boost the business fixed-investment component of U.S. gross domestic product, which had been the source of economic weakness in the U.S. up to that point. Global short-term interest rates followed U.S. rates lower, bottoming in the months that followed.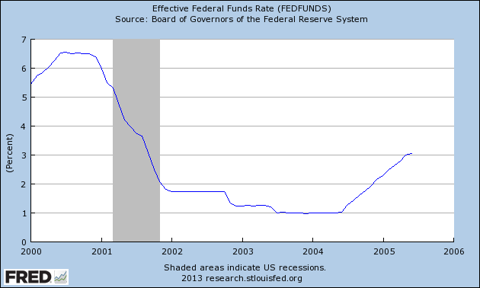 Click to enlarge
Chairman Greenspan's deflation fears could not have been more inappropriately timed, as a commodity price boom was in the early innings, driven by accelerating rates of economic growth in emerging economies, led by China. The global monetary easing that had been applied, which works with a lag, ignited a recovery in the global economy and a bull market in equity markets, led by emerging markets. As can be seen in the chart below, the MSCI Emerging Markets Index bottomed well in advance of the low that was reached in October 2002 for the S&P 500 (NYSEARCA:SPY).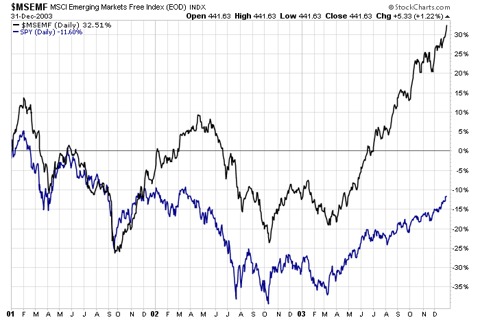 Click to enlarge
The emerging markets significantly outperformed the developed markets during the cyclical bull rally from 2003-2007, with the emerging market index shadowing the upward trajectory of the Goldman Sachs Commodity Index, as can be seen below.
Click to enlarge
Today we are again faced with sluggish economic growth in the developed world, and today's is far worse than what we experienced in 2003. The monetary policy response in the developed world has been far more aggressive as a result. Foreign central banks in developed and developing countries have cut short-term interest rates in rapid succession in an unprecedented global easing cycle. Global short-term interest rates, now approaching 1.5%, have fallen below the trough that was reached in early 2010 following the financial crisis. We are also hearing concerns expressed by Chairman Bernanke that the rate of inflation is too low, as we did from Chairman Greenspan in 2003.
The similarities between these two time periods a decade apart may end here, but I think that there are investment implications that can be drawn from these similarities, relating to the global economic cycle and emerging market equity performance. When the current bull market in U.S. equities began in March 2009, the MSCI Emerging Markets Index, also represented by the Vanguard Emerging Markets ETF (NYSEARCA:VWO), had bottomed in November 2008, well in advance of the S&P 500, as it did in the prior bull market cycle. The emerging markets consistently led the developed markets in both the corrections and recoveries that followed in 2010 and 2011, as can be seen below.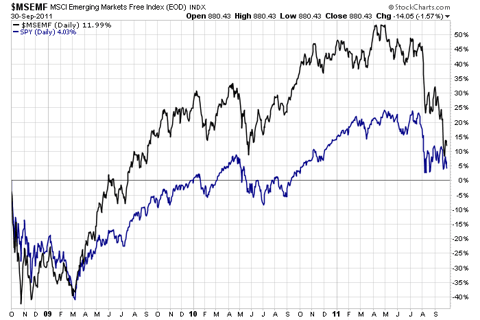 Click to enlarge
In October 2011, this pattern ended abruptly. The emerging markets went into a slump that has extended to present day, while the S&P 500 continued to forge higher, surmounting all-time highs. It is no coincidence that we began to see U.S. and global rates of economic growth slow coincident with this decoupling. The emerging markets, stifled by what were increasing rates of inflation, have been reflecting global economic fundamentals, whereas the U.S. equity market, juiced with monetary steroids, has embarked on an uninterrupted path higher. Did globalization come to a fortuitous end for the U.S. economy? I think not. The global economy is arguably more interconnected today than it ever has been. As a result, I believe an inevitable realignment lies ahead that will close the staggering gap in performance between these equity markets that can be seen below, favoring the emerging markets.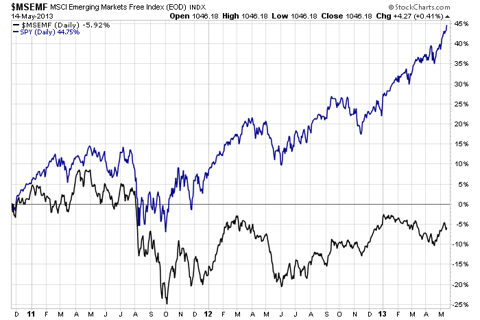 Click to enlarge
The peak in commodity prices that occurred in spring 2011, was an early indication that global growth was beginning to slow, and the Goldman Sachs Commodity index has followed a pattern quite similar to that of the MSCI emerging markets index ever since. While these visual aids represent percentage returns, the movement in the actual indices is quite similar, revealing a pattern of higher bottoms and lower tops over the past three years that resemble a triangle. Triangles are significant from a technical standpoint, because they typically resolve themselves with powerful moves in either a bullish or bearish direction.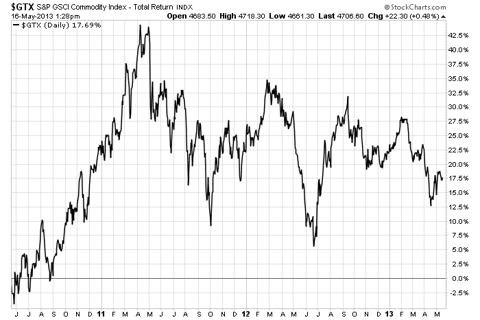 Click to enlarge
As commodity prices have declined, along with rates of economic growth, so has the rate of inflation. We have seen the prices of everything from oil to copper to pork weaken. The global CPI has declined from what was almost 4% at its peak in 2011 to approximately 2% today. This is a tremendous positive for future rates of economic growth in emerging economies, unencumbered by the debt that is suffocating the developed world, and allowing central banks in these countries to further ease monetary policy.
The aggressive fiscal and monetary stimulus being implemented in Japan is accelerating this process. As the Japanese yen has depreciated rapidly in recent months, it is pressuring other central banks to lower short-term interest rates in order to thwart the currency appreciation that hurts the competitiveness of their own exports. The Bank of Korea recently lowered its benchmark rate to 2.5%, following unexpected rate cuts in Poland, Sri Lanka, Vietnam and Australia. With the yuan having appreciated 35% relative to the yen in the past six months, making Chinese companies far less competitive compared with their Japanese counterparts, I expect China will also take steps to protect its export business.
The bottom line is that the tsunami of fiscal and monetary policy initiatives to date in the developing and developed worlds will lead to an increase in global economic growth that will be the most pronounced in the emerging economies. It may be non-existent for some time in the developed world. I also think it will either be led by, or coincident with, a rise in commodity prices. As a result, I see the triangles I referenced earlier resolving themselves to the upside.
Some strategists have suggested that the commodity price super-cycle is over, which is a convenient narrative for developed economies that are struggling to grow. Yet it fails to acknowledge a far more powerful demographic trend in the developing world. In its Global Employment Trends 2013 report, the International Labor Office projected that the middle class in emerging economies will grow by nearly 400 million between now and 2017. This is after growth in numbers of the same magnitude over the past decade. Meanwhile, the middle class in the U..S is shrinking by the day.
This narrative also fails to acknowledge what drives commodity prices over the short- to intermediate-term. Commodity prices reflect not only current supply and demand conditions, in essence reality, but also Wall Street's expectations of these conditions in the future. These expectations are reflected in futures markets. As commodities have emerged as an asset class over the past 15 years through the financial engineering of investment products, there have been periods of time when the futures markets had more influence over prices than real world supply and demand. Do not forget the historic melt-up in crude oil prices that occurred in summer 2008, during a global economic contraction. History will repeat itself.
The commodity complex is akin to dry timber at this stage of the global easing cycle, with more than 500 fiscal and monetary policy initiatives across developed and developing worlds over the past several years, intended to stimulate growth, serving as the gasoline. What will light the match? I suspect it will be an uptick in economic growth within emerging economies. If the speculative forces on Wall Street embrace the emerging market investment theme, and the hedge fund subsidiaries of the major global banks redirect their speculative investment flows into the commodity complex to play the resurgence in emerging economy growth, the same positive feedback loop that occurred between emerging markets and commodities in the mid 2000s is likely to repeat.
I expect this course of events to transpire in the second half of this year. For investors who have gradually been reducing exposure to U.S. equities, or who have simply eliminated exposure all together, such a scenario presents new investment opportunities from a macro-perspective. Emerging market equity valuations are now at a discount to the S&P 500 index that we haven't seen since the financial crisis. This mitigates the downside risk should there be a significant correction in U.S. equities. Rather than chase a bull market rally in the U.S. indices that is very long in the tooth, I think it makes more sense to be planting the seeds that will grow at the early stages of the next bull market cycle in emerging markets. The opportunity to plant those seeds will likely come over the summer months as we combat the seasonal headwinds for equities.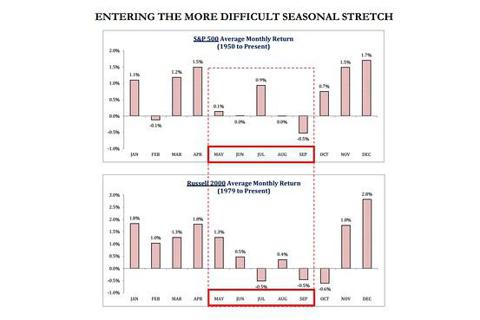 Click to enlarge Source: Strategas Research Partners
Should rates of economic growth in the developing world accelerate, as I have suggested, it will also present investment opportunities in the cyclical sectors of the U.S. market that have significantly lagged in performance behind the defensive ones. The energy, industrial and material sectors would be the primary beneficiaries.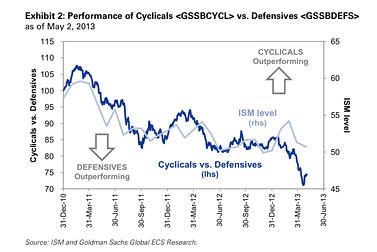 Investing during the latter stages of a bull market cycle requires far more precision than investing at the beginning of a new one. Therefore, buying individual companies in the U.S. with sound fundamentals at trough valuations makes a lot more sense to me than investing in broader-based sectors. To the contrary, when investing at the early stages of a new bull market, precision is less paramount than simply having exposure. In that regard, I think it makes more sense to pursue broad country or regional exposure when investing in emerging markets.
Disclosure: I have no positions in any stocks mentioned, and no plans to initiate any positions within the next 72 hours. I wrote this article myself, and it expresses my own opinions. I am not receiving compensation for it (other than from Seeking Alpha). I have no business relationship with any company whose stock is mentioned in this article.
Additional disclosure: Lawrence Fuller is the Managing Director of Fuller Asset Management, a Registered Investment Adviser. This post is for informational purposes only. There are risks involved with investing including loss of principal. Clients of Fuller Asset Management may hold positions in the securities mentioned in this article. Lawrence Fuller makes no explicit or implicit guarantee with respect to performance or the outcome of any investment or projections made by him or Fuller Asset Management. There is no guarantee that the goals of the strategies discussed by will be met. Information or opinions expressed may change without notice, and should not be considered recommendations to buy or sell any particular security.