I've written extensively about the refining and chemical businesses of Phillips 66 (NYSE:PSX). For a sample of these articles you can read Why Buffet Should Buy Phillips 66 and Advantage: Chevron Phillips Chemical Company. But today I am going to focus on PSX's third and smallest business segment: Midstream. The big news in 2013 for this business unit is the upcoming IPO of Phillips 66 Partners (NYSE:PSXP), which is planned for the second half of the year. PSXP will be an MLP in which PSX will be the general partner. Forming this MLP benefits existing PSX shareholders in a number of ways, which were discussed in this article.
However, there is much more to Phillips 66's Midstream business than the upcoming MLP. Phillips 66 owns or leases assets that provide strategic and timely delivery of crude and the products that it makes. The company has over 18,000 miles of pipelines, 55 terminals, and 45 million barrels of storage throughout the system. It is a very large scale and sophisticated system.
In Q1 2013, PSX reorganized its Midstream business into three segments:
DCP Midstream
NGL Operations
Transportation
The transportation business includes pipelines, terminals, railcars, and trucks that were previously embedded as a part of the R&M segment.
PSX's Midstream business is conducted primarily through DCP Midstream, LLC, a 50-50 joint venture with Spectra Energy (NYSE:SE). The structure of the joint venture is shown below.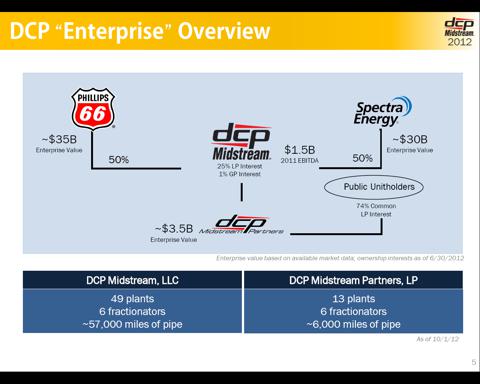 DCP Midstream is one of the largest natural gas gatherers and processors in the US. It is the No.1 producer of natural gas liquids ("NGLs") - accounting for roughly 17% of total U.S. NGL production.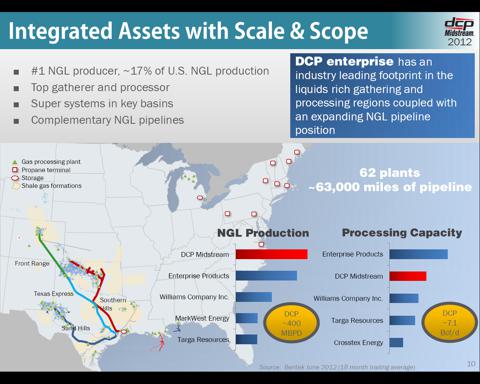 From a macro perspective, drilling technology has reduced costs and enabled a rapid increase of the supplies of crude, natural gas and NGLs. This increased production is creating big demand for infrastructure. DCP Midstream's assets are extremely well positioned to capture this demand as they sit at the heart of key shale plays like the Permian, Eagle Ford, Niobrara and Woodford.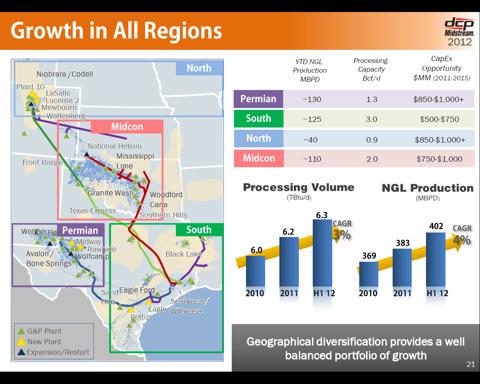 As the following chart shows, DCP Midstream has been investing in order to capitalize on this tremendous growth opportunity. By 2015, the company has plans for:
A 50% growth in asset value ($15 billion+)
8 new plants
A 25%+ growth in NGL production
A 70% growth in NGL pipeline miles (~3,000 miles)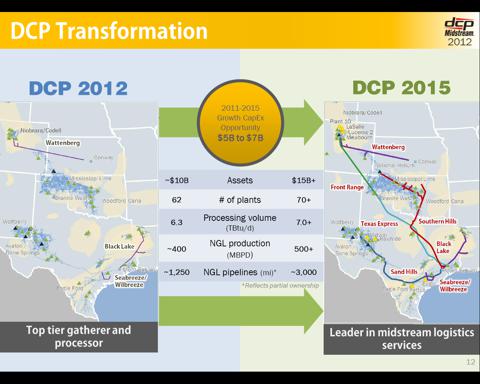 At the heart of this growth strategy will be two large pipeline projects: The Sand Hills and Southern Hills pipelines. Both will deliver NGLs to the growing Gulf Coast markets and both are expected to be fully in service by mid-2013, according to PSX CEO Greg C. Garland during the Q1 2013 conference call. The Sand Hills pipeline is particularly critical. It is a 720 mile pipeline that will transport up to 350,000 barrels/day of NGLs from both the Permian and Eagle Ford basins to market centers along the Gulf Coast.
Directly Held Assets
In addition to DCP Midstream, Phillips 66 directly owns and operates several other midstream assets:
Three natural gas liquids (NGL)

fractionators

and gathering systems at important NGL hubs in the United States.
22.5% of the Gulf Coast Fractionator in Mont Belvieu, Texas.
A Gulf Coast Fractionator
12.5% of the Enterprise Mont Belvieu Fractionator
40% of the Conway Fractionator located at the Conway hub in Kansas.
PSX also owns ~240 miles of Y-grade gathering systems in the Texas Panhandle. These systems gather both Y-1 and Y-2 NGL streams for supply to the company's facilities at its joint venture, Borger Refinery, and the fractionation facilities in Mont Belvieu and Conway.
In addition, Phillips 66 owns a 25% interest in the Rockies Express (REX) natural gas pipeline. REX runs 1,679 miles from Meeker, Colo., to Clarington, Ohio. REX is operated by Kinder Morgan Energy Partners (NYSE:KMP), which owns 50%. The remaining 25% of REX is owned by Sempra Energy (NYSE:SRE).
Summary & Conclusions
Phillips 66 is evolving into an energy manufacturing and logistics company and helping to shape the changing landscape of American energy. Its Midstream operation is an important part of the fabric of America's energy infrastructure and is poised for tremendous growth. The structure of DCP Midstream has the potential to more than triple distributions to PSX by 2015 (see below). This means more tax-advantaged earnings and the potential for higher dividends for PSX shareholders.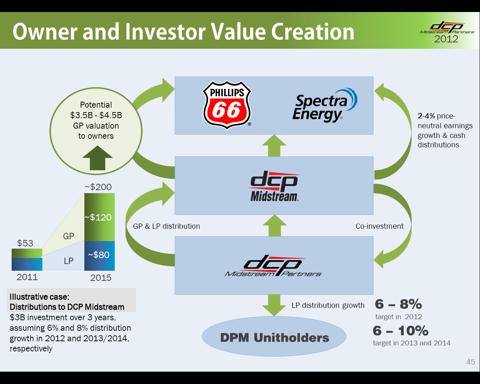 PSX also has several independently owned Midstream assets that could be monetized or formed into additional MLPs.
PSX has recouped half of the ground it lost during the recent sell-off in the refining sector. It currently has a P/E of 8.4 and a yield of 2% (the stock went ex-dividend today, May 16). The main storyline of advantaged crude and natural gas feedstock is a fundamental long-term story. In addition, PSX coastal refiners will allow the company to grow refined product exports. Shorter term, the Sand Hills and Southern Hills pipelines will be coming fully online soon and are near-term earnings catalysts. PSX is undervalued. It is a BUY.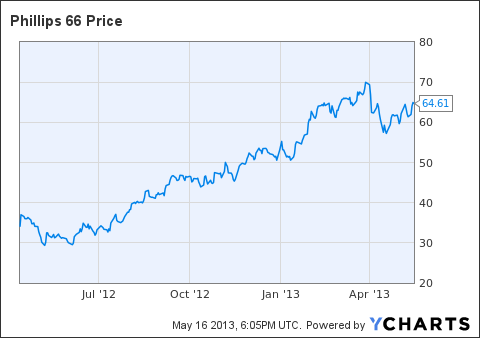 PSX data by YCharts
However, if you like the midstream story but don't necessarily want to be exposed to refining and chemical operations, another option would be to invest directly in DCP Midstream Partners (NYSE:DPM). It is an MLP, so you would have to be prepared to deal with K-1 forms at tax time. It currently yields 5.5% and has a rather rich P/E = 20.8. One look at the valuation of DPM makes me even more confident that PSX is undervalued.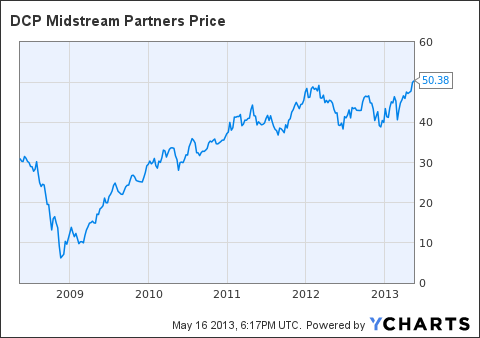 DPM data by YCharts
Disclosure: I am long PSX. I wrote this article myself, and it expresses my own opinions. I am not receiving compensation for it (other than from Seeking Alpha). I have no business relationship with any company whose stock is mentioned in this article.
Disclaimer: I am an engineer, not a CFA. The information and data presented in this article was obtained from company documents and/or sources believed to be reliable, but has not been independently verified. Therefore, the author cannot guarantee its accuracy. Please do your own research and contact a qualified investment advisor. I am not responsible for investment decisions you make. Thanks for reading and good luck!