Citigroup (NYSE:C) is making great progress to rise from the 2009 financial meltdown ashes as it continues to shed its bad assets to focus on its main businesses, including international commercial and investment banking. Citigroup has the assets it wants to keep in "Citicorp" while "Citi Holdings" holds the assets Citi wants to sell.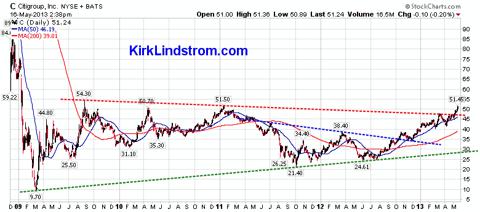 I added Citigroup (More Citi Charts) to my "Explore Portfolio" in September 1998 at $187.50 split adjusted because it was cheap and it provided diversification for my original "Explore Portfolio" that was 60% in technology stocks. In 2000, I sold enough Citi to get all my original investment out and then some. I was happily on "house money plus." Since 2000, I have used the remaining shares to trade its long-term volatility while collecting a dividend. For example, in 2002 I added 100 shares at $355 then sold those shares in 2003 at $440.
This chart from Marketwatch.com shows Citigroup's raw price (not adjusted for dividends) back to 2000.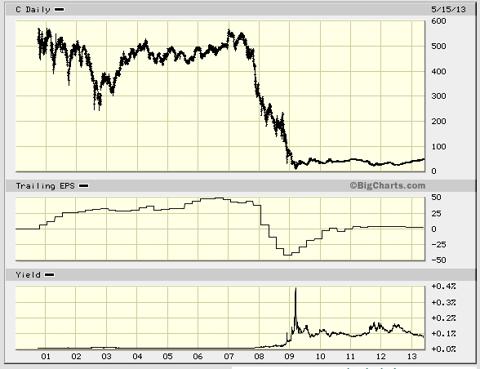 This chart from Stockcharts.com shows Citigroup adjusted for dividends.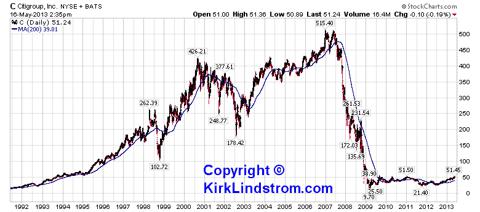 Unfortunately, selling enough Citigroup when it was high in 2000 did not spare me the pain of holding some shares that crashed in 2009. But, with a buy in late 2008, two more buys in 2009 and one in 2011, I put "profit taking dollars" back into Citi with the hope it could repeat its rise from the ashes much as it did after the housing market collapse in the early 1990s.
Citigroup Progress Report:
On April 15, Citigroup reported great earnings:

The market loved the earnings results and the stock surged above my dashed red resistance line on my chart at the top of the page and shown below in more detail.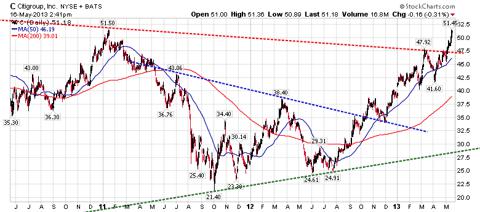 Notice how bullish it is for Citigroup's price to break above my "inverted head-and-shoulder" resistance-turned-support dashed-blue line, then test that breakout from above before surging higher.
Notes:
The pattern is not in play until the neckline is broken.
Once broken, the neckline resistance level becomes support
Without volume support, the breakout is suspect.
The price target for the pattern is found by measuring the distance from the neckline to the bottom of the head. This distance is then added to the neckline to reach a price target
The neckline can be flat or slope to the left or right. An upward slope is more bullish than a downward slope.
Valuation:
Citi passed the recent Fed "Stress Test" which included the bank's plans to return capital going forward. Citi Immediately announced it would use cash to retire debt in the form of "Trust Preferred Securities" with interest rates between 6.500% and 7.125% on April 16. This was a great use of cash, much better than paying a higher dividend, as it helps earnings shown in the table below with higher projections for earnings and earnings growth.
Citigroup @ $51.12
Annual Dividend = $0.04
Dividend Rate = 0.08%
The "Target Price" below is simply the earnings estimate multiplied by the growth rate which gives a "fair value PEG" of 1.0. (PEG is price to earnings ratio divided by growth rate.)

Analyst estimates above from http://finance.yahoo.com/q/ae?s=C+Analyst+Estimates
ETF Alternative:
If you worry about specific stock risk but want to participate in the recovery of the banking sector, then you can buy the exchange traded fund for the banking sector, XLF. Citigroup makes up 6% of XLF and it is the fourth largest holding.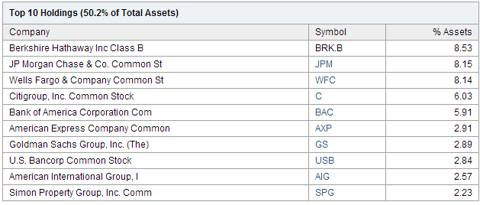 Summary: While we have made the "easy money" from buying Citigroup when most on TV and the press hated the stock, I believe it still offers good value going forward due to its low PE and PEG.
Disclosure: On 3/11/13, Citi hit my price target to sell 100 shares at $47.50 which put the explore portfolio back on "house money" when you include dividends. Congratulations to all who bought Citi with me when it was much cheaper during the financial crisis. I still hold shares of Citigroup in my newsletter's "Explore Portfolio" and I personally hold shares. If Citigroup corrects significantly from where I took profits, I will repurchase shares unless fundamentals and my outlook for the future of Citibank change.
Disclosure: I am long C, XLF. I wrote this article myself, and it expresses my own opinions. I am not receiving compensation for it (other than from Seeking Alpha). I have no business relationship with any company whose stock is mentioned in this article.