These four stocks show extreme price behavior, which based on standard deviation probabilities are exposed to substantial negative price movement risk. That does not mean their prices are not justified, or that they will definitely decline, but based on computer price screening, their price patterns are way out on the tails of the probability curve.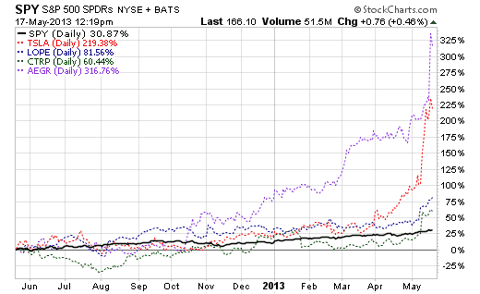 Our computer price screen looked through all stocks on NASDAQ, AMEX and NYSE, and only these four popped up.
To be selected the price had to be above its 3-month average, which had to be above its 6-month average, which had to be above its 1-year average, and the price had to be 3 standard deviations or more above each of the 1-year, 6-month and 3-month moving average prices, and the 3-month average per minute trading volume had to be $25,000 or more.

Note: The "Z Score" is simply the number of standard deviations. The column headings above the Z Scores are the number of moving average days against which the Z Scores were calculated.
At 3 standard deviations or more there is negligible statistical chance of the price being higher at that moment, and almost 100% chance of it being lower.
Clearly, there can be fundamental reasons for a price to simply leave its moving averages in the dust. But when that happens, the fundamentals should be evident - otherwise be mighty careful.
We have not done fundamental analysis of these companies, and are reporting them only because of their extreme price behavior.
Our advice is own them if you wish, and also have a very good reason other than price behavior;, but be prepared for negative outcomes if you own them and do not have a firm fundamental conviction - and maybe a negative in any event.
Here is how the ThomsonReuters StarMine service rates these stocks for year ahead performance on a 0-10 scale, and how Wright Investor Services rates them for liquidity, financial strength, profitability/stability and growth (see our blog for explanation of the rating scales).
As a generality, we would like to see a StarMine rating of 7 or more, and a Wright rating of BBB4 or better (as well as a favorable outcome from our own more comprehensive review of the company).
TSLA: 1.2, BDNN
LOPE: 7.8, BBA20
CTRP 6.0, NANN
AEGR 2.4, BBNN
Here is the "Street" view from Thomson/FirstCall

Short Business Descriptions From Wright:
Tesla Motors is an electric vehicle and components manufacturer. The company manufactures electric vehicles and electric vehicle powertrain components. It produces electric cars, from sports cars to mass-market vehicles. Tesla Motors is an automaker that builds and sells highway-capable electric vehicles in serial production. It also provides service and maintenance programs. The company also offers international financing options.
Grand Canyon Education provides online post-secondary education services focused on offering graduate and undergraduate degree programs in education, business and healthcare. The company offers online and campus-based Bachelor's and Master's degree programs through the Ken Blanchard College of Business, College of Education, College of Nursing and Health Sciences, and College of Humanities and Social Sciences and supports both traditional undergraduate students as well as the working professional. Campus students are offered dormitories, an array of social activities, an exercise and wellness facility, ten different NCAA sports, and opportunities to participate in community outreach programs.
Ctrip.com International is a travel service provider for hotel accommodations, airline tickets and packaged tours in China. Ctrip aggregates information on hotels and flights and enables its customers to make hotel and flight bookings. The company also sells packaged tours that include transportation and accommodations, as well as guided tours in some instances. It focuses its services primarily on business and leisure travelers in China who do not travel in groups. The company's subsidiaries include C-Travel International Limited, Ctrip.com (Hong Kong) Limited; Ctrip Computer Technology (Shanghai) Co., Ltd., Ctrip Travel Information Technology (Shanghai) Co., Ltd; Ctrip Travel Network Technology (Shanghai) Co., Ltd., and Ctrip Information Technology (Nantong) Co., Ltd. In February, 2012, Ctrip acquired the remaining 10% interests in Wing On Travel's travel service segment as operated through HKWOT (BVI) Limited.
Aegerion Pharmaceuticals is a biopharmaceutical company focused on the development and commercialization of therapeutics to treat lipid disorders. As of December 31, 2011, the company developed its first product candidate, lomitapide, as an oral, once-a-day treatment for patients with a inherited lipid disorder called homozygous familial hypercholesterolemia (HoFH). The company conducted a 78-week Phase III clinical trial of lomitapide in the treatment of adult patients with HoFH. The 56-week results of the trial were announced in May 2011. It completed the trial during the year ended December 31, 2011, and in January 2012, announced the 78-week results of the trial, which were consistent with the 56-week results. In 2011, the Food and Drug Administration (FDA) granted orphan drug designation for lomitapide in the treatment of HoFH.
Five Year Charts of Price, Earnings and Dividends From Wright: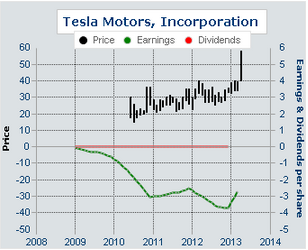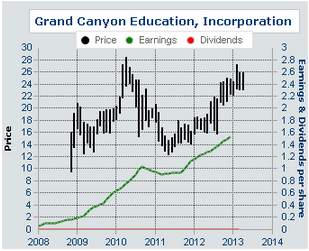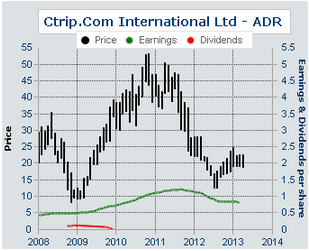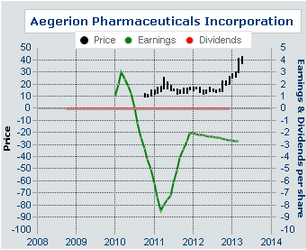 Disclosure: QVM has no positions in any mentioned stock as of the creation date of this article (May 17, 2013). We certify that except as cited herein, this is our work product. We received no compensation or other inducement from any party to produce this article, but are compensated retroactively by Seeking Alpha based on readership of this specific article.
General Disclaimer: This article provides opinions and information, but does not contain recommendations or personal investment advice to any specific person for any particular purpose. Do your own research or obtain suitable personal advice. You are responsible for your own investment decisions. This article is presented subject to our full disclaimer found on the QVM site available here.