The best cure for low natural gas prices is supposed to be low natural gas prices. I still think that is true, but I certainly had no idea that a cure could take this long.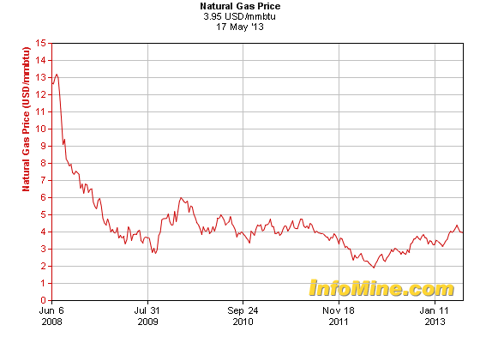 Natural gas prices started hitting the skids in 2008 when surging shale gas production in the United States met up with the global financial crisis. It was a perfect recipe for a commodity price collapse.
A collapse that we are still waiting for a recovery from.
Back in June of 2012 with natural gas prices under $3 per mcf, Exxon Mobil's (NYSE:XOM) CEO finally stopped sugarcoating the issue and said what everyone else already knew:
What I can tell you is the cost to supply is not $2.50. We are all losing our shirts today. You know, we're making no money. It's all in the red.
Since then natural gas prices, which had been extremely depressed in 2012 by a really warm winter, have rebounded considerably to the $4/mcf range. But what I really want to know, though, is where do we go from here?
Can producers make a profit at $4/mcf natural gas? Or do prices have to continue to rise for the economics to work?
Rather than try and speculate for myself, I thought I'd turn to the smart guys who manage natural gas focused Ultra Petroleum (UPL).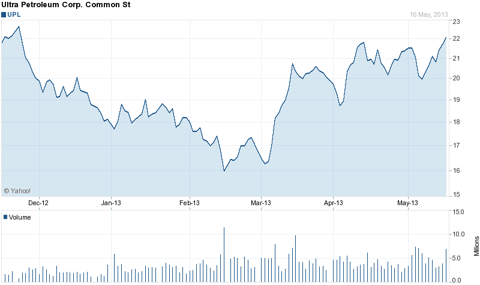 So what does the Ultra Petroleum management team think about natural gas prices in the near term? The recent first quarter conference call contained some useful comments from the Ultra guys:
So what's new? Well, we had winter. While it was late in arriving, the delayed cold winter weather that occurred in March prompted natural gas prices to recover from a low of $3 in early January to a high of well over $4 in April. Natural gas used for power generation in the first quarter was roughly 3.5 Bs (BCF) per day above the 5-year average. We withdrew about 2.3 Tcf from storage. And for first time in a number of years, the withdrawal season ending storage balance was below the 5-year average. And we believe the natural gas supply has peaked.

Incredibly, with the massive amounts of invested capital, Lower 48 natural gas production grew from 56 Bs a day in January of 2010 to almost 66 Bcf per day in November of 2012; it's peak. It has declined to approximately 64.5 Bcf per day currently and will continue to decline throughout this year and next. A recent survey over half of the top 20 largest North American natural gas producers set a first quarter 2013 sequential production decline with the remaining after report results.

So more broadly speaking, looking forward at today's natural gas futures curve, which remains insufficient to attract necessary capital to support a 60-plus Bcf per day of domestic natural gas supply, we see declining production this year and next when contrasted with significant demand increases in 2014 and 2015, due to growing Mexican exports, LNG exports, the natural gas power generation and industrial demand growth. The implied upward movement in natural gas prices translates to profitable growth, expanding margins and higher return for Ultra.
Those are some pretty bullish comments. Most interesting is the fact that Ultra doesn't think that even with the recent recovery in natural gas prices that the price is high enough to attract enough capital to drilling natural gas wells.
The time frame provided by Ultra is also interesting as the company sees the market being bullish through 2015 both from the supply and demand side.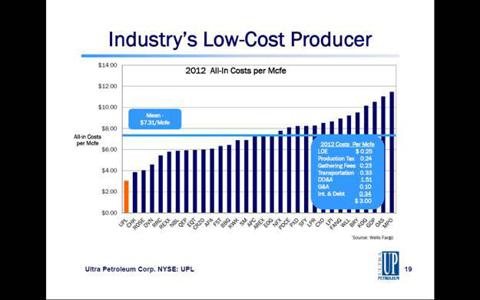 The best way to play this recovery may just be Ultra Petroleum stock itself. The company is pretty much the lowest cost producer of natural gas (see slide above) in the United States. That means that Ultra profits both from a recovery in natural gas prices and is better able than most to handle continued low prices.
The chart below shows that natural gas production in the United States has leveled off and may be starting to really roll over. That makes sense to me, as anyone who can drill an oil well instead of a gas well is doing so, and most of the drilling required to hold acreage is finished.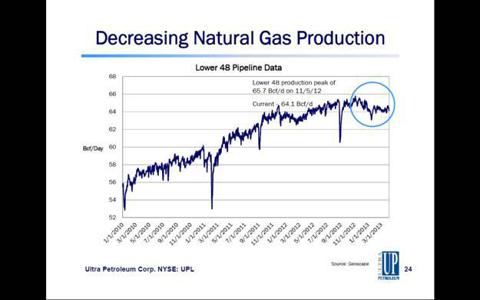 Calling a turn up in natural gas prices has cost a lot of people a lot of money over the past five years, but we may finally be at a point where the recent upturn is more than just a temporary blip.
Disclosure: I have no positions in any stocks mentioned, and no plans to initiate any positions within the next 72 hours. I wrote this article myself, and it expresses my own opinions. I am not receiving compensation for it (other than from Seeking Alpha). I have no business relationship with any company whose stock is mentioned in this article.