The energy sector has had a torrid couple of years compared with the broader equity market. Year to date this trend has shown no signs of stopping, with the gap converging further.
The table below plots the two-year performance of the SPDR S&P International Energy Sector (NYSEARCA:IPW) against the iShares MSCI All Country World Index (NASDAQ:ACWI).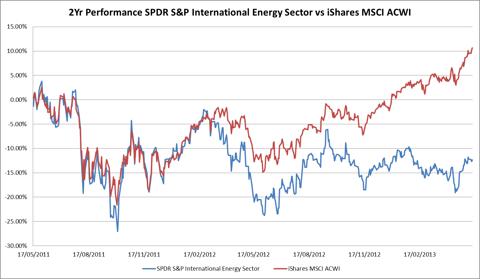 Click to enlarge
Source: Yahoo Finance
The recent disconnect may seem counter intuitive to many investors. The broader stock market, which appears on a strong bull run, could indicate an increased confidence in global growth and economic outlook. Typically this type of investment environment has been positive for energy stocks, which have acted as a leveraged play on global growth, yet we have not witnessed that.
So what is going on? Well I think there are issues both on the supply and demand side for oil and gas, which are the main components of the energy basket. Fracturing, or "fracking," particularly in the U.S. has increased the supply and expected future supply of oil and gas. This is evident in U.S. oil inventories, which hit 22-year highs in April 2013. This extra supply has driven down price and also made the U.S. less oil dependent. Imports are down nearly 22% from the highs achieved in the last decade, which again has put downward pressure on price. The extra supply has not been met with extra demand. Fears of a Chinese hard landing has slowed demand for the commodity and with many developed nations' growth all but stalled, the demand is not growing. These issues are indicated in the WTI Oil Forward Curve, which is actually in backwardization.
WTI Crude Oil Forward Curve
Source: RBS
With expectations of a falling oil price, share prices of all oil stocks have been hit and they have lagged. However, this has created a good buying opportunity, and I particularly like the oil services companies, whose revenues are not solely determined by the price of a barrel of oil and also should benefit from shifting trends in the oil market.
Halliburton (NYSE:HAL) is a fantastic oil and natural gas services company, which has been around since 1919. The company has grown over the years and now employs 72,000 people in over 80 countries. It has recently set up another corporate HQ in the Middle East to support its continued growth in the region.
Baker Hughes' Oil Rig Count is a useful barometer for oil service companies as it indicates rigs in use, which helps determine demand for services offered by Halliburton. The chart below shows the correlation between Halliburton's share price and the U.S. Rig count.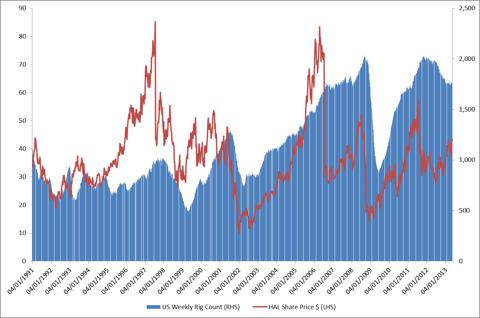 Click to enlarge
Source: Yahoo Finance, Baker Hughes
U.S. Rig count is some way off peak levels but there is a likelihood that the U.S. rig count will rise over the coming months, which may indicate a rise in Halliburton's share price. Rig count can be seasonal with the slushy conditions of March - May unsupportive for drilling, however as we approach the summer, and the ground begins to firm up rig count should increase. The discovery and accessibility of shale oil and gas should also help boost rig count as companies look to take advantage of discoveries.
As more and more of the easily accessible oil fields decline, E&P companies are forced to look further and deeper to access new wells. Offshore deep water drilling is highly technical and much more challenging, and after the BP oil spill, safety is paramount. As such oil companies are investing more in service companies like Halliburton, which can provide the expertise to efficiently and safely extract oil. This trend should see demand for Halliburton grow and with it revenues and profitability.
Supporting these tailwinds is very strong management that is aware of its shareholder obligations. Halliburton increased its quarterly dividend in February 2013 by 39%, and stated it would like future dividends to represent at least 15%-20% of net income. Halliburton had not raised dividends since May 2007, so I think this is a big signal to markets, and should also encourage equity income investors to look at the stock, something that could be supportive of price.
Halliburton has nearly doubled revenue between 2009-2012, and this has been consistent YoY growth. Operating income did fall between 2011 and 2012 however.
| | | | | |
| --- | --- | --- | --- | --- |
| | 2012 | 2011 | 2010 | 2009 |
| Revenue ($m) | 28,503 | 24,829 | 17,973 | 14,675 |
| Operating Income ($m) | 4,159 | 4,737 | 3,009 | 1,994 |
| Debt to Total Capitalization | 24% | 27% | 27% | 34% |
Source: Halliburton Financial Statements
There is a positive trend of Debt to Total Capitalization (Total debt/Total debt + shareholders' equity) declining. Dividends have been consistent over the four years however, as has previously been mentioned the company raised its Q1 2013 dividend and this should see a growing dividend this year and hopefully going forward, which could lead to a stock re-rating.
Summary
The energy sector has been beaten up over recent years with fears of slowing demand and excess supply. Halliburton is a company that does not rely solely on the underlying commodity price for revenue and is also fantastically positioned to benefit from the growing challenges oil extractors are facing.
Disclosure: I have no positions in any stocks mentioned, and no plans to initiate any positions within the next 72 hours. I wrote this article myself, and it expresses my own opinions. I am not receiving compensation for it (other than from Seeking Alpha). I have no business relationship with any company whose stock is mentioned in this article.