The share price of Verizon Communications (NYSE:VZ) has appreciated by 29% over the past six months. At $53.20, the stock is trading near its 52-week high and offers a 3.8% dividend yield. At the current price level, I believe investors should refrain from buying additional shares given the investment's unfavorable risk-reward profile. My view is supported by the following reasons:
1. Verizon appears to be pricey relative to AT&T (NYSE:T). According to the chart shown below, Verizon's consensus revenue, EBITDA, and EPS growth estimates are generally better than those of AT&T. On the profit side, most of Verizon's profitability margins are slightly better than AT&T's, but the company's capital returns, especially ROE, are considerably superior. In terms of leverage and liquidity, Verizon carries a relatively lower debt load, but the firm also has a lower free cash flow margin. Due to the stronger margin performance, Verizon is able to maintain a higher interest coverage ratio. Both companies' current and quick ratios are fairly in line.

Verizon's current price multiple at 18.3x is 25% above that of AT&T, which has just achieved its 12-month maximum level (see chart below). Even with Verizon's better growth potential and profitability, I believe the valuation premium is still somewhat stretched as the company's financial out-performance relative to AT&T is not that significant.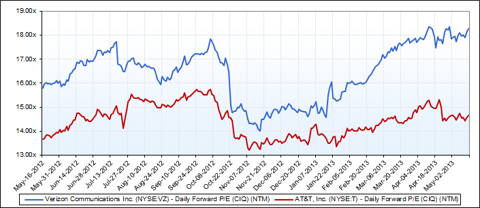 2. From a historical valuation standpoint, Verizon shares also seem expensive. The stock's trailing EBITDA multiple has just reached its five-year high (see chart below).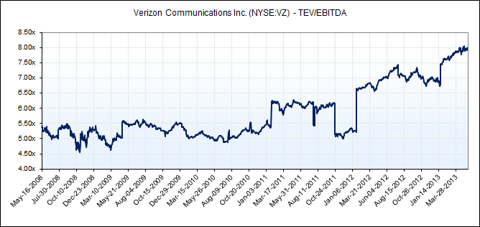 However, the company's profitability margins have been flat over the past five years and its capital returns have actually trended down slightly. Moreover, Verizon's consensus revenue and EBITDA growth estimates for the next five years are only showing a trend that is fairly in line with the past five-year average (see charts below).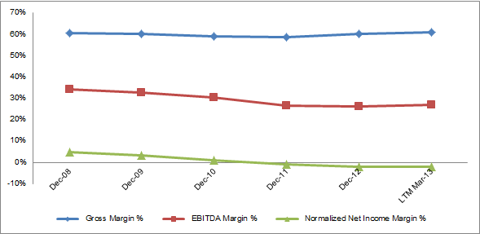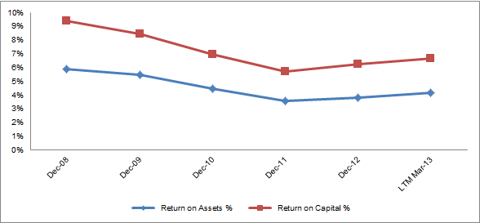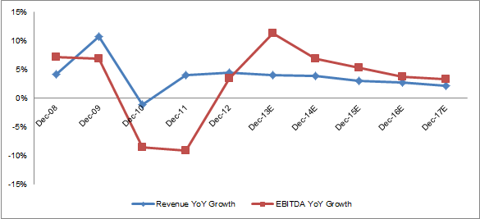 3. Although the stock's dividend yield at 3.8% still looks attractive amid the current low-interest market environment, it has dropped substantially from its recent peak level in 2010 and is currently near the 10-year low (see chart below). I would expect a further yield drop to be less likely given that many investors would have a psychological barrier to accepting a lower yield and that AT&T is relatively more attractive as the stock offers a considerably higher yield at 4.8% but much lower P/E valuation.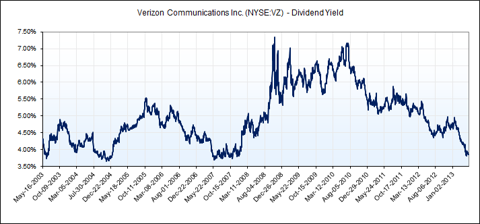 4. Based on the total 34 stock ratings compiled by Thomson One, the average one-year price target at $53.98 is only marginally above the current share price. Factoring in the stock's cost of equity ranging likely from 5% to 7%, sell-side's price targets actually imply that the stock is modestly overvalued.
5. Verizon's potential acquisition of Vodafone's 45% stake in Verizon Wireless has likely been one of the primary drivers for the strong price appreciation. However, I believe the market may have been overly optimistic on the deal prospects. In a Morgan Stanley research note released on April 30, Simon Flannery commented on his concern about the potential transaction, which I tend to agree with (sourced from Thomson One, Equity Research):
We share the market's view that the purchase of some or Vodafone's entire stake in Verizon Wireless is likely positive for Verizon, but it is very important to qualify that with the price paid. Paying $130B vs. $100B equates to $10.50 per Verizon share or 20%. In addition, the higher the price, the lower the EPS and FCF accretion, the greater the leverage and potential dividend risk…Vodafone will likely be reluctant to sell at a low price unless they have a very negative view of the prospects for the US market…there are questions about the market's ability to digest what would likely rank as the 3rd or 4th largest deal ever. Though there is less concern that credit markets could absorb such a large issuance, in equity markets there may be flow back issues, with some Vodafone shareholders unwilling or unable to hold Verizon shares. Further, given the ~$4-5B in incremental funding costs (interest and dividend) and increased cash taxes, concerns over dividend coverage could arise.
Given the above concerns, there is not sufficient margin of safety to warrant a buy rating for Verizon shares at the current price level.
All charts are created by the author and all financial data used in the article and the charts is sourced from S&P Capital IQ unless otherwise specified.
Disclosure: I have no positions in any stocks mentioned, and no plans to initiate any positions within the next 72 hours. I wrote this article myself, and it expresses my own opinions. I am not receiving compensation for it (other than from Seeking Alpha). I have no business relationship with any company whose stock is mentioned in this article.