A report by the The Independent Community Bankers of America (ICBA) and Aite Group, LLC states that community banks are strengthening in this difficult time and are positing themselves for a recovery in the economy. The report titled Impact of the Financial Crisis on U.S. Community Banks: Difficult Times, New Opportunities was based on a survey of 743 community banks.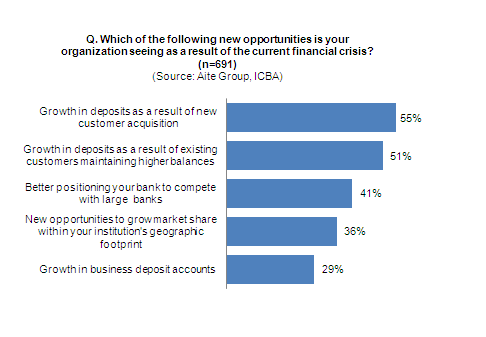 Key takeaways from the community banks surveyed:
Banks that saw Increase in Deposits = 55%
Customers who withdrew Deposits = 17%
Banks who saw increase in new retail customers = 57%
Banks who saw increase in new business customers = 47%
Banks that saw loan originations volume increase = 40%
Banks that saw increase in loan delinquencies and charge-offs = 73%
This survey clearly shows that community banks are getting hit hard with charge-offs. The loan types include mortgages (residential and commercial), credit card debt, personal loans, car loans, etc. Growth in the number of customers and deposits shows the confidence of consumers in these community banks when compared to large banks. This should help the survivors when the economic recovers.
The rise in loan delinquencies and charge-offs is leading to some of the small and medium banks to fail. So far this year 40 banks have been shutdown by the FDIC. Most of them are small banks. Friday, three more banks failed. They are:
First National Bank of Anthony, Anthony, KS (Total Assets =$156.9 M, Total Deposits = $142.5 M)
Cooperative Bank, Wilmington, NC (Total Assets =$970 M, Total Deposits = $774 M)
Southern Community Bank, Fayetteville, GA (Total Assets =$377 M, Total Deposits = $307 M)
Of the hundreds of listed community banks, some will emerge strong from the current crisis. Unfortunately, until the economy recovers, there will many more bank failures like the three that failed on Friday. The trick to investing in banks is to identify the banks with a respected franchise, strong balance sheet and good management team.