Nordstrom, Inc.(NYSE:JWN) is one of the most popular fashion retailers in the world. It also offers one of the best money making opportunities for long-term investors. The company has a superior business model, a relatively cheap stock and a good balance sheet. Its competitive advantage is in its keen understanding of fashion trends and great customer service. Long-term investors are strongly advised to consider purchasing this stock.
Important factors for the analysis:
1. Business model
Nordstrom benefits from its world-class customer service, very high quality brands, and excellent management. The company caters mostly to the high-end shoppers, and is often customers' first choice amongst all high-end retailers. In addition, the company has won a range of accolades over the years. For instance, the company was listed in Fortune's "World's Most Admired Companies" list in 2012. This is evidence of the company's strong focus on the customers' needs and long-term profitability.
Nordstrom is a "leading fashion specialty retailer that offers customers a well-edited selection of high-quality fashion brands focused on apparel, shoes, cosmetics and accessories for men, women and children." Nordstrom's brands offer superior products. So much so, the company's brands currently garner the third largest number of followers on Pinterest. Pinterest is a photo-sharing website that allows users to manage theme-based image collections. On Pinterest, users can browse other pin boards for images, and 'like' photos to express their interest. Nordstrom's most popular board on Pinterest is "Garden Wedding Ideas," which has 4.2 million followers. Such high interest on Pinterest is evidence of the elegance of the company's brands and knowledge of the fashion trends.
The company has been featured in the "Best Retail Brands 2012" list, published by Interbrand, a large branding consultancy. Nordstrom was also listed in Fortune Magazine's "100 Best Places to Work for" in 2012. That clearly demonstrates Nordstrom's commitment toward its employees. The employees, in turn, have delivered the best customer service in the industry.
Nordstrom's number 1 goal is to improve customer service. And it has a very high bar to build upon. Nordstrom has consistently been listed as one of the best customer service organisations in the world. And there are books written on its customer service success. At Nordstrom, employees are known for going out of their way to help customers. This always leaves a lasting impression, making customers want to shop there more often. According to a market consultant, the company is more focused on making customers happy than it is on making short-term gains.
2. Management
The company is still by run by the founding family. Three brothers, Blake Nordstrom, Peter Nordstrom and Erik Nordstrom, carefully steer the company towards better customer service and brands. The brothers are not trying to make a quick buck and move on to the next thing. They have done a wonderful job of increasing profits and pleasing shareholders. In addition, they are still relatively young, and should stick around for the next 20 years.
Having the Nordstroms run the business is icing on the cake. They understand the values of the business, and are in it for the long haul. Long-term investors should take note.
3. Cash Reserves
Nordstrom has done a good job of managing its cash flows. Its current ratio was at 2.28 in February, 2013. This allows the company plenty of margin for major acquisitions. In addition, this is excellent news for long-term investors. Long-term investors prefer higher cash reserves so they can be assured of the company's financial stability over the long term.
The long-term debt-to-equity ratio was high at 1.63. Even though the ratio is high, the company's high profitability, good business model, and excellent management offset the risk due to higher leverage. However, it might be a good idea not to raise the debt ratio anymore.
The company's profit margins have remained steady over the last 10 years. (see the table). Also, its ROE is 37.99% and ROA is 9.94. This clearly shows that the company does not need loads of leverage to make a good profit.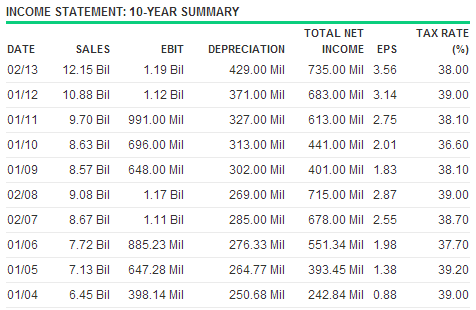 4. Major Risks
Nordstrom's products are higher-end and more fashion forward. That is the one of the biggest secrets to Nordstrom's success. A decline in the quality of the products would lower the company's intrinsic value. A change in the fashion sense or an attempt to cater to the low-end market could also hurt the company's image. The company has worked very hard to be a major player in the market, and such image would be shaken if the company went back on its commitment to great quality.
The company must maintain its focus on high-quality customer service. Its customer service allows it to easily distinguish itself, even when the product quality is indistinguishable. Any significant drop in the quality of customer service would signify a loss of focus and a loss of competitive advantage.
5. Stock Price
The company's PE ratio (ttm) of 17.26 does not do the business justice. However, it is a wonderful opportunity for long-term investors to add this stock to their portfolio. The earnings have risen a lot in the last few years, and there may be a pullback for a while, causing stock price to stagnate. But that offers no threat to the company's formidable business model.
Conclusion
Nordstrom is a "BUY" for Long-term investors. The company has the right ingredients for success; a good business model, honest and visionary management, a good work culture and a relatively good balance sheet. These factors should help the company remain a leader in its industry and increase profits for a long time.
Disclosure: I have no positions in any stocks mentioned, and no plans to initiate any positions within the next 72 hours. I wrote this article myself, and it expresses my own opinions. I am not receiving compensation for it (other than from Seeking Alpha). I have no business relationship with any company whose stock is mentioned in this article.