Approach Resources (NASDAQ:AREX) is a Fort Worth based Exploration and Production Company levered to the West-Texas Midland Basin in Crockett and Schleicher Counties. With a Market Cap of $1.05 billion as of May 10, 2013, this company has a few catalysts going forward that may warrant your further consideration and research.
Company/Midland Basin Background
Approach was formed in 2002 to explore and develop the Strawn/Canyon Sand formations in the Cinco Terry and Ozona/Sonora fields in the Southern Midland Basin In the mid-2000's this company was characterized as a natural gas E&P focused on a conventional, vertical play at depths below 6,000'.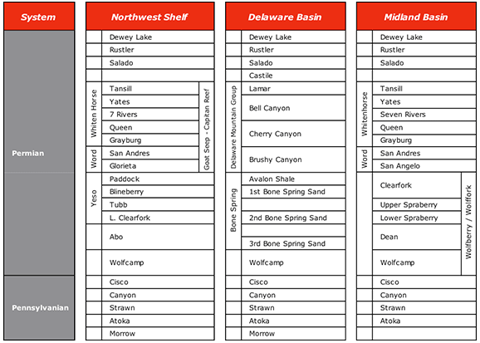 (Source: Murchison Oil)
In 2010, Approach released core sample data for the Wolfcamp interval backed by 200 + well logs. The Wolfcamp sits above the Strawn/Canyon sands and is widely regarded as the source rock for the Spraberry trend. In the release, Approach made it very clear that both the Wolfcamp (1200' thick) and Clearfork/Leonardian (1500') had significant shows. This was an important advancement because the industry had largely ignored zones above the Strawn/Canyon south of the Ozona Uplift and this news suddenly opened up their entire acreage position for stacked play development.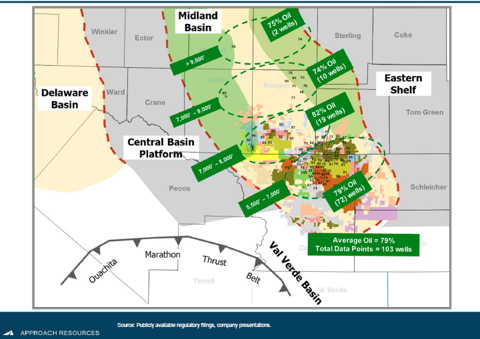 The Wolfcamp is considered a Combo play with EOG Resources (NYSE:EOG) reporting a mix of 42% oil, 30% NGLs and 28% gas, which is confirmed by Approach's production mix. The trend is gigantic and is prospective over the majority of its shows within the basin.
Company Leasehold Position
Approach's core properties consist of approximately 167,000 gross acres (148,000 net) in the southern part of the Midland Basin prospective for the Wolffork (vertical drill) and Wolfcamp (horizontal drill) Shale in large, contiguous blocks.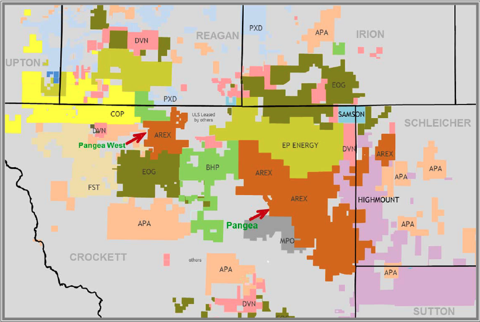 Well Spacing/Drilling Results
This play is not as sexy as the Eagle Ford, Bakken or Utica, however the Wolfcamp is shallow, thick and consistent geologically across their leasehold, which allows for cheaper, repeatable (hopefully) well results in all three Wolfcamp zones. The interval also has the holy grail of shale-oil properties: High TOC, brittle/high silica content, excellent porosity and thermal maturity indicative of an outstanding oil-based shale play.
Those of you paying attention to how Continental Resources (NYSE:CLR) has been spacing their Bakken and Three Forks wells will be familiar with the approach most companies are taking in the 3 benches of the Wolfcamp. The A and B Benches correspond to Upper and Middle Wolfcamp zone respectively while the C and D benches correspond to the Lower Wolfcamp Zone.
Quick Note: Approach's Wolffork zone is drilled on 20 ac spacing and these wells appear to be interspersed within their AOI to capture the full Clearfork pay zone as well as to drain Wolfcamp zones that aren't stimulated by the horizontal frac (thus their coining of Wolffork).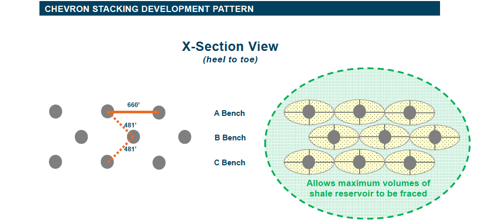 Optimal spacing within the interval is an important development and one that will determine their productivity over the next year. There is still quite a bit of experimenting going on by Approach as well as its neighbors about which development strategy is best. The company is confident that they will have enough data on well spacing by 3Q13 to move forward with a solid development plan.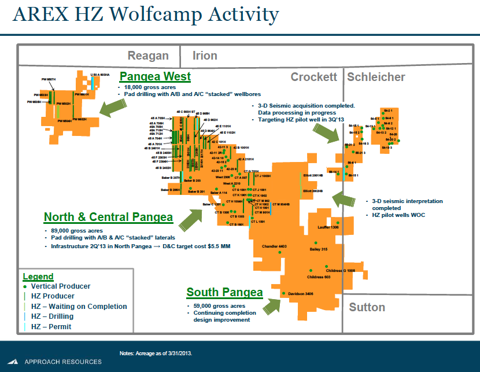 Lateral lengths across their position average 7,500'+ with 26-28 frac stages (slickwater), with longer laterals/more frac stages not translating into an increase in production on their acreage at this time. The majority of their wells are being drilled on 120-acre spacing.
Approach targeted the A and B bench (Upper and Middle Wolfcamp) in 1Q13 in Pangea West with two wells that were drilled from the same pattern completed with 26 stages. These wells flowed at an initial production rate ranging from 705 BOE per day in the B Zone to 843 BOE per day in the A Zone with an average oil cut of 94%. These two wells are the best wells drilled in Pangea West thus far based on IP.
In North Pangea, Approach targeted A and B benches with four wells that were drilled in a chevron pattern. The well spacing was approximately 120 acres for wells drilled in the same bench. These four wells produced an initial rate ranging from 366-381 BOE to 408-701 BOE , with an average oil cut of 84%.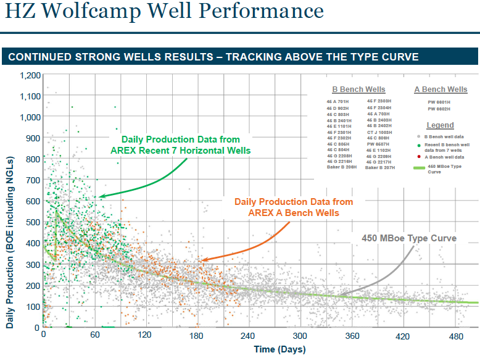 Average Estimated Ultimate Recovery (EUR) for Horizontal Wolfcamp wells in their prospect area is 450 MBOE gross with well costs going forward of ~$5.5 million. At current pricing Approach should average a 30-35% IRR per well.
Results from their 7 most recent horizontal drills into the Wolfcamp appear to be tracking above the type curve and the majority of as-drilled wells are on track to meet or exceed said curve.
Who else is in the neighborhood?
As you saw in the Approach map above, offset operators include EOG, Apache Corporation (NYSE:APA), Pioneer Resources (NYSE:PXD), ConocoPhillips (NYSE:COP), Forest Oil (NYSE:FST), and Highmount E&P, a subsidiary of Loews (NYSE:L).
EOG is excited about their position in the Wolfcamp, which CEO Mark Papa calls "a promising new liquids resource play" and they expect to ramp up drilling operations targeting the formation over the next 2-3 years. They released some well results from the Wolfcamp B Zone in Irion County (to the North of AREX leasehold) in the 1Q13 earnings release:
- Munson #1005H, #1006H and #1007H began production at 965, 970 and 1,290 BOPD with 55, 60 and 100 Bpd of NGLs and 400, 430 and 730 Mcfd of natural gas, respectively.
- Faudree #10H, #11H and #12H were completed at 560, 670 and 810 BOPD with 50, 70 and 60 Bpd of NGLs and 365, 490 and 420 Mcfd of natural gas, respectively.
- University 40D #0702H and #0701H, which began production at 660 and 705 BOPD with 75 and 95 Bpd of NGLs with 550 and 685 Mcfd of natural gas, respectively.
- Their University 40-B #1602H, in Northern Crockett adjacent to Approach leasehold, began production from the middle Wolfcamp at an initial rate of 916 BOPD with 127 Bpd of NGLs and 726 Mcfd of natural gas in 4Q12.
Apache has 450,000 acres prospective for the Wolfcamp and most of its 1Q13 drilling activity within the Basin was split between their Deadwood and Barnhart prospects. They currently have 4 rigs running in their Barnhart Prospect (Irion County) with a ramp to 6 this quarter. Apache management thinks this area has "world class oil in place" and they are seeing robust well results across most of their position. Their most recent well in the area, the Bennie H81M well tested at 577 BPD and 925 Mcfd. Apache's EURs for their Wolfcamp wells in the Barnhart Area are 598 MBOE with a 44% RO, both higher than the AREX projections.
Pioneer, the largest acreage holder in the Spraberry trend, has recently completed wells on their acreage in Southern Irion and Reagan Counties with average IP rates from the Wolfcamp B zone of 911 BOEPD. They are currently running 7 rigs in their Southern Wolfcamp JV/AMI with Sinochem (Southern half of Upton, Reagan, Irion counties) and will ramp to 10 rigs in 2014. Pioneer plans to test longer laterals (10,000'+) while also evaluating down-spacing opportunities. They expect longer laterals to increase costs by 20% and EUR by 40-60%, which seems to contradict the results that both AREX and EOG have had in the Southern portion of the play. EURs for a HZ Wolfcamp are between 450MBOE-1MMBOE depending on where you drill within their acreage position.
CapEx Plan and Financials:
The 2013 plan is to use a 3-rig program to drill between 35 and 40 Horizontal wells targeting the Wolfcamp A, B and C Zones, total budget being ~$260 million for the year. They are also taking time to experiment with stacked wellbores and down-spacing to optimize well efficiencies. This should result in decreasing well costs as efficiencies take place over their asset base.
Catalysts Going Forward
1) Testing of stacked laterals in the A and B benches in both their Pangea West and North Pangea prospects. This is not a mature process and as efficiencies are gained expect EURs to go up.
2) Completion of infrastructure projects will relieve takeaway constraints leading to reduced transportation differentials and the ability to access other markets. Prior to April 2013, the company had been trucking oil production to Midland.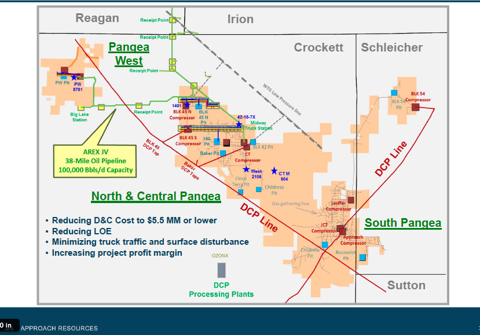 3) Continued optimization of drilling, completion and frac designs aimed at lowering well costs and improving flow rates. This will eventually help transition the company from science drilling to full field development within the year.
4) Continued production increases (15% yoy) and oil revenue increases (63% yoy) while the company continues to stabilize LOE/G&A show that management is committed to improving the health and operational efficiency of the company.
5) The potential of a Fourth rig being added by year-end based on improved well design. If this rig comes on in 3Q-4Q13, you will know well design has been optimized and a transition to full development should follow.
6) Continued decrease in well costs to $5 million range based off of improved well performance with less frac stages (management goal is low 20s for # frac stages while keeping production up).
7) Recent Asset/Lease Sales for comparison:
- EP Energy added 123,100 acres in Crockett, Reagan Irion and Upton counties in September of 2010 at an average of ~$1,100/ac at the University of Texas system lease sale in September 2010
- ConocoPhillips and others paid $5,500-6,000/ac at the University of Texas system lease sale in September 2011 for acreage in Crockett, Reagan and Upton counties.
- In January of 2013 PXD announced a sale to Sinochem of a 40% interest in 207,000 net acres prospective for the Wolfcamp for a total price of $1.7 billion. Consideration consisted of $500 million cash at closing with the remainder in the form of a drilling carry. Areas covered by the sale include Upton, Reagan, Irion, Crockett and Tom Green counties. Leasehold valued at $17,000-$18,1000 an acre depending on calculations.
Final Thoughts
Approach has had trouble beating analyst estimates for quarterly revenues with 5 straight misses. It seems that most of its infrastructure issues are behind them and with full development mode expected by 4Q13 there is a lot to like about this company and its future. Traders responded positively to the 1Q13 earnings call as evidenced by the move off of the lows of $22 to resistance at $27 as of the close on Monday May 13th.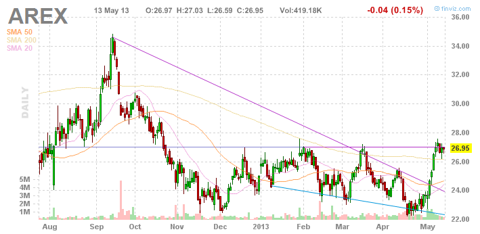 The stock has been range bound ($22.50-$27 per share) for the majority of 2013 and it appears to be consolidating around the current share price. There is significant upside to the company based on recent acreage valuations and future development plans and the continual de-risking of acreage, which should accelerate revenue, EPS, and reserves over the next 4 quarters.
Traders looking to initiate a long position may want to wait for support to hold at the 200 SMA, which is also close to medium-term resistance. Chart history indicates that breaks above this key indicator have been short-lived. If support does not hold around the current share price, traders may want to respect the trading range put in over the last 6 months and wait for a pullback to the $22-24/share range before going long.
The recent PXD JV should put a floor under the stock price and potentially place Approach in a position to be acquired by one of its Wolfcamp neighbors or a NOC. Pay attention to completion design/improvements in the southern part of the play (specifically by Pioneer) that result in increased IP, upward revision of EURs, and/or a flattening of the decline curve. Any one of these could allow the stock price to test the highs put in last year.
Disclosure: I am long APA. I wrote this article myself, and it expresses my own opinions. I am not receiving compensation for it (other than from Seeking Alpha). I have no business relationship with any company whose stock is mentioned in this article.
Additional disclosure: I may go long AREX over the next 72 hours.