ETF Spotlight on the PowerShares CEF Income Composite Portfolio ETF (NYSEARCA:PCEF), part of an ongoing series.
Assets: $502.5 million.
Objective: The PowerShares CEF Income Composite Portfolio tries to reflect the performance of the S-Network Composite Closed-End Fund Index, which is comprised of closed-end funds that invest in taxable investment grade fixed-income securities, taxable high-yield fixed-income securities and others utilize an equity option writing (selling) strategy.
Holdings: Top holdings include Eaton Vance Tax-managed Global CEF 4.9%, AllianceBerstein Inc Fund CEF 3.2%, Eaton Vance Tax-Managed Dive CEF 3.7%, Allianz NFJ Dividend Inter CEF 2.4% and BlackRock Enhanced Equity Dividend CEF 2.3%.
What You Should Know:
Invesco PowerShares sponsors the fund.
PCEF has a 1.73% expense ratio.
The fund has 142 holdings and the top ten make up 25.0% of the overall portfolio.
The ETF has an SEC 30-day yield of 7.2%.
Allocations include: bonds 44.1%, high-yield bonds 17.7%, domestic equity 3.1% and option income 34.4%.
PCEF is up 2.1% over the past month, up 3.4% in the last three months and up 8.6% year-to-date.
The ETF is 2.5% above its 200-day exponential moving average.
Closed-end funds are publicly traded investment companies that have raised a fixed amount of capital through an initial public offering then listed like a stock on an exchange.
CEFs represent a fixed basket of securities, and the funds can be traded like any stock or ETF on an exchange.
Unlike ETFs, closed-end funds can trade at a premium or discount to its net asset value because there is a fixed number of shares outstanding.
CEFs offer higher distribution rates than mutual funds in the same category because most CEFs were created with a focus on income.
The Latest News:
PCEF reached the $500 million mark on May 9, 2013, according to a press release.
"By adding closed-end funds, or CEFs, to your investment arsenal, you can expand your menu of options when it comes to security selection," according Mike Taggart, associate director of closed-end fund research at Morningstar.
In the bond market, most observers are carefully watching interest rate risk.
"The odds of interest rates going up - just from a common-sense point of view - is very high," Bob Rice, managing partner at Tangent Capital, said, reports The Market Oracle. "And if that happens many of these bond funds will suffer 20%, 30%, 40% declines in value."
PowerShares CEF Income Composiite Portfolio ETF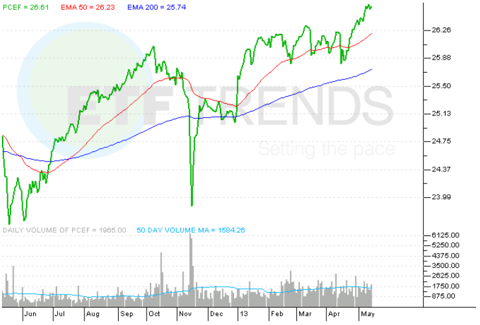 Click to enlarge
Max Chen contributed to this article.
Disclosure: I have no positions in any stocks mentioned, and no plans to initiate any positions within the next 72 hours. I wrote this article myself, and it expresses my own opinions. I am not receiving compensation for it. I have no business relationship with any company whose stock is mentioned in this article.