On Thursday May 16, Coach, Inc. (NYSE:COH) announced a quarterly dividend increase of $0.0375/share to bring its upcoming dividend payout to $0.3375/share. It should be noted that this increase represents a 12.50% rise from its prior dividend of $0.30/share, which was paid on April 1. In the wake of COH's dividend increase I wanted to not only examine the company's Q1 results but highlight some of the key catalysts behind my decision to consider a long-term position in this particular luxury retail play.
Overview: Based in New York, New York, Coach, Inc. engages in the design, marketing, and distribution of handbags, accessories, footwear, jewelry, sun wear, travel bags, watches, and fragrances for women and men in the United States and internationally. (Yahoo! Finance) On Thursday, shares of COH, which currently possess a market cap of $16.40 billion, a P/E ratio of 15.78, a forward P/E ratio of 14.17, and a forward yield of 2.29% ($1.35), settled at $58.38/share.
Trend Status: Based on Thursday's closing price, shares of COH are trading 2.31% above the 20-day simple moving average, 10.39% above the 50-day simple moving average, and 7.45% above the 200-day simple moving average. These numbers indicate a short-term, mid-term and long-term uptrend for the stock, which generally translates into a buying mode for traders.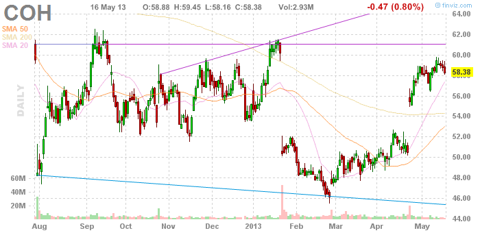 Strong Q3 Performance: On Tuesday April 23, Coach, Inc. reported the results of what I believe to be a very strong third quarter. The company's Q3 EPS of $0.84/share beat street estimates by $0.03/share and its revenue of $1.19 billion was right in line with street estimates. During the quarter, the company's gross profit increased 8% to $880 million, from $818 million a year ago and its gross margin expanded 35 basis points on a year-over-year basis to 74.1% from 73.8%.
Could A Potential Acquisition Be On The Horizon? According to Dana Mattioli and Anupreeta Das of the Wall Street Journal, "Coach became serious about doing a deal last year, approaching luxury handbag and clothing maker Tory Burch LLC, and spoke about paying between $2 billion to $3 billion range for the company, which was close to valuations based on investments from General Atlantic LLC and BDT Capital Partners LLC." One of the main reasons behind such a move would be the fact that organic growth within the luxury retail market is becoming harder and harder especially since names like Michael Kors (NYSE:KORS) are experiencing considerable growth.
I personally believe that an acquisition, similar in size to the proposed cost of Tory Burch LLC could occur in the next 6-12 months given the fact that Coach not only possesses a strong balance sheet (~$928 million in cash) but is also aggressively looking to improve its North American growth. Comparatively speaking, Coach, Inc. only experienced an increase of 7% in North American sales for the third quarter, whereas Michael Kors increased its North American sales by 67%.
Conclusion: When it comes to those who may be looking to establish a position in Coach, Inc., I'd continue to keep a watchful eye on not only the company's earnings behavior over the next 12-24 months, but any key developments that could result in an acquisition aimed at strengthening the company's growth, especially in North America.
Disclosure: I am long COH. I wrote this article myself, and it expresses my own opinions. I am not receiving compensation for it (other than from Seeking Alpha). I have no business relationship with any company whose stock is mentioned in this article.