We believe Uni-Pixel (NASDAQ:UNXL) is still in deep trouble and is overhyped and overpriced. We believe it is highly suspect that the company will not even acknowledge if it has an agreement with Dell (NASDAQ:DELL) or not. Why not tell the world? Even if it is Dell it has an agreement with, would Dell's recent terrible results be cause to jump for joy? The only agreement that it does acknowledge publicly is with Eastman Kodak (EKDKQ.PK). Uni-Pixel is making overexaggerated claims based on market size, not its ability to deliver or the fact that Kodak (which is bankrupt) and Dell are both in constant decline and will continue to be over the next decade.
We strongly believe Uni-Pixel's whole story is fishy and does not add up to strong profitable growth anytime soon. And we believe that Atmel (NASDAQ:ATML), which is a multibillion-dollar producer, can at any moment come up with something more innovative.
As founder Michael Dell and his proposed takeover partner Silver Lake Partners had been projecting, PC segment operating income decreased 65% to $224 million on revenues that declined 9% to $8.9 billion year over year.
We believe a recent Barron's article is very accurate in addressing pressing concerns that still, with today's drop, overvalue Uni-Pixel significantly:
Bears have also set their sights on Uni-Pixel, which they contend is better at promoting products to investors than bringing them to market. As of April 15, they had borrowed 45% of the public float to place short bets against the shares. So far, the naysayers have taken a painful licking, or 'gotten our heads ripped off,' as one short seller graphically put it to Barron's. But much of their skepticism seems well placed.
We believe Atmel is the best reference point in learning the intrinsic negative value of Uni-Pixel:
The electronics component supply chain is ultra competitive and incredibly fast-moving. Successful companies often have a binary choice to make...
So where is the value in Uni-Pixel? We do not know. Nobody has shown any true value in Uni-Pixel yet, and we believe it is headed for more large drops soon due to overvaluation, lack of profits, and major competition from bigger fish that can easily out innovate and outmaneuver it in no time.
1) compete on superior proprietary technology that is gained only through years and hundreds of millions of dollars spent on research and development, or

2) compete on the basis of efficient, high volume manufacturing.
Atmel is worth about $3.2 billion and it has:
negative profits margins at -2.68%
operating margin of just 3.68%
Click to enlarge image.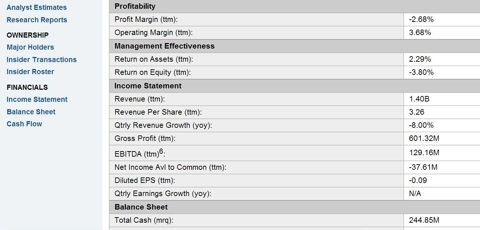 In conclusion, we believe there is no little to no value in investing in Uni-Pixel currently. The shares are highly overpriced and due for a major drop as the reality of a lack of profits may disappoint over the next six months to one year. We do not think it can easily outmaneuver much bigger, stronger, and better funded opponents with huge R&D budgets and established relationships. We also believe Atmel is the best indicator of the major unprofitability of this subsector of the tech industry.
Disclosure: I have no positions in any stocks mentioned, but may initiate a short position in UNXL over the next 72 hours. I wrote this article myself, and it expresses my own opinions. I am not receiving compensation for it (other than from Seeking Alpha). I have no business relationship with any company whose stock is mentioned in this article.