Canadian Pacific Railway (NYSE:CP) is certainly topical. The subject of activist investor Bill Ackman's 2012 reorganization and now run by Ackman-backed legendary railroader Hunter Harrison, the stock has gone nowhere but up since Harrison was put in office.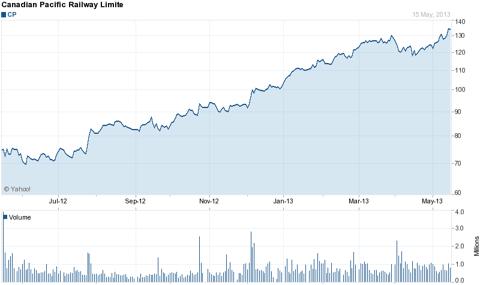 Source: Yahoo Finance
Harrison has promised (and delivered) rapid improvements in the railway's "operating ratio" - a measure of its costs as a percentage of revenue and a metric frequently used to compare railways. Historically, the benchmark for operating ratio in Canada, was set by CN Rail, CP's major competitor, which itself was formerly run by Harrison. Harrison has set a target of getting the operating ratio into the mid 60% range by 2016. The time frame is important because it coincides with Harrison's 72nd birthday and longer-term investors will have to look to his successor for leadership thereafter.
There is no question that CP has improved its operating performance rapidly since Harrison took over, a feat that has yet to be marred by more than a couple of derailments that spilled oil into the countryside here and there, no doubt related to the decision to run longer trains and run them faster - an important contributor to reducing the operating ratio. Governments and investors alike have given CP a pass for these oil spills, which have not attracted the violent outbursts of vocal environmental groups the way a similar spill from a pipeline might. Time will tell whether CP is taking more risks than it should but that is not the issue for today.
Today's issue is simply valuation. A key question for investors is what is a railroad worth?
We are not short of railroads in North America, so it was a relatively simple matter to set out how the market perceives them in terms of earnings multiples and find that a price-to-earnings ratio of between 14 and 18 is about right.
Canadian Pacific Railway Comparables

Company

Market Cap.

P/E

Norfolk Southern

$ 24,850

14

CSX

$ 25,959

14

Union Pacific

$ 72,413

18

CN Rail

$ 43,100

18
The comparables set out in the table represent large-cap North American railroads that fairly can be described as alternatives to investment in CP.
To make the point that CP appears overvalued I have put together a table that takes CP's 2012 results and adjusts them to reflect a CEO's dream result after a major cost cutting and efficiency drive. To be specific I have assumed:
A 20% cut in compensation and benefits achieved through either reduced headcount or lower wage rates;
15% volume growth without additional personnel
No increases in fuel or material costs in relation to sales
Volume growth achieved without additional purchased services
10% lower interest expense (can rates get much lower?)
No change in income tax rates
These results are unlikely to ever be achieved, not by Harrison or by anyone else, so I have labeled them as "BLUE SKY DREAM." The fact is that railroads are a competitive business and higher volumes require more rail cars and more people to run them. Customers are unlikely to pay any particular railroad a higher rate for its transport of goods because of its "brand" or its CEO's public persona. Instead, freight customers are going to trade off the costs of trucking and rail or, in the case of oil, pipelines, and make their decision based on costs.
CP has enjoyed a short-term boost in volume arising from limited pipeline capacity for oil from Canadian producers to U.S. destinations, a problem that will last no more than a couple of years as Keystone, Northern Gateway and other pipeline options to transport oil come to fruition. So let's turn our minds back to the assumptions. Can Harrison achieve results such as those listed?
If Harrison can achieve those kinds of results he should be canonized. Assume he can. The results are set out in the table below.
CANADIAN PACIFIC RAILWAY IMPLIED VALUATION

2012 Actual

Blue Sky Dream

Assumption

Revenue

$ 5,695

$ 6,549

15% growth with no additional investment

Compensation and benefits

$ 1,506

$ 1,200

20% less

Fuel

$ 999

$ 1,149

Same rate of use

Materials

$ 238

$ 274

Same rate of use

Equipment rentals

$ 206

$ 206

No new equipment rented

Depreciation

$ 539

$ 539

No new equipment purchased

Purchased services

$ 940

$ 940

No additional services needed

Asset impairment

$ 265

$ -

No further costs

Labour restructuring

$ 53

$ -

No further costs

$ 4,746

$ 4,269

Operating Income

$ 949

$ 2,242

Less:

Other income and charges

$ 27

$ 27

Interest expense

$ 276

$ 260

$ 303

$ 277

Income before taxes

$ 646

$ 1,955

Tax

$ 152

$ 601

NET INCOME

$ 494

$ 1,353

Value at 12 x earnings

$ 16,239

Value at 15 x earnings

$ 20,299

Value at 18 x earnings

$ 24,359

Market capitalization today

$ 24,458
The result is remarkable, in my view. The fact is that the market is paying today more than 18 times hoped-for 2016 earnings, almost triple the current level, as if there was no risk that earnings would not materialize nor any likelihood that the competing railroads would improve whatsoever.
Do I buy it? Not on your life. I am short CP.
Disclosure: I am short CP. I wrote this article myself, and it expresses my own opinions. I am not receiving compensation for it (other than from Seeking Alpha). I have no business relationship with any company whose stock is mentioned in this article.