On December 19th, 2012, Oncothyreon's (ONTY) shares fell roughly 50% as development partner Merck KGaA (OTCPK:MKGAY) reported that L-BLP25 (or Stimuvax), a cancer immunotherapy that was being tested against non small-cell lung cancer (NSCLC), failed to meet its primary endpoint in a Phase III trial.
The price movement was on abnormally large volume of 32 million shares compared to a 20 day average of 2.5 million shares. Since the low of $1.71 per share on December 19th, the price has slowly appreciated up to the $2.50 level. That was the case, at least until today where the price fell 24.52%, closing at $1.97.
It is clear that this stock was run up on the prospect of a bull case for a sub-population for L-BLP25.
However, it is also clear that based on statements made on the December 19th plummet, the sub-population's bull case was likely already priced in. This is affirmed because although," In a predefined subgroup of patients receiving initial concurrent chemoradiotherapy ((CRT)), a combination of chemotherapy and radiotherapy given at the same time, a median overall survival of 30.8 months versus 20.6 months was observed based on a post hoc analysis in patients treated with L-BLP25 versus placebo respectively (HR 0.78, 95% CI 0.64-0.95, p=0.016, n=806)," shows a positive clinical effect, the stock still dropped like a stone.
Therefore today's price action was nothing more than a Wall Street butchery for those who erroneously bought into the run up. Reference the following chart generated with the Think or Swim trading platform by T D Ameritade.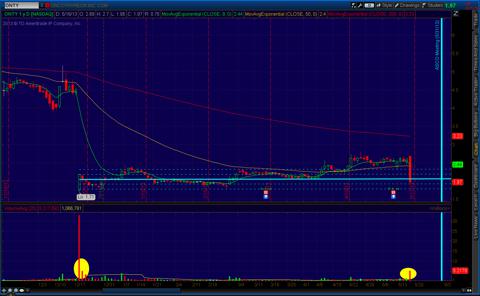 As shown on the chart, the 9 day EMA is green, the 50 day EMA is yellow and the 200 day EMA is red. The trading median from 12/19/2013 to 3/5/2013 is shown in light blue. The dotted lines above and below are each one standard deviation respectively.
Looking closely at the 4 hour chart below, you can see that the price action today simply brought the price back inline within one standard deviation of the pricing of the initial December 19th plummet. It is also curious that the price movement paused at the median I previously outlined.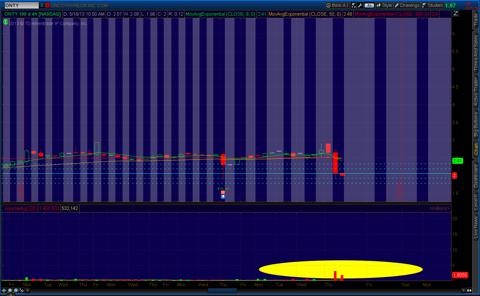 As of late, all of the rage in the oncology circles has been on the promise of cancer immunotherapy developments by Bristol-Myers Squibb (NYSE:BMY), Roche (OTCQX:RHHBY), and Merck (NYSE:MRK). But they are clearly not the only players in the space.
Oncothyreon's pipeline also includes PX-866 and my personal interest, ONT-10.
Included in the recent update on L-BLP25 was this information on PX-866 as shown by Yahoo here.
"Co also announced data from two single-arm Phase II trials of PX-866 in patients with glioblastoma (GBM) and castration resistant prostate cancer (CRPC), respectively. In the GBM trial 33 patients with a first recurrence after chemoradiation and adjuvant temozolomide were given PX-866 8 mg daily. MRI and clinical exam were done every cycle (8 weeks). All patients were evaluable for response - 25 had a best response of progression, 1 had a partial response (overall response rate 3%) and seven (21%) had stable disease (median 7.3 months; range 3.1-13.6). Six month progression free survival was 17%. PX-866 was relatively well tolerated. Adverse effects included liver function test abnormalities, fatigue, diarrhea, nausea, vomiting and lymphopenia. In the CRPC trial 43 patients not previously treated with docetaxel received PX-866, 8mg daily on a 6-week cycle. The primary endpoint was lack of progression at 12 weeks (PCWG2 criteria). Secondary endpoints included PSA and objective response rates and change in circulating tumor cells (CTC) during treatment. Eleven patients were progression free at 12 weeks. Sixteen of the 24 patients with measurable disease were evaluable for response; there were no objective responses but 10 patients had stable disease (2.6-13.9 months). One patient had a confirmed PSA response. CTC favorable conversion (from 5 at baseline to <5) was observed in 6 of 24 evaluable patients (25%). PX-866 was well-tolerated. Adverse events included diarrhea, nausea, fatigue, vomiting, anorexia, hypomagnesemia and liver function test abnormalities."
With preliminary performance such as this, the increased interest and success in the immunotherapy space, and the pipeline, I would put weight to the idea that it will run up as the clinical trials in ONT-10 and PX-866 move forward.
Because today's pricing at the close is more or less one standard deviation of the pricing we saw in the first three months after the initial drop; my expectation is that we are near the bottom the was already priced in and tested six months ago if the assumptions on L-BLP25 were still equally negative. The fact that they are not because the sub-set data is positive only supports my speculation.
If I was a buyer at this point, I would buy 1/3rd of my position now, wait a week, buy another 1/3rd, wait a week, and finish the entry on the third week right after the ASCO meeting concludes. I will be watching for price tests at these levels and as low as the $1.70s. My expected turnaround on this trade is three to four months with the ramp up beginning a few weeks after the ASCO meeting beginning May 31st.
I have been long ONTY since the December 19th plunge and will remain long even after today's plunge. I became a buyer on the prospect of ONT-10 and the massive drop in share prices on December 19th. I will not execute any trades in the next 72 hours. Good luck.
Disclosure: I am long ONTY. I wrote this article myself, and it expresses my own opinions. I am not receiving compensation for it (other than from Seeking Alpha). I have no business relationship with any company whose stock is mentioned in this article.
Additional disclosure: I am not an investment advisor, broker or banker. I am not affiliated with any financial advisory firm, broker, or banker. I am not affiliated with any of the companies mentioned in this article unless otherwise disclosed. The information contained in this article is for entertainment purposes only. While I endeavor to make sure the information is correct, I make no representation or warranty of any kind, express or implied, about the completeness, accuracy, reliability, suitability for a particular purpose of the information stated within. This article is not a solicitation to buy or sell securities. This article may have links to other web-sites. The nature, content, and availability of information on those linked sites are not under the control. The inclusion of any links does not imply a recommendation or endorse the nature, content, and availability of information on those sites and therefore no responsibility is accepted for those websites or your use of those websites.