John Wiley & Sons, Inc. (NYSE:JW.A) provides content and content-enabled digital services to customers worldwide.
Core businesses produce scientific, technical, medical and scholarly journals, reference works, books, database services, and advertising; professional books, subscription products, certification and training services and online applications; and educational content and services.
Education content and services include integrated online teaching and learning resources for undergraduate and graduate students, educators, and lifelong learners worldwide as well as secondary school students in Australia.
The use of technology enables the company to make its content efficiently more accessible to its customers around the world. The company maintains publishing, marketing, and distribution centers in the United States, Canada, Europe, Asia, and Australia.
1. Highly Rated Brand
John Wiley & Sons is consistently one of the highest rated publishers in the Thomson ISI Journal Citation Report, an important evaluator of journal impact. This has had an impact on its brand, its content is highly regarded, and needs less marketing dollars to drive sales compared to competitors without the company's level of branding.
2. Gross Margins are Great
Wiley is able to charge a high price to professionals who rely on its products because there are few alternatives in the niches it covers. Its products have low subscriber numbers but high prices. Gross Margins are stellar but operating margins are less impressive, consistently around the 14% mark.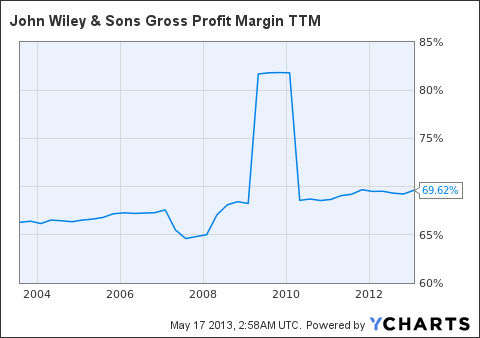 JW.A Gross Profit Margin TTM data by YCharts
3. New Avenues for Revenue
The company overhauled its website, launching Wiley Online Library, where it makes content available. Online it is possible to generate advertising revenue, which is an interesting way to generate revenue when pricing is under pressure.
4. WileyPlus Well Positioned
WileyPlus is the company's online learning environment that supplements textbooks with integrated materials and custom content by writers/professionals. WileyPlus, already contributes meaningfully to sales, positions them well when digital learning becomes the norm instead of the exception.
5. Distributor Relationships
Wiley has good relationships with important distributors like Amazon (NASDAQ:AMZN). Its high quality content library cements these relationships. Its branded high quality content is something that distributors love to offer their customers. In turn this gives the company some bargaining power, protecting its margins, going forward.
6. Financially Healthy
Wiley is financially healthy. Interest expenses are a fraction of the firms EBITDA and the stock historically had a low beta, indicating its revenue is relatively stable. A fact that is consistent with what you would expect of a high quality publisher with many clients in the educational space.
7. DCF Valuation
After performing a DCF analysis, projecting earnings 5 year into the future at a growth rate that I think is appropriate given its history of growing earnings, I value JW.A at $51. A very attractive number given its current share price.
In addition the firm holds almost $4.8/share in cash which is high for it historically. I estimate approximately $2/share of this is excess cash it is holding that is not required to generate optimal cash flows.
Given these factors I think the stock is trading comfortable below fair value.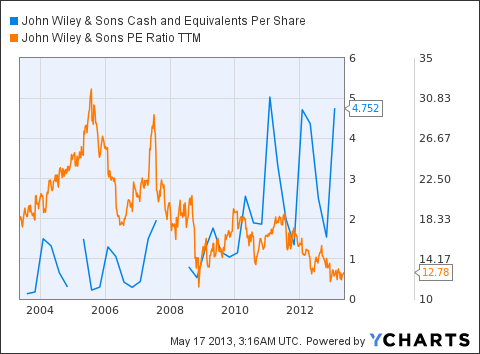 JW.A Cash and Equivalents Per Share data by YCharts
Risks
To be fair there are significant risks threatening future earnings growth. These are some of the larger risks I identify, but there are others and I might underestimate them.
1. Budget Cuts By Large Client Segments
Governments are looking for budget cuts and the educational field is one of the areas where it goes looking. In turn the educational institutions are increasingly looking at value options.
2. E-learning and Publishing Competitors
E-books and e-learning are becoming serious business fast, and some platforms could threaten to eat into Wiley's sales, especially on the trade segment. It's relatively easy to enter the market, and while it's hard to match Wiley on a qualitative level, sheer volume could still pose a threat.
Conclusion
As mentioned under valuation, in my opinion John Wiley & Sons Inc. is undervalued by a significant margin. Right now it can be bought below $39 which is about 39% undervalued. I have not been able to identify any catalyst that would expedite the stock trading closer to its intrinsic value, if and when that will happen is unclear. For a patient, long-term oriented investor that should be only a small concern.
Disclosure: I have no positions in any stocks mentioned, and no plans to initiate any positions within the next 72 hours.
Business relationship disclosure: Through my publishing business I have a business relationship with Amazon, they are briefly mentioned in this article. I have no relationship with Wiley, who are the main subject.