Microsoft (NASDAQ:MSFT) is a name that gets a lot of flack for having a stagnant share price over the last ten years - a "lost decade", if you will: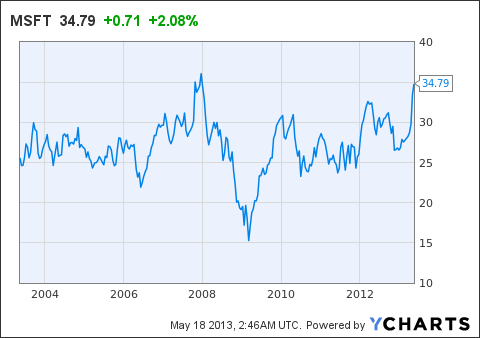 The common argument is, "oh, Steve Ballmer stinks, imagine how high the share price would be if Ballmer weren't at the helm". I'm sorry, but this is patently ludicrous. Microsoft's shares have been stagnant over the last 10 years simply because the valuation got so out of whack 10 years ago that it has taken years to actually catch up to that valuation.
Steve Ballmer Made Shareholders Bank
While the share price may have hardly moved, take a look at Microsoft's revenue and net income trends over the last 10 years: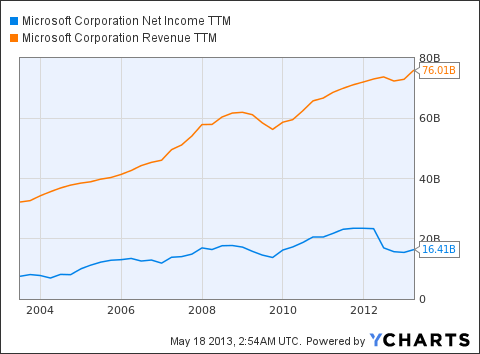 MSFT Net Income TTM data by YCharts
Under Ballmer, Microsoft went from a sub-$40B/year company to a $75B+/year company. Not only does it get much harder to grow consistently at much higher revenue bases ($100M -> $200M in net income is much easier to pull off than $10B -> $20B), but at these levels, it's absolutely astounding to achieve such growth.
So, when people say, "oh, Steve Ballmer ruined Microsoft", I can't help but face-palm at the sheer ignorance embedded in that statement. Microsoft's top and bottom lines have grown like clockwork, and the only thing that has really happened is multiple compression - an artifact of competitive pressure fears and a general perception that growth will be slower for a larger name.
Apple Is Now Suffering The Same Fate
A lot of the "hate" for Ballmer/Microsoft comes from that stagnating stock price relative to Apple. A couple of things wrong with this hate:
Apple (NASDAQ:AAPL) grew from a much smaller base
Apple is a consumer electronics company that sold margin for extremely high margins in a market with little-to-no competition
To illustrate my point, take a look at Apple's market cap over the last 10 years: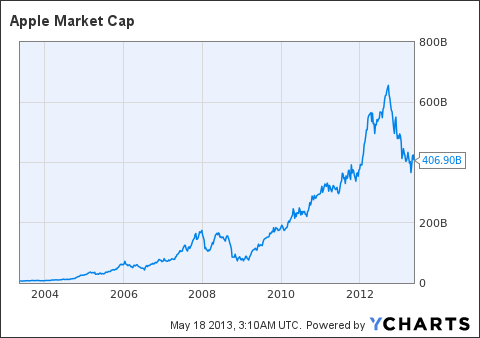 AAPL Market Cap data by YCharts
The starting point in 2004 wasn't $200B+ like Microsoft - more like $10B - $15B. Granted, this growth is remarkable and there is no doubt that Apple has been a better investment than Microsoft during this time, but it's completely unfair to compare these two as Microsoft was a successful, maturing company at the time while Apple was a left-for-dead MP3 and niche computer maker that rose from the dead. Very different situations!
So, Stop Whining About Ballmer
Don't whine about Steve Ballmer - there's not really much another CEO could have done for Microsoft in terms of the financials where this all counts. In fact, with the Windows 8/Windows Phone ecosystems, Microsoft will be skimming money off of the top of every "app" sale, which should dramatically improve profitability and growth going forward. This is, of course, in addition to unit growth in sales of Windows 8 based tablets, PCs, Ultrabooks, and so forth going forward.
There's a lot of potential and a lot to like with Microsoft, but it takes a cool head and an understanding of what's going on to appreciate the investment opportunity here. It took 10 years for Microsoft's earnings to catch up with a nosebleed valuation, but now Microsoft is actually cheap despite its solid growth prospects. And the recent run up is only the start of where shares could be 5 years from now.
As for Apple? Well, it's now in the potential "lost decade" penalty box as earnings ran up too far too fast based on a monopoly position in market that were bound to sooner or later have fierce competition. Google (NASDAQ:GOOG) spoiled Apple's party with Android, and Microsoft's Windows will continue to try chip away at market share in all key areas.
Tim Cook will probably unfairly get the "Ballmer" treatment despite the fact that his company is merely a victim of its own hyper-extended success. However, I maintain that Tim Cook - just like Ballmer - is a good CEO that's doing his best to run the business that he was appointed to run. It's just when you're a $400B+/year company that struck gold by making high margin cell phones, it's hard to go anywhere but down, despite all of the good things the company is doing.
Disclosure: I am long MSFT. I wrote this article myself, and it expresses my own opinions. I am not receiving compensation for it (other than from Seeking Alpha). I have no business relationship with any company whose stock is mentioned in this article.