I believe that any of five catalysts outlined below will propel MGT Capital Investments (NYSEMKT:MGT) over $6 per share this year. On February 12 under $3 per share, I predicted that MGT would provide "double- or triple-digit returns this year, even if it ultimately loses its high-profile lawsuit against the casino industry." Half of that promise has already come true: a 50% rally ensued with a maximum entry point drawdown of -8%. I believe the second half will come true once MGT hits $6 per share this year. This article will update readers on the current state of the company and organize all actionable information by catalyst in descending importance.
Fundamental Update
MGT has grown significantly since I first wrote about the company, so let me update the ledgers. Notably, the company has added substantial cash and assets to its balance sheet while diversifying from a pure litigation focus to an operational business (daily fantasy sports).
Important note: MGT is due to release its quarterly report soon- as early as Monday. All figures reflect "as of today" estimates using public information accessible on Friday, May 17, 2013, unless specified otherwise. Once the company files its report, I will update these figures in a subsequent article.
| | |
| --- | --- |
| Market Capitalization | $26 million |
| CEO Ownership | 13.4%A |
| Other Insider Ownership | 6.9%B |
| | |
| ASSETS | |
| Cash | $6.9 millionC |
| Debt | $0 |
| Digital Angel (wholly owned) | $325,000 |
| MGT Sports (wholly owned) | $2.6 million |
| MedicSight (wholly owned) | up to $5 million |
| MGT Gaming (55% owned) | up to billions ('088 patent purchased for $1,819,000) |
| | |
| SHARE STRUCTURE | |
| Shares Outstanding | 5,809,382D |
| Vested Restricted Stock | 77,333 as of 12/31/12 |
| Non-Vested Restricted Stock | 314,667 as of 12/31/12 + 627,500 FanTD + 50,000 Digital Angel |
| Preferred Outstanding | 17,918 as of 4/26/13 (convertible 1:1 to common) |
| Warrants Outstanding | 2 million exercisable below $3.68/shareE |
| | |
| FULLY-DILUTED VALUATION | |
| Fully Diluted Share Count by Summer | 9,283,411F |
| Fully-Diluted Market Capitalization | $41.6 million |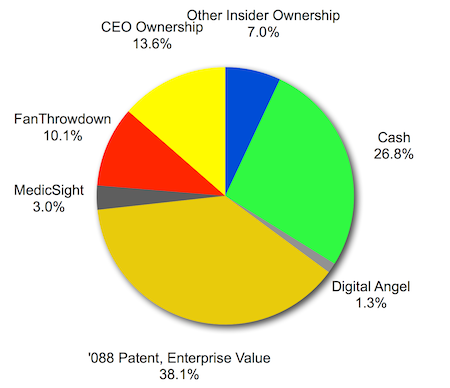 [A] 16.2% as of 4/26/13 diluted by 17.3% on 5/7/13 (17.3% = 858671/4960711)
[B] 8.3% as of 4/26/13 diluted by 17.3% on 5/7/13 (17.3% = 858671/4960711)
[C] $5,500,000 as of 12/31/2012 - $200,000 for FanTD - $136,630 for Digital Angel - $900,000 approximate YTD director compensation, employee salaries and G&A - $0 debt payments + $2,613,895 from warrants
[D] 4,960,711 as of 4/26/13 + 848,671 as of 5/7/13 + restricted stock (outlined above) as it slowly vests over time + any warrants exercised subsequent to 5/7/13
[E] 4,038,753 @ $3.68 as of 12/31/12 - 678,934 exercised @ $3.85 4/26/13 - 1,357,868 @ $3.85 exchanged 4/26/13 - any more warrants that have been subsequently exercised but not yet disclosed
[F] A shareholder meeting is scheduled for June 20, 2013, 3:00pm in New York City. Only routine items are up for vote. Fully-diluted share count reflects likely approvals at this meeting: 5,809,382 current + 386,611 pending shareholder approval 6/20/13 + 17,918 1:1 convertible preferred as of 4/26/13 + 314,667 non-vested restricted stock as of 12/31/12 + 627,500 FanTD's restricted stock + 50,000 Digital Angel's restricted stock + 77,333 other vested restricted stock as of 12/31/12 + 2 million warrants outstanding
Catalyst 1: Settlement with WMS/SGMS
WMS Gaming of WMS Industries (NYSE:WMS-OLD) is the primary defendant in MGT Gaming's lawsuit regarding Patent No. 7,892,088 "Gaming Device Having a Second Separate Bonusing Event" ("the '088 patent").* MGT's lawsuit names six slot machines for trebled damages and ongoing royalties. WMS manufactures five of these six slot machines.
On May 10, shareholders of WMS Industries approved the merger with Scientific Games (NASDAQ:SGMS). Although widely expected, WMS Industries has now officially stated that the merger will finalize "by the end of 2013." Scientific Games will be the surviving company and has hundreds of millions in free cash.
Thus, Scientific Games is acquiring a defendant with enormous potential liabilities to MGT, and although it is probably not concerned about this lawsuit at the moment, it will certainly want to cap its liabilities before the merger finalizes. Several authors have predicted that WMS or Scientific Games will settle this year. I do not know what will happen, but a settlement (or even a positive development in the discussions) could send MGT well past $6 per share.
* MGT Capital Investments owns 55% of MGT Gaming; the other 45% is owned by J&S Gaming. MGT Gaming owns 100% of the '088 patent and is the formal plaintiff in an ongoing lawsuit against five defendants. If MGT Gaming gains any money from the lawsuit (from settlements, royalties, damages, etc.), the formula for calculating MGT Capital Investments' payout is, in order: [total amount] - [approximately 30% to Nixon & Vanderhye, the law firm working on contingency] - [45% of the remainder to J&S Gaming]. MGT Capital Investments has $18.7 million in federal tax loss carry-forwards and $2.3 million in state tax loss carry-forwards, so up to $21 million of its take-home winnings will be tax-free. After $21 million, normal taxes will be assessed.
Catalyst 2: FanThrowdown.com User Base Growth
I invested in MGT because of this catalyst alone. I believe that each of the five catalysts - individually - could spark a rally to $6 per share this year. All of the other catalysts require knowledge of legal processes in some form, but this catalyst is a straightforward business that I can understand well, even as an untrained investor. I have explained MGT's new website, FanThrowdown.com, in two prior articles.
In summary, FanThrowdown.com is a daily fantasy sports website allowing users to bet on the performance of various athletes and receive same-day payouts. Daily fantasy sports compresses an entire season's action into one day, so the high-energy appeal is obvious. FanThrowdown.com is a $4 million website in an industry where the #1 website is valued at $60 million. The daily fantasy sports industry is just five years old, and most websites have launched within the past year due to a recent law expiring that banned casino participation. From current annual revenues under $100 million, the industry is predicted to grow to $2 billion (a 2,000% increase) within the next seven years, leaving nearly unlimited upside for all websites seriously acquiring users. (For justifications and citations for all claims, please see the two articles above.)
Notice how revenue is not the key ingredient for this catalyst. As I explained in prior articles, the only task for FanThrowdown.com is to add as many active users as possible. Once there are enough users, any competent consultancy firm can help MGT optimize Cost Per Acquisition ("CPA") and Lifetime Value ("LTV"). We all know that online companies are constantly acquired for their user base, even if they generate no revenue or are still tweaking their CPA:LTV ratio. Fortunately, FanThrowdown.com is generating revenue, and adding users is simply the responsibility of a digital marketing agency. I expect updates regarding the closing of this website acquisition shortly.
Once MGT closes the acquisition of FanThrowdown.com, polishes the website, and hires a competent digital marketing agency to drive traffic to the sign-up page, the user base should grow rapidly. I have already predicted that FanThrowdown.com will at least double in value by Christmas.
Catalyst 3: Markman Hearing Run-Up
IP companies tend to rally before their Markman Hearing dates. This is unsurprising, as Markman Hearings are scheduled catalysts of tremendous importance for IP companies. A pre-hearing rally could send MGT's tiny float to $6 per share on speculation alone, without even approaching 52-week highs of $7.46. We could know the date of the Markman Hearing as early as May 25.
Currently, we are awaiting the judge's decision on several motions discussed at the case management conference on May 9. Thereafter, if defendants choose not to settle, there will be a scheduling conference to determine the date for the Markman Hearing. The current motions awaiting the judge's decisions are:
WMS filed motion to transfer the action against WMS to the Northern District of Illinois
WMS filed motion to dismiss the case
Aruze & PENN filed motion to dismiss case
Aruze and PENN filed a motion to transfer venue to Nevada and Pennsylvania, respectively.
MGT filed a motion to request Oral Argument regarding WMS motions #1, #2, and #3.
Another author has done a nice job analyzing motions #1-3 in a previous article. Although I have not yet formed a personal opinion on these matters, readers can read that analysis here. I plan to deeply examine the '088 lawsuit and write another article dedicated to that analysis soon.
Catalyst 4: Settlement With CZR, MGM, PENN or Aruze
I lump these four defendants together because they have less urgency to settle than WMS due to its imminent merger with Scientific Games. (Before the end of the year, I expect WMS to settle or Scientific Games to otherwise comment on the lawsuit.) If MGT settles with any of the four remaining defendants this year, shares could immediately jump past $6.
Catalyst 5: New Legal Developments
There could be legal developments with any of MGT's three IP portfolios that could propel shares to $6 this year.
As discussed above, MGT Capital Investments has a 55% stake in this patent and is currently suing five defendants, as discussed above. If MGT names additional defendants or slot machines, MGT could file new lawsuits. Recall that shares previously rallied from $3 to $7.46 on the announcement of the original lawsuit- a purely speculative rally. Shareholders could be rewarded with a similar rally if MGT increases the scope of the patent's assertion.
We already know that Munich Innovation Group is selling MGT's wholly-owned legacy patents from Medicsight, the defunct business division of MGT. The only estimate of their value that I can find is Zacks Investment Research at $4-5 million. I do not know if this estimate is reasonable, but if it is, this sale could provide a nice cash infusion and a small bump to the share price.
On a very minor note, when MGT acquired Digital Angel, it acquired IP from its CEO, Michael Haller. I have no information regarding the value of this IP. In the unlikely case that it is particularly valuable, shareholders might be surprised with a new licensing deal or lawsuit announcement.
Otherwise, MGT's primary business is "acquiring, developing and monetizing intellectual property rights." Aside from the three IP portfolios listed here, it owns one gaming business (FanThrowdown.com) and one support division to assist in game coding, design and other digital tasks (Digital Angel). The best way to monetize FanThrowdown.com and Digital Angel is to increase the number of users who play the games while charging fees and subscriptions. There will probably not be any legal developments with FanThrowdown.com or Digital Angel in the near-term future.
Risks
No Moat for FanThrowdown.com
There is nothing preventing competitors from launching their own daily fantasy sports websites, and I have no problem with this whatsoever. As I explained in my prior article, "This industry is too young for moats. Daily fantasy sports is a free-for-all. Get as many customers as you can. There are still millions left."
Low Barrier to Entry for Competing Websites
As I mentioned above, new daily fantasy sports websites are born every week. However, there is so much money available (both from customers and venture capitalists) in daily fantasy sports that competition is not the problem. Again, there are 35 million traditional fantasy sports players today, and the #1 website for daily fantasy sports only has 4 million users. In young industries with exponential growth, demand is unlimited.
We know that daily fantasy sports are currently legal in 45 states and benefit from a preferential carve-out under the 2006 Unlawful Internet Gaming Enforcement Act. As I wrote in a prior article, according to the U.S. District Court for the District of New Jersey in Humphrey v. Viacom, fantasy sports games involve predominantly skill because of the complex nature of the games' strategies and the negotiations that occur among team owners. There is always the general risk of increased taxation or a legal overturn of this carve-out.
FanDuel.com, DraftKings.com and DraftDay.com are MGT's top competitors. The race to acquire users and ramp up advertising campaigns is happening right now. As MGT's team at FanThrowdown.com knows very well, this is the time to sprint or be trampled.
Blowing Cash on Stupid Acquisitions
All shareholders risk their management teams blowing cash on stupid things. Indeed, over a quarter of MGT's market capitalization ($6.9 million) is cash. Fortunately, 20% of MGT is owned by insiders, so their interests are aligned with shareholders by definition. In particular, CEO Robert Ladd has substantial personal funds at stake in MGT. Readers can easily check public filings showing that his salary is nominal in comparison to his 13.4% equity stake worth $3.5 million. I have already written about MGT's CEO as value investor.
In summary, although MGT's management could always blow cash on something stupid, their large equity stakes and history of prudent acquisition choices indicate that they will be conservative. (Recall that MGT spent only $136,630 in cash for Digital Angel and only $200,000 for FanThrowdown.com, wisely deferring most of the payment to restricted equity.) Personally, I have minimal dilution concerns, and I think cash is enough to last several years at the company's average burn rate, even if nothing is gained from the '088 or Medicsight patents.
Conclusion
I have outlined five catalysts in this article, each of which is sufficient for MGT to rally past $6 per share this year. I am happy that my predictions from below $3 per share are unfolding in line with my expectations, yet the stock market is always a risky environment. Nothing is guaranteed. Whether or not MGT hits $6 per share, I find it personally rewarding to spend time understanding the intricacies of an investment opportunity, which is why I plan to take time this coming week to read the quarterly report, once released, and study MGT's '088 lawsuit, even if I will never fully understand the legal processes involved.
Disclosure: I am long MGT. I wrote this article myself, and it expresses my own opinions. I am not receiving compensation for it. I have no business relationship with any company whose stock is mentioned in this article.