I've always preferred investing in businesses with established cash flows or assets that I feel I can value with a reasonable level of accuracy. The goal from this approach is to limit my investments to companies that I feel I can value, and then only buy shares when they are trading at a significant discount to that value.
Done successfully, this should be a fairly low risk and rewarding manner of investing.
The truth is however that aside from Warren Buffett, any list of the world's richest people generally doesn't include very many "value" investors.
Instead the richest people in the world made their fortune by getting in early on what ended up being a massive investment opportunity. I wouldn't mind getting in on some of that.
I keep a small segment of my portfolio set aside to invest in what I think could be investments that turn into huge winners. The trade-off that I accept for this approach is that these investments generally are riskier and much harder to value.
One Very High Growth Market
Very high growth rates starting from a small base can compound the value of an investment in a hurry.
I've had my eye on MGT Capital (NYSEMKT:MGT) which I thought could turn into a big winner because of intellectual property right that the company owns. Also importantly, MGT has a rock solid balance sheet.
Recently however, I've become more interested in the recent move by MGT into the very young and fast growing daily fantasy sports business.
MGT's purchase of a controlling interest in FanTD LLC gets the company in on the ground floor of daily fantasy sports through www.fanthrowdown.com. MGT's CEO and President Robert Ladd released the following comments at the time this acquisition was completed:
"It is hard to overstate the potential we see in legal online gambling, both now and in the near future, as states continue to relax prohibitions in pursuit of tax revenue. Betting on fantasy sports is legal in nearly all states and has a preferential carve-out on the Federal level under the Unlawful Internet Gambling Enforcement Act of 2006. Today's announcement is part of MGT's comprehensive strategy to add other games of skill over the next several months, with an emphasis on mobile applications and secure technologies."
Ladd is obviously pretty excited about this opportunity and I would suspect that his enthusiasm is legitimate given that he owns 25% of the company. When you own that much of a common share appreciate is your only motivation.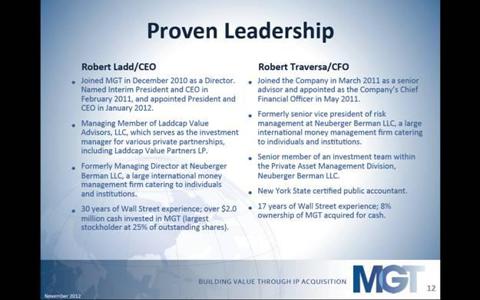 The Daily Fantasy Sports Market And The Players
Fantasy sports are extremely popular. SiriusXM (NASDAQ:SIRI) radio has an entire channel dedicated to fantasy sports. In Canada, billionaire Leonard Asper is starting an entire network dedicated to fantasy sports.
The "fantasy" part of fantasy sports is that individuals are betting on make-believe rosters of athletes with results determined by the stats those athletes produce. Daily fantasy sports takes fantasy sports betting from involving an entire season to betting on only one day.
That seems like a good idea in our world, where people love instant gratification.
Fantasy online sports works like an office sports pool. Fans compile teams of their favorite professional athletes and advance or fall back based on how the athletes perform in reality. Cash is paid out each day to the participants whose teams for that night include the highest-achieving individual players.
This isn't considered sports gambling, like Las Vegas casinos offer, because gamblers can't wager on scores or team wins or losses, and they can't create fantasy teams that mirror real-world teams. These are what-if teams, where individual performance is the most important factor.
Fantasy Sports is a big market. The Fantasy Sports Trade Association estimates there are 35 million fantasy sports players in North America, including 3 million in Canada. They are predominantly middle-aged, married men with a household income above $90,000. Between league fees, website hosting and other costs, the FSTA says fantasy sports as a whole are worth $4 billion a year.
The biggest players in fantasy sports are well known names.
Yahoo! (NASDAQ:YHOO) Fantasy Sports is believed to have the largest number of users and offers Pro leagues where competitors can pay to play and can win cash prizes. Yahoo! also generates revenue from its Fantasy Sports business by charging for a "Trade Review Service" and a "Scouting Report".
Www.cbssports.com (NYSE:CBS) meanwhile makes most of its money by charging for its fantasy football modules. A league pass on CBS Sports costs $179.99 per season, while individual player subscriptions vary based on the potential final payout. A decade ago, the site--then known as CBS SportsLine--took in $4.3 million in fantasy subscription revenue; this past year it surpassed the $50 million mark.
Not surprisingly, Disney (NYSE:DIS) through ESPN is also a big fantasy sports player. While Yahoo! has the larger number of users, ESPN's are more die-hard as it generates considerably more traffic through its site.
Where MGT's fanthrowdown.com and other sites like FanDuel and draftkings.com are moving is different from what Yahoo!, CBS and ESPN are doing in that it is daily fantasy sports betting. Daily fantasy sports betting is a relatively new and very fast growing segment of the market.
There is a bit of a land grab going on in online daily fantasy sports wagering.
Comcast (NASDAQ:CMCSA) invested in market leader FanDuel, no doubt because of its potential for continued growth. To give you an idea of just how fast this industry is growing, consider that in 2011 FanDuel paid out $10 million in winnings, and just one year later, that figure had increased five times to $50 million.
The second largest daily site, DraftKings also recently raised some capital from Atlas Venture as the business pushes forward aggressively.
There aren't a lot of barriers to entry in this business which is a risk, but getting in early and creating a brand will be key to which of the daily fantasy sites will be the long term winner.
What I'm looking for from MGT is something similar to what FanDuel has experienced, and that is some very rapid growth. If FanDuel grew from $10 million in winnings payouts in 2011 to $50 million in 2012 then I would think the value of the business likely grew at a similar rate. Something similar for MGT's fanthrowdown.com is obviously going to do good things for MGT's share price.
Since the daily sports betting market really is still in the start-up phase the sky is the limit in terms of how fast a company can grow.
Risks
As I mentioned the daily online fantasy sports business is basically in the start up phase. That means these businesses are unproven and unpredictable. Some of them might be huge successes, but some of them are going to be big failures.
Another risk is the fine line that exists between wagering on fantasy sports and the real thing. Right now fantasy sports are exempted from online gambling restrictions. The difference between the two being that fantasy sports are considered a game of skill and not a game of luck. With the move to daily fantasy sports the argument for skill being involved has to be weakened.
Disclosure: I have no positions in any stocks mentioned, and no plans to initiate any positions within the next 72 hours. I wrote this article myself, and it expresses my own opinions. I am not receiving compensation for it (other than from Seeking Alpha). I have no business relationship with any company whose stock is mentioned in this article.