Brown Forman (NYSE:BF.B) is one of those companies that is built to be a long-term portfolio holding. With a stable of distilled brands that includes Jack Daniels, Southern Comfort, Canadian Mist, Finlandia, and several other brands such as Gentleman Jack and Tennessee Honey, Brown Forman is one of those companies that posts resilient earnings growth in almost all economic environments. The proof of this is the fact that investors can reliably count on earnings per share growth just about every year.
I am reviewing annual data going back to 1997, and there were only two years in which Brown Forman did not grow earnings per share. From 2000 to 2001, earnings treaded water from $0.91 to $0.89, and as we exited the recent recession, Brown Forman's earnings held steady between 2010 and 2011 as earnings shifted from $2.38 to $2.37. Generally speaking, Brown Forman owners are able to see their profits grow by 8-12% annually. It is nice stuffing your portfolio with companies like that: firms that are both easy to understand, and are able to "show you the money" by increasing profits and dividends just about every year.
From an operational standpoint, the business is humming along nicely. Sales have been growing at 5.0% for the past decade. This has made it easy for investors to achieve 10.0% earnings growth, 8.5% cash flow growth, and 9.5% dividend growth annually for each share of ownership since 2003. The company's total debt level of $1.26 billion and its 387 million in cash assets is moderately lower than usual, as the company declared a special $4.00 per share dividend in response to last year's fiscal cliff.
And although the starting dividend yield rarely inches above 2% (the financial crisis represented the first time since 2002 that Brown Forman yielded above 2%), the company has generally compensated patient investors by giving them healthy dividend increases (since 2003, the dividend has tripled from $0.40 per share to $1.02 today, plus the special $4.00 dividend that investors received last year).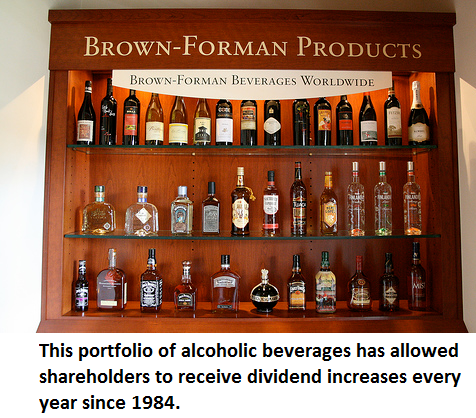 Last year's Christmas was a special time for the long-term investor: if he bought $10,000 worth of Brown Forman stock in 2003 at $20 per share for a total of 500 shares, he would have received $0.95 per share in regular 2012 dividends plus the $4.00 special dividend that got paid out on December 27, 2012. Because of this special confluence of events, a Brown Forman shareholder would have received $2,475 in dividends in 2012, or a 24.75% dividend yield on cost for his 2012 cash payments (that kind of windfall is what can happen when you own a cash rich large-cap company with a strong family shareholder presence that perceives a significant increase in dividend taxation).
But just because a company is excellent does not mean that you should buy it any price. To provide context for Brown Forman's current valuation, I have compiled a chart of Brown Forman's average P/E ratio for every year since 1997.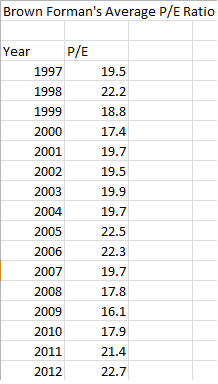 As of now, Brown Forman is generating $2.71 per share in earnings. And the company is trading at $72.74 per share. That is a P/E ratio of 26.84 (and this is not one of those situations where there is a discrepancy between earnings and cash flow that could possibly suggest an opportunity).
Considering a period that included a dotcom bubble and a price run-up before the 2008-2009 crisis, Brown Forman has never had a year where it traded at the kind of P/E multiple that it does right now. The highest historical valuation I can find before Brown Forman's recent earnings run-up is the 22.5x earnings that the company traded at in 2005. The current P/E valuation of the company is almost 20% greater than the company's highest valuation mark in the past sixteen years.
I have no idea if Brown Forman is trading at a top (as Benjamin Graham once said, "there is nothing to stop an overvalued stock from becoming more overvalued"), but I do know that Brown Forman is trading at its highest P/E multiple in its recent history of reviewable data.
The good news is that Brown Forman is one of those companies where the "intrinsic value" tends to increase every year, but the bad news is that new investors will likely get hit hard by P/E compression over the coming years. For the sake of it, let's assume that Brown Forman manages to grow earnings by the 8-12% rate predicted by most analysts and the $2.71 earnings figure manages to grow to $4.00 in the next five years. What happens if the company trades in line with its historical range and only has a 20x earnings multiple then? In that case, you are looking at an $80 stock. That's only an 11% price appreciation, plus a modest dividend, in a "good case" scenario five years down the road.
A couple days ago, I wrote an article explaining how Kimberly-Clark (NYSE:KMB) has been a good investment over the past decade, despite only growing earnings by 2.5%. Because Kimberly-Clark was so cheap then, investors were able to achieve returns superior to the growth of the company because of the valuation available at the time. Now we have come full circle. Brown Forman looks priced to perfection, and investors that buy today should consider the realistic possibility that they will achieve total returns that trail the growth of the firm because today's investors would be paying a premium that the company has not seen in the past sixteen years' worth of reviewable data.
Disclosure: I have no positions in any stocks mentioned, and no plans to initiate any positions within the next 72 hours. I wrote this article myself, and it expresses my own opinions. I am not receiving compensation for it (other than from Seeking Alpha). I have no business relationship with any company whose stock is mentioned in this article.