Bond yields are rising again. This week we saw the 30 year U.S. Treasury bond close at 3.17%, which does not seem like a particularly important or even dangerous number. In the grand scheme of things it isn't. But it is a very bearish number on a weekly basis looking at a chart of the yield when we look at it within the context of the monthly chart. Rising bond yields could be the work of the Fed or it could be strategic selling, now that the U.S. economy looks like it is in worse shape than what was expected earlier in the year.
Here's a weekly chart of 30 year U.S. bond yields.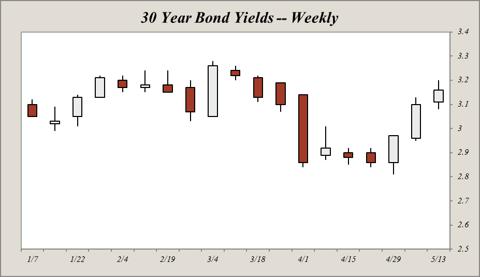 This week's price action took yields as high as 3.20%. So, for the month of May, we have had steady net selling in treasuries which has sent the U.S. dollar soaring versus just about everything except the Chinese Yuan (NYSEARCA:CYB), which is trading near an all-time low of ¥6.14. But, as I said, this doesn't look interesting until we look at this current uptrend in yields on a monthly basis.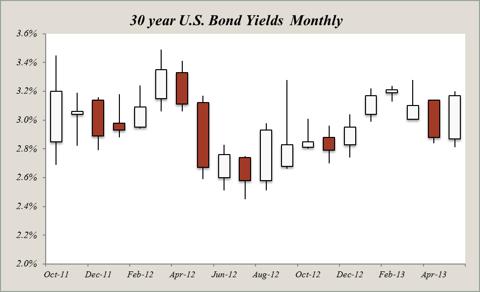 This makes May an engulfing bar, which is a rare bit of volatility in what is supposed to be one of the most stable and boring markets in the world - the longest maturity bond of the world's reserve currency. Worse than that is the fact that 2 of the last 3 months have seen this type of volatility. But in March's case, February was especially not volatile so the odds of an engulfing month were high. April, however, saw a large move down. In other words, the long end of the yield curve is moving very quickly to the upside.
From a purely technical perspective, a close above 3.14% this month would be a strong signal that rates are headed higher. A close above 3.28% - the March high - would be an even stronger signal that the bear market in U.S. treasuries which began last summer has resumed.
For most of 2013 so far, the market has been handicapping lower inflation despite the talk of a recovery in the U.S. economy. But if the economy were improving, we would be seeing inflation expectations entering into the bond market. But the breakeven rate has dropped since the beginning of the year, which is also reflected in broadly lower commodity prices, especially crude oil. Brent Crude (NYSEARCA:BNO) is hovering near $100 per barrel after pushing towards $120 earlier in the year.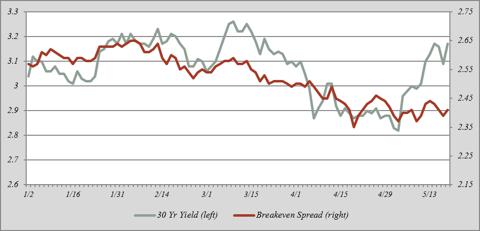 Inflation expectations (the breakeven spread, red line above) began moving lower in early February and hit their nadir right after the two-day hit job on Gold (NYSEARCA:GLD). Bond yields are rising, but inflation expectations are not so; this sell-off in bonds is consistent with a market that is expecting slow and sluggish economic growth and low money velocity.
So bond investors are not selling in order to offset the impending inflation, they are selling for other reasons. If the Fed is making good on its promise to taper off QE, then bond yields will rise simply because the supply of buyers will outpace the supply of bonds entering the market. The total Fed credit numbers for the past few weeks provide a bit of a clue to this. May is not complete, but the 3rd week of every month is generally where most of the Fed's credit is created on a monthly basis.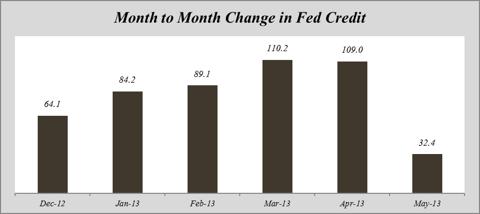 Either there is no appetite for lending at such modestly higher interest rates or the Fed has backed off on its bond purchasing and allowing net selling to occur. My problem with the latter is swiftness with which bond yields are rising.
But, when one factors in the larger picture, the one where the dollar is being ditched as the settlement currency for a lot of international trades, forcing a stronger dollar by pulling on the reins of QE for a few weeks or months will put serious pressure on China's economy by isolating it with a strong yuan while all of its major trading partners' currencies plummet with respect to it. The Yen (NYSEARCA:FXY) has been the catalyst for all of this.
This week saw 3 important Chinese trade currencies fall sharply. The Singapore Dollar (NYSEARCA:FXSG) closed just shy of S$1.26. The Malaysian Ringgit broke back above Rm3.00 to close near 3.03 back to pre-election levels and the Australian Dollar (NYSEARCA:FXA) continues its free fall closing at A$0.9736, off more than 10% since its announcement of settling trade with China without using the dollar as a settlement intermediary. Gold continued its descent on the futures exchanges as well. This is why China is so aggressively buying gold at these prices.
If all of this is a grand plan to save the dollar, then it will eventually backfire as China will amass enough gold to make the yuan a credible threat to the dollar in international trade.
While I don't recommend trying to short bonds in a QE environment, I would continue to watch the breakeven yield to see if it begins rising with rising yield or not. For right now, gold looks completely undervalued and these are levels at which one should accelerate their purchasing of gold as a foundation for your portfolio.
Disclosure: I have no positions in any stocks mentioned, and no plans to initiate any positions within the next 72 hours. I wrote this article myself, and it expresses my own opinions. I am not receiving compensation for it (other than from Seeking Alpha). I have no business relationship with any company whose stock is mentioned in this article.