Oneok Partners (NYSE:OKS) has not had a good 2013. YTD, the stock is actually down 3% and has vastly underperformed the broader MLP sector, as shown by the Alerian MLP index (NYSEARCA:AMLP), which is up over 11% YTD. Oneok has recently been affected by lower NGLs spreads and realized natural gas prices. Oneok offers a $0.715 per unit quarterly distribution and at current prices, yields about 5.50%.
Click to enlarge
Oneok owns and operates midstream assets with a heavy focus on natural gas and natural gas liquids. Oneok generates the majority of its income from fee-based, non-discretionary services to natural gas producers, processors and customers. Its assets are well located and are near natural gas and NGLs rich shale plays.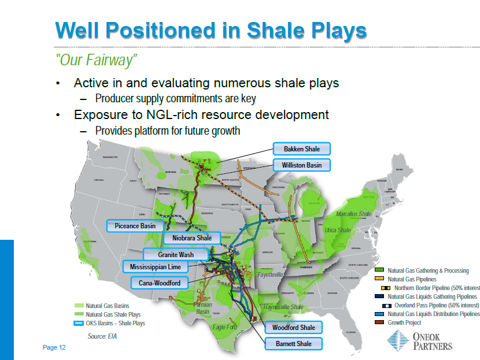 Click to enlarge
Oneok has many areas of potential growth, with about $4.7B to $5.2B in announced growth projects through 2015. Oneok also has a $2B to $3B backlog of unannounced growth projects, mainly related to natural gas and NGLs infrastructure. The majority of this growth will be concentrated in the Williston Basin. As of quarter end, about $1.9B worth has been completed.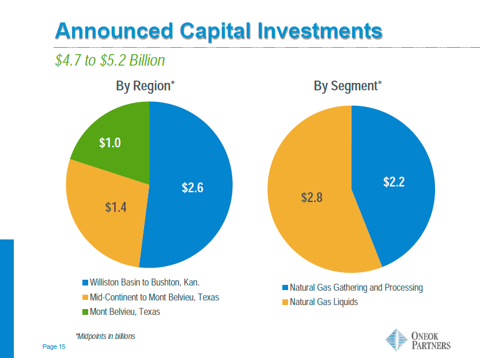 Click to enlarge
On April 30, Oneok reported its Q1 2013 results. For the quarter, Oneok Partners reported $157M in net income, or $0.42 per share, which is 35% lower than the $239M, or $0.91 per share reported in Q1 2012. Operating income was $178M in the quarter, down 30% from $256M in Q1 2012. A much better metric for the profitability for MLPs would have to be adjusted EBITDA. For the quarter, adjusted EBITDA was $261M, down 24% from $344M in Q1 2012.
Oneok's natural gas gathering and processing segment did see increased volumes when compared with Q1 2012, however, its results were affected by lower realized prices. For the quarter, this segment saw operating income of $34M, down 29% from $48M last year. Total natural gas gathered increased 16% while total natural gas processed increased 29% from last year. However, realized net sale prices for NGLs fell 22%.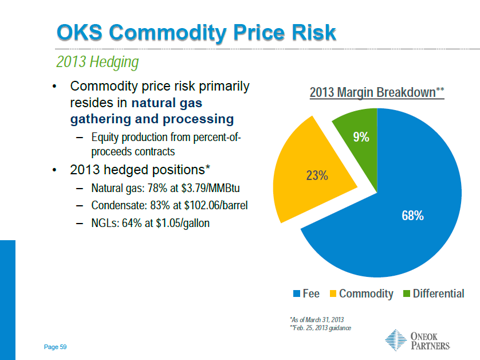 Click to enlarge
Oneok's natural gas pipeline segment continued to be its workhorse. During the quarter, operating income in this segment increased 9% to $36M, from $33M last year. About half of this increase was from higher rate fees on the Guardian pipeline, while the rest came from higher contracted volumes and margin improvements as a result of negotiated rates. Natural gas transportation capacity contracted increase 2% to 5,670 thousand dekatherms per day from Q1 2012. Total capacity utilized increased to 93% from 92% last year and from 90% last quarter. This higher utilization may be the result of higher natural gas prices, which increased 44% year over year.
Oneok results greatly suffered during the quarter due to narrower NGL price differentials and ethane rejection. The natural gas liquids segment reported operating income of $107M, down from 38% $174M in Q1 2012. About $90M of this decrease was from lower margins on NGLs. Ethane rejection resulted in a $9M decrease. However, higher volumes in the Williston Basin resulted in a $39M increase in income. Oneok's NGLs fractionated were 512,000 BPD in the quarter, down 12% from last year. Most of this decline was from ethane rejection. Oneok transported on gathering lines were 498,000 BPD in the quarter, unchanged from last year. NGLs transported on distribution lines were 394,000 BPD in the quarter, down 19% from last year.
Distributable cash flow, or DCF, declined 25% to $193M, from $256M in Q1 2012. However, that did not stop Oneok from increasing in April 2013 its distribution for Q1 2013 to $0.715 per unit, or $2.86 per unit on an annualized basis. The annual coverage ratio is expected to range from 1.00 to 1.05X DCF. Oneok has previously announced that it expects to increase its distribution by $0.005 cents per unit per quarter for the remainder of 2013 and increase its distribution by an average of 8% to 12% annually between 2012 and 2015. Since 2006, Oneok has increased its distribution by 79%.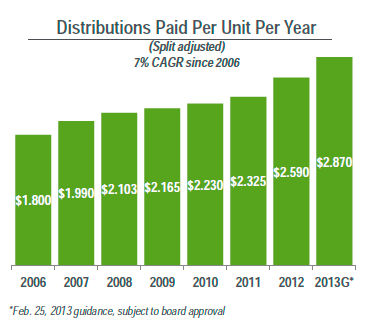 Oneok has also reaffirmed its 2013 net income guidance range of $790M to $870M and its DCF range of $910M to $1.0B. This guidance includes the projected $0.05 per quarterly increases to the distribution. Oneok expects natural gas and natural gas liquids volumes to continue to increase as its recently completed growth projects ramp up and other projects are completed.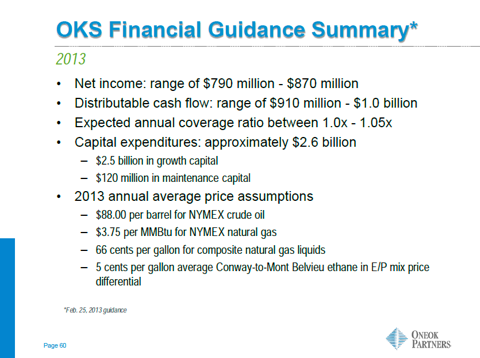 Click to enlarge
Conclusion
After reporting is Q1 results, Oneok's stock price quickly fell about 8% to near $50.00 per share. I took advantage of this price decline and started a position in Oneok. While NGL price spreads are currently weak, Oneok does expect volumes to pick up, which should help with the margin pressure. I know of very few 5% yield stocks with the distribution growth that Oneok offers.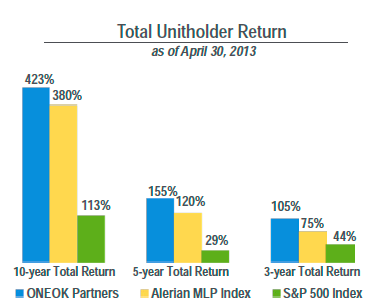 For those looking for a bit more growth and wanting to own a dividend paying stock instead of an MLP, they may want to consider Oneok Inc (NYSE:OKE). As of March 2013, Oneok Inc, along with being the general partner, owns about 43% of the overall partnership interest. Since 2006, Oneok Inc has grown its dividend at a CAGR of 14% and posted a 10-year total return of 676%.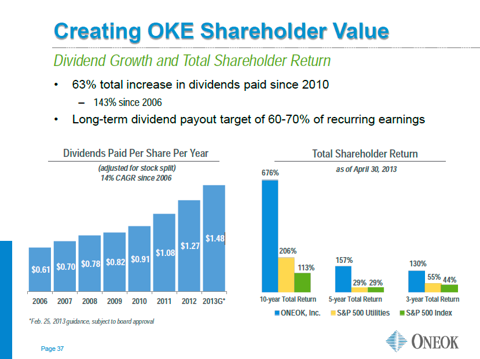 Click to enlarge
Disclaimer: The opinions in this article are for informational purposes only and should not be construed as a recommendation to buy or sell the stocks mentioned. Please do your own due diligence before making any investment decision.
Disclosure: I am long OKS. I wrote this article myself, and it expresses my own opinions. I am not receiving compensation for it (other than from Seeking Alpha). I have no business relationship with any company whose stock is mentioned in this article.