This article follows on from the overview I gave in a previous article, giving updates based on Singapore's Q1 economy and possible investments. Singapore's Q1 was nothing to sing about, but not one to be concerned about either. Early estimates suggest a quarter-of-quarter GDP decline of 1.4% (compared to 3.3% growth in Q4). Pharma and transport engineering were the weak links, while domestic and regional businesses were stronger.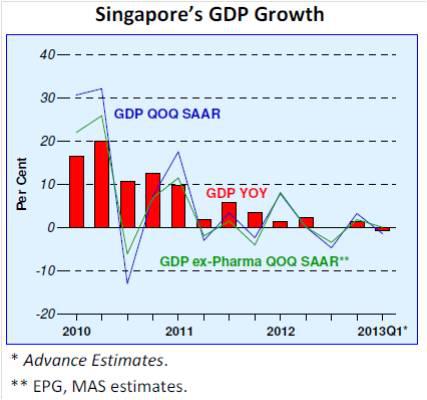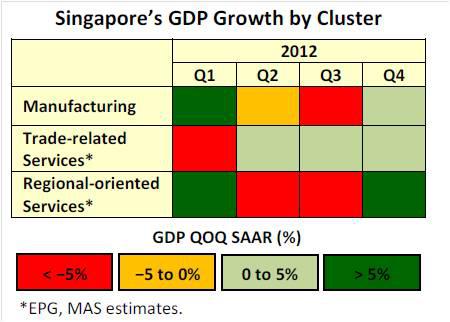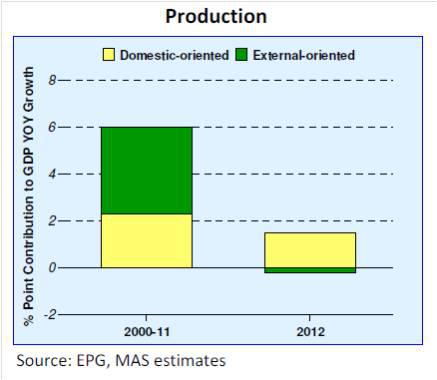 The globally weak economy continues to constrain Singapore's manufacturing and export industries. However, after the strong stimulus in 2009, and relatively low exposure to financial disasters, Singapore's local economy rebounded quickly and remains strong. Singapore remains near full employment, and looking out my window, consumption and activity are as active as ever.
Upside Plays
Singapore has become a highly developed nation, and is expected to get an increasing share of economic growth from the domestic economy. That long term trend, coupled with Singapore's strong employment relative to the major global economies makes the local market particularly attractive. For US investors, the Singapore small cap index (NYSEARCA:EWSS) could benefit more from domestic increases as compared to the larger cap funds. Don't be scared by the big cliff in the graph - it was a large special dividend.
In the domestic economy, the recent trend shows stronger than usual growth in construction. If you ever get to spend time in Singapore, you'll quickly discover than the nation is in a near permanent state of rebuilding everything. And recently, construction has been even busier than usual. Slowdowns in housing construction in the recent past have been reversed to meet the growing population. In the near-central area, I have noticed an increasing number of HDBs boarded up for tear-down and rebuilding. Additionally, the Downtown Line subway is in full construction mode, and the next line is in planning and design stages. The Marina Bay area is planned for further office construction which could start within the next couple of years. So I feel that the strong growth in construction has a lot of run left. Possible companies include Singapore Technologies Engineering (OTCPK:SGGKY) or Untied Engineering - SGX U04.
Real Estate companies should also do well. In some cases, the REITs contract for new development, fueling the construction - MapleTree generally does this. Additionally, land and building prices have remained high, which should keep rental rates up. The continued and extensive 'cooling measures' on real estate - now including industrial properties - have reduced the rate of turnover somewhat, but have not meaningfully changed prices and are likely to increase rental rates. So well established REITs with existing property should do fine. Capitaland (OTCPK:CLLDY), Suntec (OTCPK:SURVF), and Keppel Land (OTC:KPPLF) are big names here.
If you believe that the global economy is improving, the larger cap stocks, EWS (NYSEARCA:EWS) and SGF(NYSE:SGF) should do well, as many are regional or global companies. More specifically the shipping sector in Singapore should respond strongly. Transport engineering has recently been weak due to globally weak trade. When that improves, shipping and related services should grow particularly strong. Singapore is well positioned - both geographically and in terms of infrastructure and expertise - to pick up a large share of the ship services. Keppel (OTCPK:KPELY) Corp's Offshore and Marine company has offices around the world as well as large yards in Singapore. Keppel in particular has developed expertise in offshore oil rigs and drilling platforms. SembCorp Marine (OTCPK:SMBMY) is smaller, but has significant experience in LNG vessels, which may prove valuable as gas product volumes have increased.
Downside Concerns
Singapore has great food, but it's not free. There are two major downside considerations for Singapore. The first is that explosive growth of the last two decades cannot continue. Through increased capital stock and education, Singapore has caught up with the developed nations. Thus Singapore's long term growth is likely to trend towards rates seen in other developed nations. Population growth is a double-edged problem; on the one side, it is constrained by low birth rates and a social desire for slow growth in a crowded place. On the other side, even if immigration and growth continue, the limited space will make already high housing costs even worse. In the growth case, at least there is a chance for profit as REITs should continue to make outsized profits.
The second main downside is inflation. In brief (I will cover this in more detail in an upcoming article on the Singapore currency), interest rates in Singapore are not controlled by the Monetary Authority, and thus track closely to global rates, especially the US dollar. While low interest rates make sense for the US' high unemployment now, they don't make sense for Singapore's low unemployment. Core inflation (not counting housing and cars) has stayed around 2%, but only with contractionary fiscal and exchange rate policies. Housing and cars, however, are experiencing significant inflation. Again, housing construction and REITS should benefit.
The increased cost of private transport has one potential play - taxis. A couple of my friends who own cars purchased when taxes were low cannot afford to renew their ownership within the next couple of years. People in this situation often do not live in public transit convenient locations (by Singapore standards) and are used to the private transit lifestyle. I expect they will provide ready customers for taxis. The dominant taxi company is ComfortDelGro (OTCPK:CDGLF), which is a small holding in the MSCI Singapore Index.
Conclusions
Singapore is one of the few countries to get through the Great Recession relatively unscathed. This shows remarkable flexibility and reliance on the part of government and companies. However, it does not exist in a vacuum - as an open economy, the global situation will continue to provide a drag. There are still several ways to profit, and as a small economy, Singapore is likely to benefit quickly from any global improvements.
Disclosure: I am long EWS, EWSS. I wrote this article myself, and it expresses my own opinions. I am not receiving compensation for it (other than from Seeking Alpha). I have no business relationship with any company whose stock is mentioned in this article.