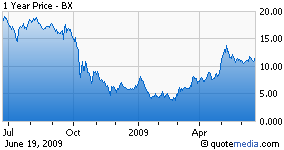 After watching their US$3bn investment in the Blackstone (NYSE:BX) IPO shrink by nearly two-thirds (from $29.605 to $12), China Investment Corp is reported to be investing $500mn in Blackstone funds (not directly in the stock this time) in an attempt to get into markets while prices are cheap. Fair enough on the market call, but I guess there aren't any hard feelings regarding the overvalued price CIC was given previously for Blackstone shares ($29.605).
Let's just say that Blackstone wasn't lying on their roadshows when they said they were the smart money... unfortunately CIC and later Blackstone IPO buyers probably didn't realize the implications this has when it's the smart money you are buying shares from.
But hey, that was two years ago, and I guess if you're going to pay management and, hopefully, performance fees on your investments, might as well pay them to the company you already own 12.5% of. Maybe the investment can even boost the value of CIC's BX shares... but I wouldn't go this far:
The entrance of a deep-pocketed investor like CIC would be a dream come true for the hedge fund industry, which has been ravaged by negative portfolio returns and investor withdrawals. Not only could CIC replenish the capital for some hedge funds, but it could help the wider industry by signaling that it's a smart place to put capital again.
While surely good news, until Blackstone shares break $29.605, let's not expect the market to be taking its cues from CIC investments.