A couple of the stocks in the portfolio were having good days, that's a nice change.

Hotel chain Wyndham Worldwide (WYN) reiterated its Q2 and full year guidance Friday morning; I was glad to see that on the back of the CFO departing Thursday. Generally when CFO's leave, stock market participants start to make up reasons for the bad news the CFO is leaving behind. Especially when the reasoning is "to pursue other opportunities" - that is generally a nice way to say "pushed out the door".

First CFO news
Wyndham Worldwide (NYSE: WYN) today announced that Virginia M. Wilson, executive vice president and chief financial officer of Wyndham Worldwide Corporation, is leaving the Company

to pursue other interests. Ms. Wilson will remain in her position through the third quarter to assist with the transition.
Second, reiteration of guidance
We own Wyndham for its valuation, however it has an unfortunately large exposure to the time share business which is depressing investors' outlook on the name. Another reason the CFO probably was "convinced" to pursue other opportunities was the ill-timed decision to do an offering last year when the stock was at $6 (maybe it was not just her, maybe the CEO thought it was a great idea too - we won't know) - this offering was not to fund debt but to pursue acquisitions. Errr - investors punished the stock even further on that decision - to the tune of 30%! [
May 1, 2009: Bookkeeping - Starting Position in Wyndham Worldwide] The company almost immediately rescinded that idea; credibility damaged however.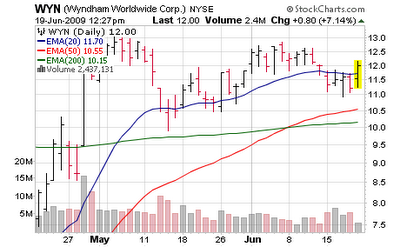 Starent Networks (STAR-OLD) was also having a nice day, it appears a nice analyst note helped this one... we mentioned this Thursday morning as a "bend but don't break" chart - unfortunately we now have a small gap in the chart which will have to be filled in the future. Remember Starent is a backdoor way to play the growth of smartphones. [Apr 29, 2009: Starent Networks (STAR-OLD) 3G Player with 4G Potential]
Shares of Starent Networks Corp. rose Friday after an analyst said the wireless network equipment maker may benefit from declining smart phone prices.
In a note to clients, CL King & Associates analyst Lawrence M. Harris reiterated his "Accumulate" rating and $25 price target for the stock. The analyst said that wireless carriers like Verizon Wireless and AT&T Inc. are cutting smart phone prices -- a move he thinks is meant to get customers to sign up for pricier data plans.
Harris noted that prices of Research In Motion Ltd.'s BlackBerry handsets in particular are dropping. AT&T dropped the price for the Bold and Curve models on June 3, he noted, while Verizon suspended a two-for-one BlackBerry offer and lowered the price for the various models it offers, which includes the touch-screen BlackBerry Storm.
"By making smart phones more attractive to consumers, Internet traffic is bound to increase. Starent is the exclusive supplier of packet core equipment to Verizon and Sprint is a major Starent customer," he said.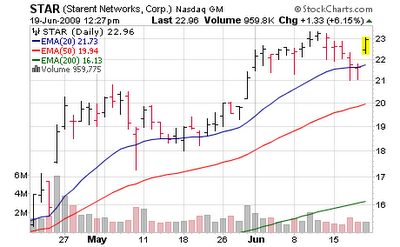 Yingli Green Energy (NYSE:YGE)
is also up around 10% for no particular reason other than that's what solar stocks do, fall or gain 10%+ a day. I had my stop loss here at $12.45; the stock fell to $12.46 Thursday - better to be lucky than good. Friday it almost reached $14.
Long all names mentioned in fund; long Yingli Green Energy in fund