While the DJIA and S&P500 are hitting new highs on a daily basis, it is worth noting that the broad energy sector, as measured by the SPDR Energy ETF (NYSEARCA:XLE), has severely underperformed the overall market. The energy sector has lagged the broad market (DJIA) by some 25 percentage points over the past 5 years. And this in spite of the outperforming refining and MLP sectors within the energy space.
What if energy stocks joined this rally? I think they will. And I think the DJIA and S&P500 could easily move up another 2-3% on the back of an energy sector rally. Here's why.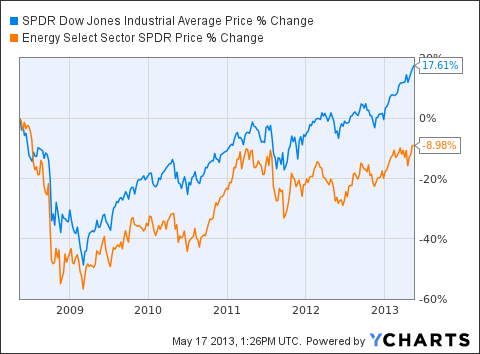 According to Standard & Poor's, the energy sector now composes only 10% of the S&P500. According to Bespoke Investment, this is down from 15.3% in 2008. There have been a number of reasons for the energy sector's contraction over the past 5 years. Among them:
The BP (NYSE:BP) Macondo well disaster in the Gulf of Mexico leading to a moratorium on drilling.
Low prices for natural gas and natural gas liquids (NGLS).
The delay in building the Keystone-XL Pipeline.
Inadequate oil & gas gathering and transport pipeline infrastructure.
Low realized prices for stranded Mid-continent Bakken, Permian, and oil sands crude.
High oil services and drilling costs.
The underperformance of Exxon Mobil (NYSE:XOM), the sector's largest constituent.
Higher fuel economy by the American car and truck fleet.
Energy demand contraction due to a weak economy.
But time marches on, companies and fundamentals change, and the outlook for energy stocks is now very good.
Macro Outlook For Energy Is Favorable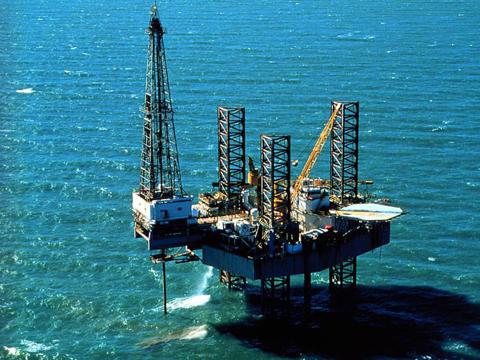 Many of the factors listed above have been somewhat mitigated over the past few years. And that is why I have a bullish outlook for U.S. energy companies. Consider the following:
According to the Louisiana Mid-Continent Oil & Gas Association, the Gulf of Mexico rig count is now 5 rigs higher than the pre-Macondo level. There have been a number of significant discoveries in the GOM recently, including the massive Shenandoah well that came in with ~1,000 net feet of pay.
The low price of natural gas caused by massive new supply as a result of new drilling technology and lease-hold drilling has caused a shift in rig count from dry gas to oil and liquids. Many companies have shut-in natural gas production.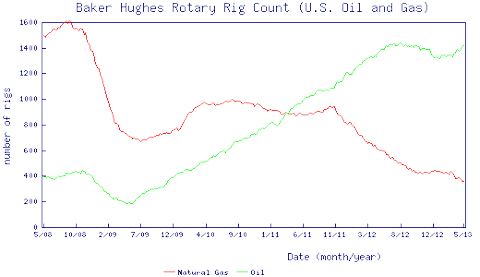 As a result, natural gas production has plateaued and prices have rebounded from recent lows to the $4/MMBtu level. While current prices are still historically quite low, the worst of the natural gas price pain (sub $2.50 MMBtu) is likely over.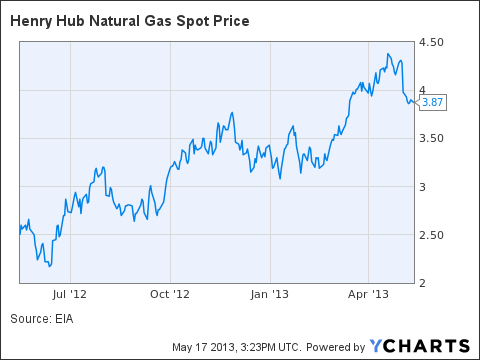 Henry Hub Natural Gas Spot Price data by YCharts
While the delay of the Keystone-XL pipeline has been frustrating for mid-continent oil producers, rail transport has been successful in alleviating what could have otherwise been an even more serious buildup of stranded oil. Going forward, oil sands production could rise to 5 million barrels/day by 2018 and refiners on the U.S. gulf coast have are configured to run the heavy oil and need it. Bottom line: Keystone-XL needs to be approved. And I believe it will be later this year. It will be a bullish catalyst for the energy sector.
Two new pipelines by DCP Midstream Partners (NYSE:DPM), a 50-50 joint venture between Phillips 66 (NYSE:PSX) and Spectra Energy (NYSE:SE), are coming onstream this year: the Sand Hills and Southern Hills pipelines. The Sand Hills line will provide critical transport for 200,000 boe/day of NGLs (expandable to 350,000 boe/day) from the Permian and Eagle Ford basins to Gulf Coast chemical plants.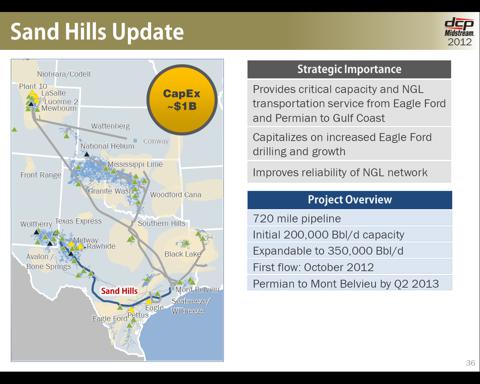 This should help large Permian Basin producers like Occidental Petroleum (NYSE:OXY) and ConocoPhillips (NYSE:COP) with both their NGLs and chemical operations.
On the drilling costs front, prices have peaked in the Bakken. Frantic leasehold drilling pressures have eased. New pad drilling technology has reduced well costs -- up to 10%. While fracking can make up to 40% of entire well costs, basic material supply chains are improving and efficiency gains are being made. All this will add up to more profit for Bakken oil producers.
For the energy sector's performance to significantly improve, its largest component (Exxon Mobil) needs to gain traction. In a previous article (5 Reasons Exxon and Chevron will push the DJIA Up 160 Points), I listed some reasons why Exxon could easily run up 10% from current levels. XOM's stock chart looks strong since the 2010 bottom. The stock is making high highs and lower lows. It looks poised for a breakout.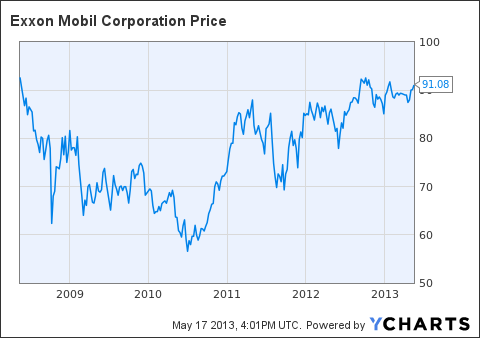 Lastly, despite higher fuel efficiency standards and a lackluster economy, average gasoline prices in 2012 were the highest ever. A healthy Brent/WTI spread still exists. Low natural gas feedstock also helps lower refining and chemical producers' cost. These fundamentals will give U.S. refining and chemical companies a big cost advantage over foreign competitors for years to come. I look for the U.S. refiners and chemical manufacturers to increase their high-margin refined product exports.
Summary and Conclusions
U.S. economic prosperity has often followed the energy sector. The U.S. was the strongest country in the world during WWI and WWII largely on the back of leading the world in oil production. In my opinion, the economic prosperity in the 1980s wasn't caused by Paul Volcker or Ronald Reagan. The economic recovery in the U.S. was caused by increased oil production from Alaska, the North Sea, and Saudi Arabia that lowered the price of oil and shook off the economic malaise of the late 1970s. Energy is required for economic prosperity -- and the U.S. has it.
It would take a 50% move up in the energy sector to return to its 2008 15.3% weighting. I don't see that big a move over the next 12 months. But I do see a 10-20% move in large energy companies like Exxon Mobil, Chevron (NYSE:CVX), Conoco Phillips, and Phillips 66. They pay nice dividends and are undervalued (as measured by P/E ratios) compared to many other sectors of the market. The broad energy sector is a buy. If you are not comfortable with the individual names suggested above, you can invest in an energy ETF like the XLE.
The worldwide outlook for energy is very bright. U.S. energy companies, as they have many times in the past, will lead the way. And they will push the overall market as measured by the DJIA and S&P500 higher by another 2-3%. This rally is not over.
Disclosure: I am long COP, CVX, PSX, XOM. I wrote this article myself, and it expresses my own opinions. I am not receiving compensation for it (other than from Seeking Alpha). I have no business relationship with any company whose stock is mentioned in this article.
Additional disclosure: I am an engineer, not a CFA. The information and data presented in this article was obtained from company documents and/or sources believed to be reliable, but has not been independently verified. Therefore, the author cannot guarantee its accuracy. Please do your own research and contact a qualified investment advisor. I am not responsible for investment decisions you make. Thanks for reading and good luck!