BlackBerry (NASDAQ:BBRY) is on a bit of roll. Market share in Canada has doubled since the Z10 was launched and is likely to continue to grow with the enormous popularity of its new Q10, which hit the market last week. I bought one and it is a delight. I got mine from Bell Canada, and was immediately impressed by the speed of the Bell LTE network. Downloads are incredibly fast.
The momentum is not just in Canada. ZD Net reports that two-thirds of people who left BlackBerry for Android are being tempted to come back by the Q10 launch.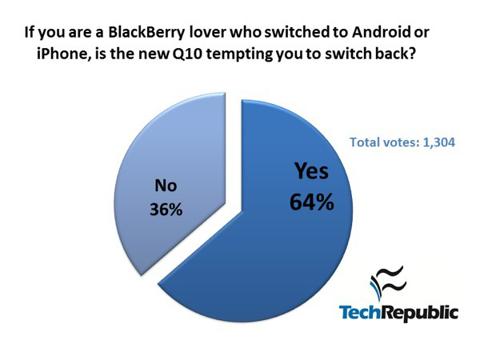 Click to enlarge
Adding to the buzz, Jefferies just released a bullish report on BlackBerry and commented on a decision by Verizon to switch its 10,000 employees to BlackBerry from Android. An even more interesting comment was the indication that a private company had developed a solution that let all 700,000 Android applications run on BlackBerry BB10 devices and noted that, "The company will provide the solution that will be a link between BB10 and Android ecosystem of more than 700,000 touch enabled apps."
BlackBerry's recent release of BES 10.1 is allowing corporations to manage iOS, Android and BlackBerry devices on one Mobile Device Management (MDM) system has been well received. In parallel, there is a lot of chatter about the decision to make BlackBerry 's ubiquitous BBM messaging system available across iOS and Android devices with the potential impact of adding tens of millions of new users to this iconic service.
These important events were followed by the release of the Q5 mid-tier BB10 phone targeted at Europe and Asia. The Q5 is likely to be priced as a replacement to the very popular BlackBerry Curve, which has delighted users throughout the BlackBerry world.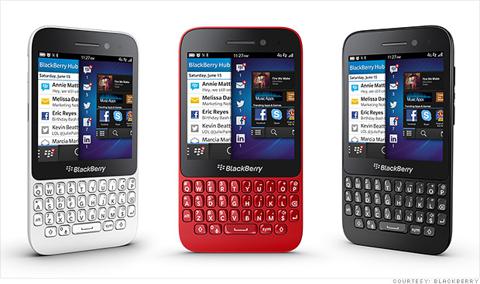 Click to enlarge
The skeptics and shorts can ignore these items, but the indications are strong that BlackBerry is not just back but is back in spades. Perhaps the most important of the recent moves is the availability of Android's 700,000 applications on BlackBerry phones, eliminating what many believe to be the "ecosystem" disadvantage the shorts believed too great for BlackBerry to overcome.
It was always possible to run Android apps on BlackBerry BB10 devices, but for most of us who are not "techies," the steps were too complex.
If Jefferies is correct that Android applications will soon be able to run on BlackBerry devices "natively," the impact will be substantial. I am betting they are correct. I am long BBRY.
Disclosure: I am long BBRY. I wrote this article myself, and it expresses my own opinions. I am not receiving compensation for it (other than from Seeking Alpha). I have no business relationship with any company whose stock is mentioned in this article.