I decided to look at David Fish's Dividend Champions and focus on annualized shareholder return numbers. I am young. I think that dividend growth is great, but right now, I am more interested in overall capital growth than I am in increased income alone. Because of this, I used the perceived safety and consistency of the Champions list as a jumping off point for my annualized rate of return search. While I am not wholly concerned with my investment portfolio's income, I do especially like investing in companies that have displayed consistent dividend growth as this exudes management confidence with regard to future performance and often serves as an ever rising platform for the stock's bottom price range. I sleep well at night owning stock in companies like these and have decided to put my financial fate in the powerful hands of compounding returns.
To be considered a "Dividend Champion" on David Fish's list, a company must have increased its annual dividend for a minimum of 25 years. There are 104 companies on this list, 35 of which have offered shareholders a double-digit annualized rate of return without the collection and/or reinvestment of dividends over the last 20 years. I have ranked these companies 1-35, with these rankings determined by the stocks' non-dividend annualized appreciation. The companies on this list are known for the dividends, but I wanted to see which of them have given shareholders the best capital gains due to my interest in total wealth accumulation. Oftentimes investors looking for high annualized returns feel that they must increase their tolerance of risk to achieve their goals. I decided to look at a much more stable pool of stocks to attempt to find the appreciation that I'd personally like to achieve to debunk this thought. I used the 10% annual mark as my minimum standard. Some may view this as conservative, but the power of compounding double-digit yearly growth is astounding. This minimum rate will allow for me to meet my long-term financial goals, and I imagine that most investors would, at the very least, be satisfied with these 20 year figures.
I must admit, I was surprised to see which of the 104 stocks had achieved this long-term 10% annualized return. I expected to see the dividend stalwarts: 3M Company (NYSE:MMM), Archer Daniels (NYSE:ADM), Coke (NYSE:KO), Exxon Mobile (NYSE:XOM), Pepsi Co (NYSE:PEP), Procter & Gamble (NYSE:PG), Wal-Mart (NYSE:WMT)... the companies on this list that receive constant coverage and high acclaim goes on. Several of the more highly touted stocks made the list: Aflac (NYSE:AFL), Clorox (NYSE:CLX), McDonalds (NYSE:MCD), Target (NYSE:TGT), and Walgreen (WAG). However, what I noticed, especially at the top of the ROR list, were companies that I believe to be largely overlooked by the DGI community. This is likely due to the low yields that many of the companies that made the list offer (many yields hover near or below the 1.0% mark). Only 5 of the 25 companies ranked exceeded the Champions average yield of 2.58%. Many income seeking investors have a minimum yield standard for their portfolios. I have heard the 3% or 4% marks commonly used for this purpose. What this article and the associated statistics sets out to do is show investors that low yields on the Champions list often translate to company strength and a historically successful stock performances.
Below are the Dividend Champion ROR rankings. I included multiple statistics, which I believe to be useful when examining the historical performance of dividend stocks. All information in these tables was gathered from David Fish's U.S. Dividend Champions list, F.A.S.T. Graphs, and my personal Scottrade quotes and research database. All bold figures represent an above average statistic in regards to the 104 Dividend Champion companies. Overall group averages were not available for 5 year EPS growth rates, both ROR statistics, and 20 year average dividend growth rates; therefore, readers should not consider all of the figures to be below average being that none of them are bold. I should also note that I used the 21 year annualized ROR with dividends reinvested as a tie-breaker when two companies had achieved the same annualized ROR pre-dividends.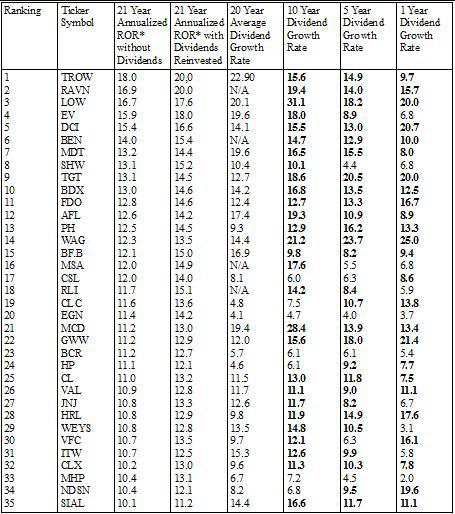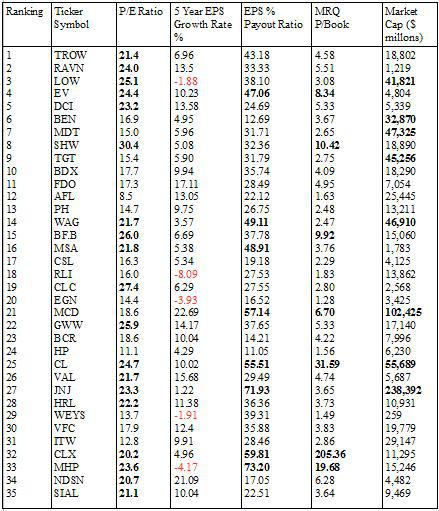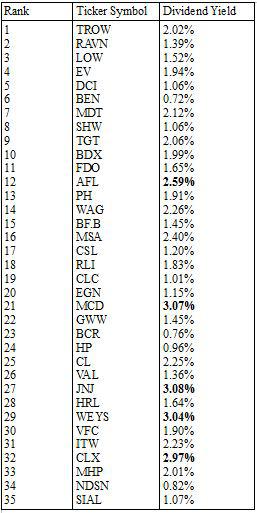 1.(NASDAQ:TROW) 2. (NASDAQ:RAVN) 3.(NYSE:LOW) 4. (NYSE:EV) 5. (NYSE:DCI) 6. (NYSE:BEN) 7. (NYSE:MDT) 8. (NYSE:SHW) 9. 10. (NYSE:BDX) 11. (NYSE:FDO) 12. 13. (NYSE:PH) 14. 15 (NYSE:BF.B) 16. (NYSE:MSA) 17. (NYSE:CSL) 18. (NYSE:RLI) 19. (NYSE:CLC) 20. (NYSE:EGN) 21. 22. (NYSE:GWW) 23. (NYSE:BCR) 24. (NYSE:HP) 25. (NYSE:CL) 26. (NYSE:VAL) 27. (NYSE:JNJ) 28. (NYSE:HRL) 29. (NASDAQ:WEYS) 30. (NYSE:VFC) 31. (NYSE:ITW) 32. 33. (MHP) 34. (NASDAQ:NDSN) 35. (NASDAQ:SIAL)
Now that you have seen the rankings, I think that it is prudent to say that past results make no promises in regard to the future. They do, however, give investors valuable information and the ability to make educated predictions. The fact that these companies have made a concerted effort to constantly increase their dividends over an extended period of times gives me faith that this trend will continue. But investors should not take this for granted; for instance, Pitney Bowes (NYSE:PBI) was recently cut from the Champions list after cutting its dividend, ending a 30 year streak of annual increases.
Unfortunately, it is very rare that a perfect storm forms with regards to a stock's fundamentals. This is especially rare among stocks that are commonly analyzed by potential investors because any such opportunities will be bought up quickly and the ensuing price change will change the fundamental ratios. When looking over this list, C. R. Bard Inc. seems to be the company that offers investors the most well rounded buying opportunity. The company doesn't have any outliers are far as its evaluation multiples. Its P/E ratio is under 20, well below its peer average of 29.7x. BCR has a double-digit 5 year EPS growth rate showing strong, consistent performance. However, when taking a closer look at the more recent EPS growth trends, we see that BCR increased its EPS by 14% in 2011 and only 3% in 2012. The company attributes this to slow economic growth in its two main markets, the U.S. and Europe. In the U.S. especially, the medical market is on shaky ground due to major policy changes in the healthcare arena and the uncertainties that have come along with these. However, Bard is certain about one thing, saying, "There are approximately 10,000 Americans turning 65 every day for the next 20 years,with similar trends in our other markets. This means that at some point, the change in patient volume should begin to turn from negative to positive."
One year's worth of slowing results doesn't scare me away from a company like Bard. I think that the 2012 slump gives investors a grand opportunity to pick up shares. The company has a very low 14.21 payout ratio, which enables it to invest into increased marketing and product R&D. And when you take a closer look at what the company is doing, you see that BCR is quickly increasing its exposure to emerging markets (where the company saw 32% growth in sales) with a focus on Brazil and China. BCR is making a focused effort to increase its exposure in new markets due to the economic troubles that its primary markets are experiencing. Emerging markets only accounted for 6% on the company's overall sales in 2012, and I expect BCR's intense focus on international and emerging markets to greatly increase its influence in these regions where wealth is growing and medical care is improving.
My least favorite aspect of BCR is the fact that the company's annual dividend yield is 0.75%. I say "least favorite" because a steadily growing dividend is still a steadily growing dividend; regardless of how small, Bard still offers investors an annual raise that has historically fallen in the 5-6% range (if only I could get this at my day job). I admit, this sum seems paltry compared to some of the other yields available in the medical industry. However, as discussed above, while Bard doesn't offer investors a tremendous amount of yearly income, it has given investors a double-digit annualized ROR for some time now and I expect this trend to continue with suspected improving economic environments in both the United States and Europe, combined with BCR's newest success emerging markets.
This analysis of BCR is based primarily on its fundamentals. Some of my other personal favorites from this list are: Becton Dickinson and Co., Donaldson Company, Family Dollar Stores, Medtronic Inc., Raven Industries, Target, and The Valspar Corp (this is alphabetical order, not necessarily a best-to-worst ranking). What do these stocks have in common? They are all able to boast relatively high EPS growth rates. For dividend companies, earnings growth is paramount to me, as this is what enables these companies to maintain their dividend payments and low payout ratios. I like companies with a low payout ratio. I feel that this gives the dividend safety and means that the company has more cash on hand to invest in itself. These companies have below average P/Book ratios because I believe that regardless of how wonderful a company is, an investor should make an effort not to over-pay. Entry point is important as it can drastically effect long-term return figures. I like predictability and safety and I understand that many times investors are forced to pay a premium for these attributes, but I refuse to simply give in and accept this ultimate reality. Lastly, each of these companies offers investors very strong short- and long-term dividend growth statistics. I invest in dividend paying companies with the intent of re-investing the income that they offer and creating a compounding situation within my portfolio. Dividend growth combined with this re-investment really fuels this compounding.
These companies are also positioned to do well in the current economic environment. BDX, like BCR, is in the business of developing and manufacturing medical supplies and devices. As the baby-boomers age, I like all of the major players in the medical industry. I also believe that these companies stand to benefit from the emerging markets with medical care drastically improving in these regions. In 2012, BDX improved its revenues by 1.6% to $7.7 billion. Operating income improved by 7.6% to 1.1 billion. Thus far, much of this article has focused on past performance. This company is very focused on its future with major investments such as $472 million in R&D with another $487 million allocated for new plants and equipment. It should be noted that in comparison to BCR, BDX offers investors a much higher yield: 1.97%.
DCI is an industry leader in air filtration products and innovation. DCI is incredibly well rounded in its market exposure, offering filtration products for automobiles engine emissions, aerospace and defense initiatives, bulk fuel processors, semiconductors, and disk drives. DCI is coming off a record year in 2012 with sales of $2.5 billion (up 9% from 2011), net earnings of $264 million (up 17% from 2011), and an EPS of $1.73/share (up 21% from 2011). The company invests heavily in itself to ensure future growth and improve profit margins. In 2012, DCI established another record: a 14.6% operating margin. DCI expects this figure to continue its upward trend and stats target expectations of $3 billion in sales by FY2016 and $5 billion in sales by FY2021. As the world economy improves, so will DCI's outlook, as the company does business in many of the major regions affected by a slumping economy with focus on the U.S., Europe, China, and Japan.
While I do believe that the U.S. and world economy is improving and will continue to do so, an investment in a company like FDO can be seen as a hedge against this sentiment. FDO offers many products that are priced below $10, essentially guaranteeing its performance in a down market. FDO is in the process of greatly expanding its market share and influence in the specialty retail industry by opening 475 stores in 2012 and relocating and expanding another 854. The company is improving its product line, adding over "1000 new food, health, beauty, and personal care items to its assortment," including the addition of Pepsi products into all of its stores. This improvements helped FDO to increase its comparable stores sales by 4.7% and total sales by 9.2%. The company's 2012 EPS grew 14.7% to $3.58/share.
Another medical company, MDT, made my favorites list. Medtronic Inc is the world's largest standalone medical technology company. Its products and services extend to over 120 countries. MDT does the majority of its business in the U.S.; however, in 2012, it posted 21% emerging market growth. Innovation is key to this company as well, with 38% percent of its 2012 revenue coming from newly released products. The company's overall revenue increased 4% in 2012, up from 1% growth in 2011. MDT has shown steady growth, providing investors with a 5 year EPS CAGR of 16.2%. In 2012, MDT returned over $2.5 billion to shareholders with its dividend payments and its share buyback program. MDT currently offers a 2.10% dividend yield.
I like RAVN because of its diversified approach to business. RAVN offered shareholders a total return on capital of 38.9% in FY12. For its FY2012, the company pulled in revenue from three major sources: Agricultural: 37%, Industrial: 35%, and the Government: 28%. The company's FY12 revenue increased 21%, from $314.7 million to $381.5 million. RAVN's EPS increased 24% in FY12 to $2.77/share. The company has only posted negative EPS growth once in the last ten years (FY2010). Besides this mishap, RAVN has consistently beaten its 10-15 annual growth goal. RAVN is very responsible with the free cash flow that this growth generates. The company's general philosophy is to return 30% of its excess cash to shareholders in the form of dividends (share buybacks when "appropriate") and use the other 70% for internal growth and to boost its cash reserves.
Target, like FDO, though not to the same extent, offers its customers with affordable retail goods. TGT's 2012 revenues were more than $73 billion. The company grew its revenue by 4.9% in 2012. TGT's 5 year CAGR is 3.0%. Like FDO, Target is also expanding. At the end of 2012, Target had 1778 stores in 49 states and 251 SuperTarget stores in 22 states. The company's 2013 store expansion is highlighted by its plan to open 124 stores in Canada. This will be the first time that the company has attempted to enter international markets. Target is one of 13 companies on the list of 35 that currently offers investors a dividend yield greater than 2% (2.06%).
I like Valspar so much because I believe in the housing recovery. New houses will require paint, coatings, and finishes, and much of these products will come from Valspar. Valspar has really bounced back from a down year in 2010. In 2012, the company's were over $4 billion, up 1.7% from 2011 (this total is up 22.5% from 2010). After posting a loss in the income column in 2011, VAL's 2012 income was $417 million, up 504%. The company's 2012 EPS was $3.10/share, which represents another large annual percentage growth: 311%. I expect this positive earnings trend to continue, which should shore up any doubts that investors have about the company's dividend. Also, it should be comforting to investors that throughout this down time, the company continued its double digit dividend growth, posting 12.5% growth in 2011 and 11.1% growth in 2012.
Now, let me be clear, all of the companies on this list seem to be sound investments. This, after all, was the point of compiling this information: to give investors a resource that enables them to find and compare wonderful companies. The entire U.S. Dividend Champions list is a great place to start. I should mention now that only 2 of the 104 companies on this list (1.9%) posted a negative annualized return over this 20 year period of time: Telephone and Data Systems (NYSE:TDS) with -2.2% and NACCO industries (NYSE:NC) with -0.2%. What this shows is that with long-term DGI companies, it is difficult for an investor to go totally awry. The point that I am trying to make is that unless you absolutely need the degree of income from your investments that above average yielding stocks pay, total return should be a prominent factor in your investing decisions. These picks focus on this, also providing prospective investors with supreme dividend growth opportunities and strong earnings growth perspectives. We shouldn't settle as investors. We should all be seeking alpha, whether this be in relation to the general market or a sub-set of the market. The companies on this list have given investors a high degree of alpha in comparison to the rest of the Champions during the 20 year period of time examined. Their financials seem to be in line and while some are over-priced by my evaluations, I expect the vast majority of these stocks to continue their annual ROR successes.
*All financial information used in this article comes from either the individual companys' annual reports, David Fish's US Dividend Champions list, F.A.S.T. Graphs, and Scottrade.
Disclosure: I have no positions in any stocks mentioned, and no plans to initiate any positions within the next 72 hours. I wrote this article myself, and it expresses my own opinions. I am not receiving compensation for it (other than from Seeking Alpha). I have no business relationship with any company whose stock is mentioned in this article.