The U.S. dollar had a good week ending May 17th. The dollar index (NYSEARCA:UUP) closed the week above what I call the "QE2 reference price," the level of the index the day before Federal Reserve Chair Ben Bernanke telegraphed the imminent arrival of a second round of quantitative easing in late August 2010. Since then, the dollar index has only crossed this level once, although it came extremely close to doing so last month. Trading relative to the QE2 reference price is an important symbol of the market's sentiment toward the U.S. dollar. When QE3 failed to drive the U.S. dollar lower, the QE2 reference price loomed larger and larger with time.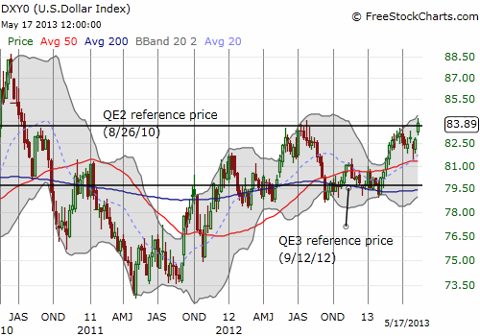 Click to enlarge
The dollar index surges into its QE2 reference price
Traders have gotten quite bullish on the U.S. dollar. Reuters reported that bullish bets on the U.S. dollar have reached an 11-month high:
"Currency speculators increased their bets in favor of the U.S. dollar to the highest in 11 months in the latest week, according to data from the Commodity Futures Trading Commission released on Friday. The value of the dollar's net long position rose to $32.27 billion in the week ended May 14, the highest since mid-June, 2012, from $26.83 billion in the previous week."
This critical juncture for the dollar index forms an important backdrop for all currency-related trades and investments. My conclusion that the British pound (NYSEARCA:FXB) is a bargain here partly rests on an assumption that the dollar index will not rally much further from here; or if it does continue to rally, the pound will not receive much of the beating on the other end of the forex pairings.
The Bank of England (BOE) provided its latest Inflation Report on May 15th. It was outgoing Governor Mervyn King's last stand at this forum after a total of 89 press conferences, 82 straight Inflation Reports covering all but the inaugural year in 1993. Perhaps it was sentiment, but King reversed some of the dour outlook he presented at previous Inflation Reports (for example, see "Where the Pound Has Fallen, the Euro Should Soon Follow"). He chose to accentuate positives alongside the ongoing economic risks. His opening remarks set the tone:
"Of most significance today is that there is a welcome change in the economic outlook. Today's projections are for growth to be a little stronger and inflation a little weaker than we expected three months ago. That is the first time I have been able to say that since before the financial crisis. But this is no time to be complacent - we must press on to ensure a recovery and bring down unemployment… a recovery is in sight. Output grew by 0.3% in the first quarter and growth is likely to strengthen over the course of the year…

… the recovery is likely to remain weak by historical standards. The main downside risk to the sustainability of the recovery continues to stem from events overseas, especially in the euro area."
The U.S. dollar has been so strong lately that I believe the market was largely deaf to the more positive messages in this inflation report. The pound closed the week at a near 6-week low versus the U.S. dollar and below the critical support levels of the 50-day moving average (DMA) and the ~1.52 pivot that has served as approximate support since 2010.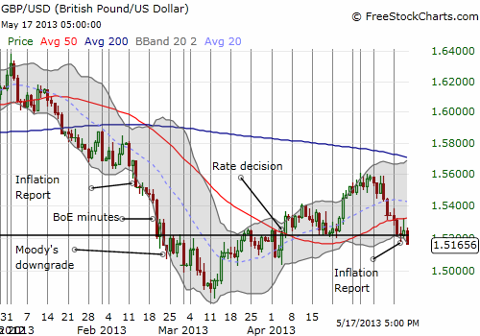 Click to enlarge
The British pound succumbs to the dollar's strength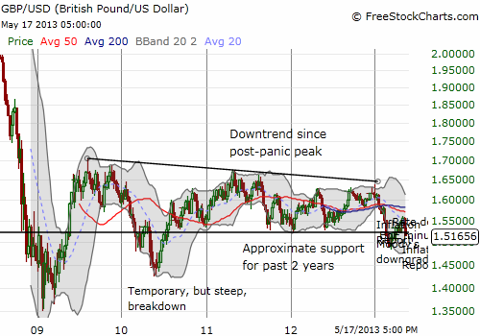 Click to enlarge
Can the pound hold the 1.52 pivot?
King's more positive outlook comes from an expectation that 2012′s anchors on the economy, reduced output in North Sea oil and a fall in construction will no longer drag on the economy this year or in subsequent years. In fact, subtracting these laggards, the UK's GDP 2012 growth looks a lot like that of the U.S.:
"So I think try and see it in perspective a bit more, don't get entirely put off by the weak figures for both the trade deficit and output growth during calendar 2012…

…I would like to stress although we don't see a particularly rapid recovery in the next few quarters but we do see a recovery and I think there are good reasons for that. If you look back to 2012, it goes back to what I said to you earlier, if you take out the impact of construction and North Sea oil, the UK economy grew by almost 1.5% last year, through 2012, exactly the same as the US economy…

… I think these temporary depressing factors of construction and North Sea oil, there are very good reasons to suppose that they will not be acting as such downward forces during this year. In which case once you remove them you do have the impetus of a modest recovery going forward, which I hope will start to feed on itself and build up to a stronger recovery."
King points to changes in tax laws, which will encourage more investment in North Sea oil output, which in turn should lead to increases in output over the next couple of years. Construction should stabilize and cheaper UK mortgages should support the housing industry.
Of course, anyone can subtract out the poorly performing parts of an economy and create a better story. So the key here is the stronger parts of the economy, like manufacturing, do not rotate into weakness as the oil and construction rotate out of weakness.
The prospects for stronger growth are particularly important given UK employment is already relatively strong. The charts below show an interesting contrast and the UK's paradox. The current post-recession recovery in employment is much stronger than earlier recoveries (contrast to the U.S. where each of the recent recessions has generated weaker employment recoveries). However, GDP has not kept up. If this is the year GDP begins to catch-up, it suggests that employment could improve further and in turn bolster future expectations for a future recovery in GDP.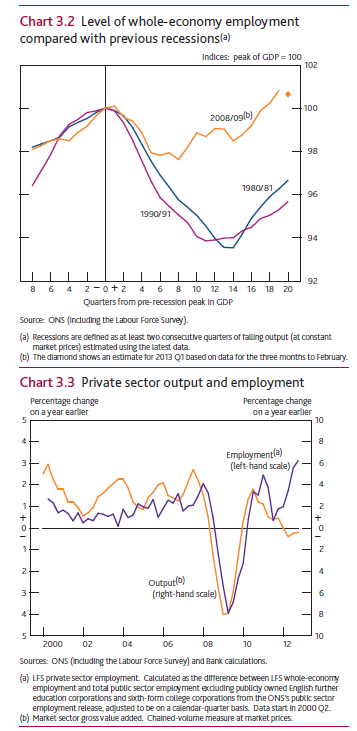 Employment vs. Output trends in the UK
Source: Inflation Report, May, 2013
The upside potential in the UK economic story makes me even more bullish on the pound now. I consider current levels against the U.S. dollar to offer a great entry point; I have been in accumulation mode even as the technicals have gotten a bit dicey. I expect the lows from this year to hold for GBP/USD. I will have to reassess my bullishness as the currency pair retests what is still a set of lower highs from 2009 to 2011 and to 2012.
To be sure, the UK economy has apparently benefited from a depreciating currency. King notes that the currency's depreciation "…has helped to boost external demand by offsetting the contractual effects of the fiscal consolidation." For example, manufactured exports have surged since the pound began falling in 2007. Until the global economy as a whole has rebalanced and re-established at least average growth rates, the pound is likely to remain at overall depressed levels. For example, King noted that financial markets are forecasting rates below 1% for the next four years. Markets are forecasting rates at the historic low of 0.5% until the second half of 2016. Until these expectations rise, it is not likely traders will bid the pound above the highs of recent years.
While rates are likely to remain low for many years to come, King acknowledged that the goal of the central bank remains to get back to a world with normalized and positive real rates. He agreed that low rates make it hard for the elderly to fund their retirements but also pointed out that younger workers have an even more difficult time saving for future retirements (emphasis mine):
"…I also think that the people who will suffer even more are the younger generation who, when trying to put money aside for a pension in the future, will find that to provide for a pension is extraordinarily expensive when interest rates are so low. I'm certainly not happy about the prospect that rates will stay low for so long. I would like to get back sooner rather than later to a world of much higher interest rates, more normal levels of interest rates. But it won't be the lack of a wish to do that that creates the problem; it's the state of the economy. And once the economy improves then it may be possible to raise rates sooner than the current market expectation."
The discussion of scenarios with higher rates really grabbed my attention (and this is my eventual bridge to a discussion about gold). I was particularly struck by the frank discussion of the consequences of higher rates in the future:
"When you've got such low long term real interest rates, asset prices, all asset prices, will inevitably be high. And on that basis, as the Committee explained, very clearly before the crisis, it's not surprising that if people feel that asset prices, particularly house prices, are likely to remain at this high level…

…The reason for concern in the future is not the current configuration of interest rates and asset prices; it's that we know that at some point real interest rates have to get back to a healthier and more normal level. Positive real interest rates are crucial for the successful operation of a market economy. The real challenge is to navigate our way back to that level. Once real interest rates are back to that level then you would expect to see some consequences for asset prices, possibly falls in asset prices. And at that point it will be important that people have had time to deleverage and to get to a point where their degree of indebtedness is not such that they find themselves in deep financial trouble when asset prices fall…

…I think it is very, very difficult to say what is the optimal path. But we are on a path of deleveraging and eventually we'll get back to a world with lower levels of debt, higher real interest rates, a more normal and healthy world, where the interest rate will be able to be used again to discriminate among different investment projects."
In other words, this period of low rates does not simply facilitate aggregate demand, it also gives consumers the time and cushion to reduce debt levels… even while it, ironically or paradoxically, reduces the incentive for lowering debt levels. Indeed, low rates can encourage indebtedness, like housing. In the U.S., lower rates are part of an explicit policy to motivate activity in the housing market. If asset prices will fall with normalized rates, then it makes sense to consume housing as early as possible in the cycle such that equity serves as a sufficient cushion against future declines in asset prices.
This kind of frank and open discussion with the British people should ultimately prove quite beneficial to the economy and the quality of economic policy. King expressed such hopes in his closing remarks:
"There are some things about this job that I certainly won't miss but one thing I will miss are these regular Inflation Report Press Conferences. They are probably the one event I've looked forward to and prepared hard for and believed have been the most valuable. And …I thank you all also for raising the level of economic debate and discussion in this country significantly in comparison with when I started.

So thank you for doing that and I'm sure you will enormously enjoy working with my successor who will be at least as lucid in the future, and I wish you all the very best in explaining the travails and ups and downs of the British economy to your readers and your viewers and listeners. Thank you all."
Now, bring on Mark Carney…
Be careful out there!
Disclosure: I have no positions in any stocks mentioned, and no plans to initiate any positions within the next 72 hours. I wrote this article myself, and it expresses my own opinions. I am not receiving compensation for it (other than from Seeking Alpha). I have no business relationship with any company whose stock is mentioned in this article.
Additional disclosure: In forex, I am net long the British pound