Last week probably wasn't the greatest of weeks for Netflix (NASDAQ:NFLX). On Thursday, we found out that Amazon (NASDAQ:AMZN) had secured another content deal, reaching a milestone for Prime Instant Video. With 40,000 plus titles and counting, Amazon is coming hard at Netflix, and I don't see that changing anytime soon. The Redbox Instant partnership between Coinstar (NASDAQ:CSTR) and Verizon (NYSE:VZ) is also currently in its first full quarter of service.
But the more interesting news was that Target (NYSE:TGT), the giant retailer, is in the process of beta testing a streaming video service. The company is currently testing the service with employees, and at the moment, there are no details on whether a service would launch, when that would be, etc. Don't forget, Wal-Mart (NYSE:WMT) already entered the market by acquiring the Vudu video streaming service, which offers "thousands of movies instantly." The question here is could Target finally tip the Netflix scale? Let's figure it out.
Margins aren't an issue:
One of the reasons why so many people don't like the Netflix business model is that margins are extremely low. Even in the boom days a few years ago, where the DVD business was raking in profits, Netflix was making around 7% or 8% on the bottom line. For every dollar coming in, the company was lucky if it made 8 cents. That's about a third of what names like Apple (NASDAQ:AAPL) and Google (NASDAQ:GOOG) are making.
For that reason, it makes sense that names like Apple and Google would stay away from this space if possible. Sure, you may increase your revenues a little, but it will have a negative impact on margins. As Netflix has decided to let the DVD business dwindle, an eventual sale may be coming. The problem for Netflix is that DVD contribution margins are about twice what streaming margins are.
With the more profitable DVD business becoming less important, it looks like Netflix's net margins will be somewhere around 4% going forward. Yes, they will depend on how much international expansion takes place, but I think a 4% long-term margin is a target. That also doesn't take into account a price increase at the moment, but if Netflix raises prices, you probably can bet content providers will too.
So for Target, that would fit right in. From 2010 to 2012, the bottom line net profit margins for Target were 4.33%, 4.19%, and 4.09%. Even if a streaming service were to be slightly lower margin up front, it would be a small portion of revenues, so it wouldn't have too much of an impact on margins. But for Target, like Wal-Mart and Amazon, a streaming service would fit right in. Get some extra revenues, low-margin ones, and use them to build your brand a little more.
What does Target have?
According to the website for this service, which I've taken a screenshot of below, Target gives members access to 15,000 titles, new releases, classic movies, and next day TV. At this point, you have to have a Target Team Member ID (employee ID) to access the site, and members get 15% off all media until July.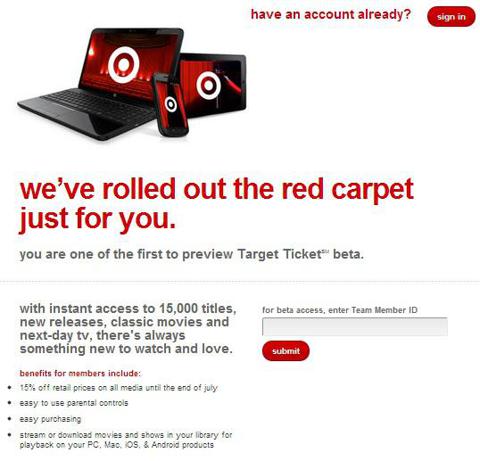 (Source: Target website linked above in this section)
Amazon's Prime Instant Video recently surpassed 40,000 titles, so if this is Target's library, it would be well behind Amazon, which makes sense. More interesting is the fact that Redbox Instant launched with roughly 5,000 titles. If Target were to launch a streaming service with 15,000 titles, it would launch with three times the content pool of RedBox Instant. That's a bit surprising to me.
Continuing to spend on content:
Netflix is the king of the streaming space at the moment, so you might assume that it is spending the most on content. That probably is the case, although we don't get those numbers from Amazon and others. One of the reasons why Netflix investors (on the short side) think Netflix is in trouble is that content liabilities are soaring, and the off-balance sheet part is tremendous. The table below shows Netflix's streaming content liabilities per quarter. For the first few quarters in my table, they were only called "content liabilities" in the company filings. One thing is certain, they are growing very fast. Dollar values are in thousands.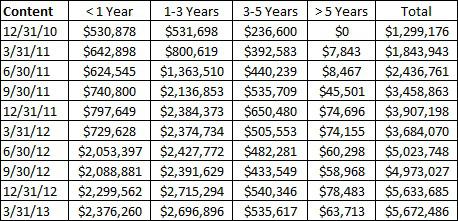 Just in the past two years, these content obligations have risen from $1.84 billion to $5.67 billion. According to page 29 of its latest 10-Q filing, $1.3 billion of these were considered "current content liabilities" and $1.1 billion were "non-current content liabilities." That means that roughly $3.3 billion of liabilities were not on the balance sheet, as they don't meet the requirements for asset recognition. For those that wonder how this process works, I encourage you to view the tutorial at the bottom of Netflix's Investor Relations hompage.
Final Thoughts - It just isn't one:
The news that Target may now be entering the streaming space is an interesting development for the industry. Amazon has recently eclipsed 40,000 titles and is coming hard at Netflix. Redbox Instant is in its first full quarter of operation and should start to be more competitive. The battle also wages on to see who might eventually purchase Hulu.
But the key takeaway for Netflix is that Target's move would just be another shot across the bow. I've been saying for a while now that it isn't just one giant competitor that could be the downfall for Netflix. It would be a series of smaller competitors. Another new player in the space means less content for Netflix, and higher prices for content in general. It would force Netflix to spend more on developing its own shows. At $50 million for a 13-episode season, it won't be long before one of Netflix's originals strikes out. Can Netflix afford a disappointment like that? It remains to be seen.
When it comes to Netflix, the thought of Target entering the space makes Netflix a "short idea." But let's understand one thing here. Having something be a "short idea" doesn't mean that I am recommending you short the stock right now. As you can see from the chart below, shorting Netflix has not been a great idea as of late. The thought process here is that if Target does enter the space, it ups the ante for Netflix. Another competitor pushes content prices higher and limits the content pool available to all. Either way, it most likely is a negative for Netflix in the long run. Extra competition for any name can make any name a "short idea," but you have to understand what that means.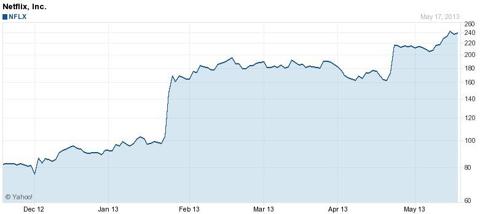 (Source: Yahoo! Finance)
Disclosure: I have no positions in any stocks mentioned, and no plans to initiate any positions within the next 72 hours. I wrote this article myself, and it expresses my own opinions. I am not receiving compensation for it (other than from Seeking Alpha). I have no business relationship with any company whose stock is mentioned in this article.
Additional disclosure: Investors are always reminded that before making any investment, you should do your own proper due diligence on any name directly or indirectly mentioned in this article. Investors should also consider seeking advice from a broker or financial adviser before making any investment decisions. Any material in this article should be considered general information, and not relied on as a formal investment recommendation.