Natural gas is very cheap in North America while still relatively expensive overseas. Until recently, there was only one LNG export facility authorized in the US, which was the Sabine Pass LNG terminal in Cameron Parish, Louisiana, which is owned and operated by Cheniere Energy (NYSEMKT:LNG) and its affiliates. Cheniere Energy has been one of the hotter stocks in the market with YTD gains of over 60%.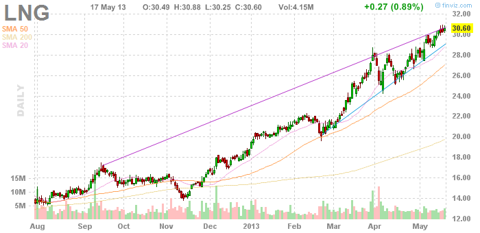 Cheniere Energy's corporate structure is rather complicated. Its main asset is obviously the Sabine Pass LNG terminal. However, Cheniere Energy Partners (NYSEMKT:CQP) has 100% interest in this project. Cheniere Energy Partners is an MLP, of which Cheniere Energy owns 54.4% of the units and general partner incentive distribution rights, or IDRs. Blackstone (NYSE:BX) has a 30% interest in the MLP while the general public only controls 13.6% of the MLP's units outstanding. Cheniere Energy's other assets include Corpus Christi Liquefaction, Cheniere Marketing, and the Cheniere Creole Trail Pipeline, of which the pipeline is expected to eventually be dropped down to the MLP.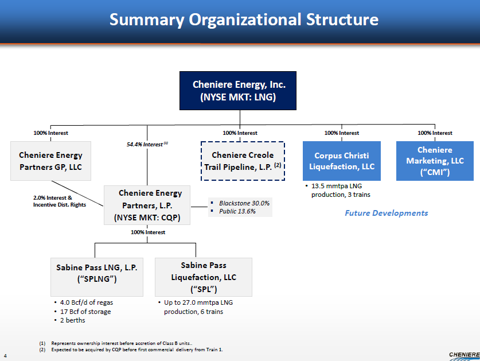 What makes the prospect of exporting LNG so compelling? The answer lies with the spread between current low domestic prices and much higher prices overseas. Just to give an example, as of March 31, the regional price for LNG in Japan is about $15.00, much higher than the 'delivered price', which includes costs such as liquefaction and shipping, of $10.60 for Asia. This would lead to about $4.40 in margins. Margins are similarly higher if exporting to other regions, such as Europe and the Americas.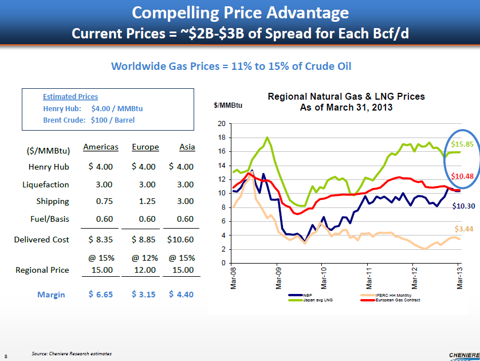 Cheniere Energy is currently constructing four liquefaction trains at Sabine Pass. The company is also working on approval for two more trains in the area. Construction for trains 1 & 2 started in late 2012 and for trains 3 & 4 in early 2013. Operations are estimated to start from 2015 to 2016 for trains 1 & 2 and from 2016 to 2017 for trains 3 & 4.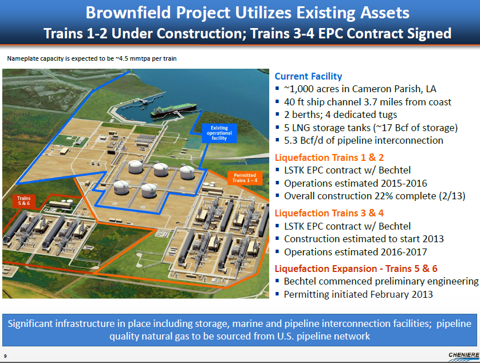 Cheniere Energy already has contracted capacity at Sabine Pass, with Chevron (NYSE:CVX) and Total (NYSE:TOT) having long-term third party terminal use agreements. Each agreement is for 20 years "take-or-pay" style commercial contracts and for 1.0 BCF/D in capacity. In 2011, Total paid $124M while Chevron paid $129M.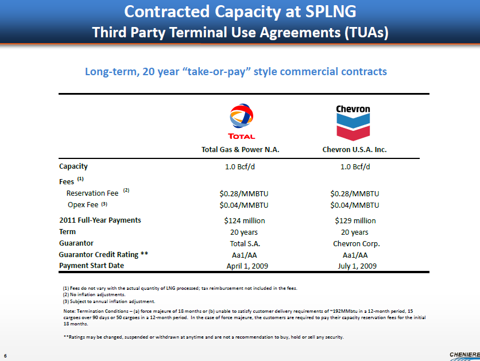 In addition to the contracted capacity, Cheniere Energy has several long-term LNG sale and purchase agreements. Total annual fixed fee revenue from these agreements is around $2.9B for 20 years.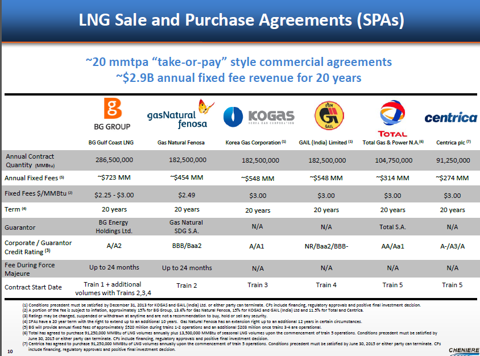 One only has to look at the estimated EBITDA from these projects to see why Cheniere Energy has outperformed this year. Cheniere Energy Partners' EBITDA is estimated to increase to $1.21B once trains 1 & 2 are fully operational. Estimated EBITDA increases to $2.33B when adding in trains 3 & 4. Since Cheniere Energy owns most of the units in the MLP and IDRs, it stands to benefit greatly from this increase in EBITDA.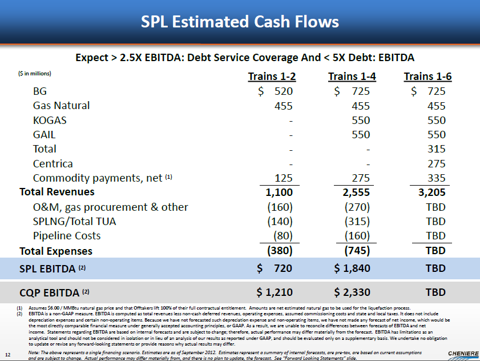 Cheniere Energy still needs to raise about $4B of the total $10.0B of capital to complete these LNG projects. While it is always difficult to speculate on how a company may raise capital, I think it is safe to assume that Cheniere Energy will be mostly raising the capital from the MLP side of the business. Cheniere Energy currently has no debt while the MLP has about $3.67B in long-term debt. In Q1 2013, Cheniere Energy Partners issued $1.5B in debt and $372M in equity.
Conclusion
There is little doubt that if natural gas prices continue to be depressed, Cheniere Energy has tremendous growth opportunities. I would however wait for a pullback before starting a position. For those looking for income, Cheniere Energy partners may be a better fit, as it pays a $0.425 quarterly distribution and yields about 6.0%.
Disclaimer: The opinions in this article are for informational purposes only and should not be construed as a recommendation to buy or sell the stocks mentioned. Please do your own due diligence before making any investment decision.
Disclosure: I have no positions in any stocks mentioned, but may initiate a long position in CQP over the next 72 hours. I wrote this article myself, and it expresses my own opinions. I am not receiving compensation for it (other than from Seeking Alpha). I have no business relationship with any company whose stock is mentioned in this article.