We often speak about the loss of manufacturing jobs and the shift to a service economy. This hand-wringing ignores the fact the U.S. is still an industrial powerhouse.
Dover Corporation (NYSE:DOV), an $8.1 billion diversified manufacturing company, reported first quarter 2013 financial results. Dover results provide the basis for our investment thesis.
Dover operates in four broad segments of the economy. Dover Communication Technologies, the leader in acoustics products to the handset market, continued to benefit from multiple design wins across the OEM landscape, as the smartphone market once again posted strong growth. Within this segment, consumer electronics, medical technology, aerospace /defense, and telecom performed well and are a source of core strength.
Key acquisitions throughout 2012, most notably Production Control Services, enabled Dover Energy to add multiple technologies to its artificial lift offerings, including gas lift and nitrogen generation, while greatly improving overall automation offerings.
Dover Engineered Systems focuses on energy efficiency, and the lowest total cost of ownership is helping its customers win in their markets. This, in turn, is helping Dover gain share, especially in the Refrigeration & Food Equipment market. Last year, Dover acquired Anthony, the world's leading supplier of refrigeration door systems, specialty curved glass, LED lighting and case re-skinning for the retail grocery and convenience store markets. This business will allow Dover to gain access to new markets and new geographies, and also capitalize on the emerging "close the case" trend.
Dover Printing & Identification is experiencing organic growth and developing new products in the consumer goods market.
First, the statement of income shows results for the March 2013 quarter versus the March 2012 quarter and also for the preceding two full years (2012 and 2011). The first factor we can assess from the income statement is growth. Net sales grew 4.3% in the March quarter and 10% in all of 2012. More importantly, operating profit was flat in March but grew 12.6% in 2012, net income grew 7.1% 7.7%), and earnings per share grew 13.5% (10.3%). EPS grew faster than net income due to share count reduction. Shares outstanding declined 2.3% in 2012 versus 2011 and 5.6 in the first quarter of 2013.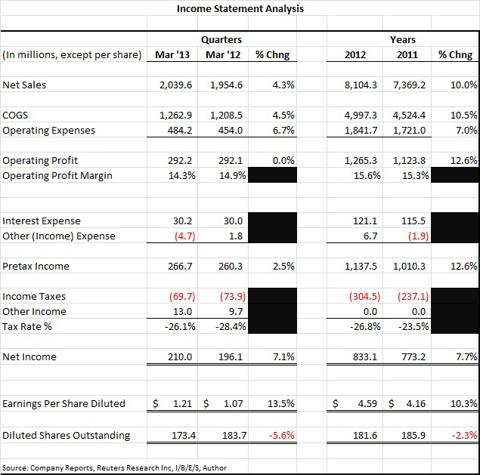 Dover has invested capital of $6,951.3 billion. ROE for the most current periods, the trailing months ending March 2012 and for FY 2012 are 24.7% and 16.5%, respectively. EBIT to invested capital is 27.1% for the quarter ended March 2013 and 16.0% for the year ended December 2012.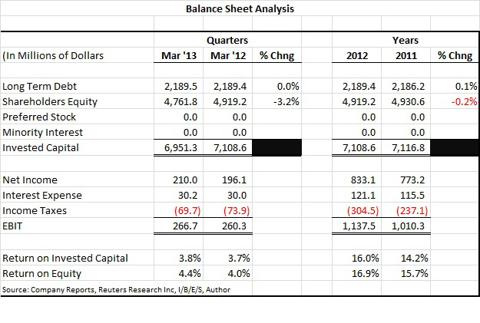 Dover's free cash flow declined by 66.5$ for the first quarter of 2013 and increased by 40.5% in all of 2012. Cash ROIC for 2012 was 13.6% compared to 9.6% in 2011.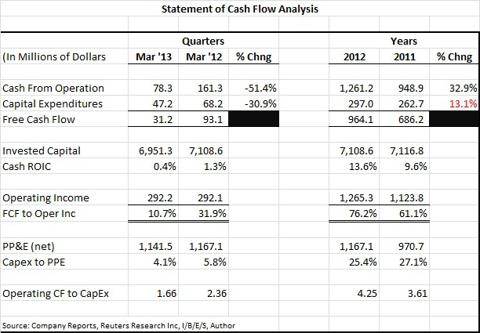 CapEx to PP&E - our barometer of changes in capital intensity - was 25.4% in 2012 and 27.1% in 2011. Operating Cash Flow to CapEx was 4.25 in 2012 and 3.61 in 2011.
Dover has pursued a number of initiatives, the purpose of which is to increase operating efficiencies. These activities, taken in conjunction with acquisitions and divestitures, should strengthen Dover's operating results. Dover is capable of generating organic growth of 3%-4% annually and can realize an additional 3%-4% through acquisitions.
Dover has ramped up its share repurchases on a year-over-year basis. In 2012, the company expended $749 million to buy back 12.3 million shares compared with purchasing 242 million shares in 2011 at a cost of $242 million. In 2012, the dividend increased by 13% to $1.33 per share compared to $1.18 per share in 2011. The company recently increased its quarterly dividend to $0.35 per share, resulting in an indicated dividend of $1.40.
On the whole, Dover Corporation passed our fundamental analysis and from a fundamental viewpoint alone, would likely make a good investment.
Disclosure: I have no positions in any stocks mentioned, and no plans to initiate any positions within the next 72 hours. I wrote this article myself, and it expresses my own opinions. I am not receiving compensation for it (other than from Seeking Alpha). I have no business relationship with any company whose stock is mentioned in this article.