The BDC earnings season is almost over and here are my latest rankings and follow up to the "The Good, The Bad, And The Maybe" series. There were quite a few earnings surprises, as well as risk profile changes with the latest round of equity and debt offerings. Yield compression due to increased competition is always part of the earnings calls. They have two choices: maintain portfolio yields with riskier lending or maintain underwriting standards with lower yields and / or growth. I will try to identify which path BDCs are taking in future articles.
Highlights:
TCP Capital (NASDAQ:TCPC) - has been near the top of the rankings for many reasons including beating EPS estimates by $0.10 or 26%, and increasing NAV by 1.4% from previous quarter. It recently raised its quarterly dividend to $0.36 which is more than covered by net investment income ("NII") of $0.49, demonstrating the earning power of the portfolio and ability to continue raising the dividend, ending the first quarter with undistributed ordinary income of approximately $27.4 million. The portfolio continues to have one of the safest asset class mixes with approximately 93% invested in debt securities, 96% of which were senior secured loans, and 69% were in floating rate debt (96% of which had interest rate floors). The current dividend yield is slightly above average at 9.2% not including special dividends and its valuation multiples are lower than most BDCs. Analysts have been actively upgrading target prices and EPS projections, which are still conservative and TCPC will hopefully continue to surprise. Obviously, I still consider TCPC one of 'The Good' BDCs as discussed here.
Fifth Street Finance (NYSE:FSC) - reported earnings and revenues in-line with projections, growing NII an impressive 10% from the previous quarter. Its debt to equity ratio increased from 0.56 to 0.71, but still retains average interest coverage with a favorable portfolio mix of 79% in senior debt. Recently I compared FSC to BKCC in "BlackRock Kelso Capital: Is It Better Than Fifth Street Finance?" discussing earnings potential and risk profiles. Analysts are projecting EPS to cover dividends, supporting its current 10.6% yield, by the end of the year.
Main Street Capital (NYSE:MAIN) - exceeded analyst projections for EPS, adequately covering its growing dividend, and recently announced its semi-annual special cash dividend of $0.20 per share payable in July. MAIN continues to have one of the most favorable risk profiles with senior debt at 78% and non-accruals well below the average. Investors are still paying a premium for the perceived safety of MAIN with high multiples and low yield.
Ares Capital (NASDAQ:ARCC) - missed EPS by $0.01 but sufficiently covered its dividend. Its interest coverage remains lower than average but has a safer asset class mix with 60% senior debt and low non-accruals.
Prospect Capital (NASDAQ:PSEC) - missed EPS by $0.05, but is expected to earn $0.30 next quarter, slightly below dividends that are currently yielding 12.1% annually (highest among BDCs). Originations in the March 2013 quarter were a record $784 million, up approximately five times originations in the prior year March 2012 quarter and are expected to generate full quarter positive impact in the current June 2013 quarter. PSEC has 120 portfolio companies, a 54% year-over-year increase and demonstrate both an increase in diversity as well as a migration toward both larger positions and larger portfolio of companies. Non-accrual as a percentage of total assets stood at only 1.3% in March, down from 1.9% in June. In a recent article I was looking for PSEC to show signs of slowing down dilution rates from the ATM program which was discussed in the most recent earnings call.
Triangle Capital (NYSE:TCAP) - had NII of $0.56 and only missed estimates by $0.01 but covered its growing dividend of $0.50. TCAP is still a high priced BDC and is starting to reduce its leverage ratios (still high at 0.81) with a lower cost of capital than most due to the large portion of SBA debentures with a lower borrowing rate.
TICC Capital (NASDAQ:TICC) - missed EPS expectations (for the third quarter in a row) by $0.03 or 11%. It had $10.6 million in NII but paid out $15.2 million in dividends and continues to have low interest coverage from earnings. However, TICC remains one of the higher yielding BDCs, with favorable valuation multiples.
American Capital (NASDAQ:ACAS) - recently reported financial results with EPS of $0.21 missing expectations of $0.28 but increased net asset value by 7% to $19.04 as it continues to repurchase shares and pay down debt.
BlackRock Kelso Capital (NASDAQ:BKCC) - has dropped near the bottom of the list and missed EPS expectations by 37% paying $19.2 million in dividends with only $13.0 million in NII.
Apollo Investment (NASDAQ:AINV) - is the only BDC that has not reported and is considered one of 'The Maybe' BDCs until it starts to grow net investment income as discussed in this article. AINV will report its fourth quarter and fiscal year results before the markets open on May 23, with projected EPS of $0.21 covering its dividend of $0.20.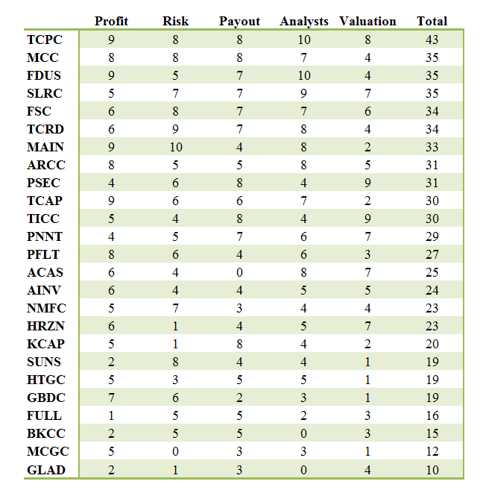 These are the five general criteria I use to evaluate BDCs:
Profitability (EPS to cover dividends, NAV and EPS growth)
Risk (diversification, portfolio quality, volatility, leverage)
Payout (sustainable, consistent, growing)
Analyst Opinions
Valuation (NAV, P/E, PEG)
For more information about BDCs and how I evaluate them, please see this article.
Disclosure: I am long MAIN, PFLT. I wrote this article myself, and it expresses my own opinions. I am not receiving compensation for it (other than from Seeking Alpha). I have no business relationship with any company whose stock is mentioned in this article.