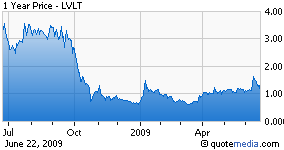 Level 3 (NASDAQ:LVLT) shares are trading sharply higher after the company announced a deal to exchange a combination of cash an a new issue of 7% convertible senior notes due March 15, 2015 for a portion of its 6% convertible subordinated notes due 2010 and its 2.875% convertible senior notes due 2010. The deals clearly give the debt-heavy company some badly needed breathing room.
The company will issue $200 million in new notes and pay out $78,208,900 in cash for the $142,079,000 of 6% notes and $139,820,000 of 2.875% notes.
The new notes can be converted to common at $1.80 a share. The notes will be issued at 98% of par.
The company also said that in Q2 it completed $223 million of open market debt repurchases. That includes $117 million of debt due 2009, $50 million due 2010, $61 million due 2011 and $20 million due 2012.
With the new deal, LVLT has another $60 million due this year, $181 million due next year, $505 million due in 2011 and $306 million due in 2012.
At March 31, the company had $672 million in cash and equivalents, or $634 million after completion of recent transactions.
LVLT is up 18 cents, or 15%, to $1.38.