Western Asset Mortgage Capital Corp. (NYSE:WMC) is a mortgage REIT. It is a new company, which IPO'd May 15, 2012. Its investment strategy focuses on Agency RMBS; but it also invests in non-Agency RMBS, CMBS, and other Asset-backed securities. WMC is externally managed by Western Asset Management Company, a global leader in diversified fixed-income management since 1971. This firm has approximately $459.4B in assets under management. This includes $58.3B in total mortgage exposure. $39.2B of this is invested in Agency RMBS. $8.8B is invested in non-Agency RMBS. $1.3B is invested in CMBS; and $8.8B is invested in ABS.
For Q1 2013, WMC reported a net loss of -$28.5 million (or -$1.18 per basic and diluted share). This was versus an estimate of +$0.90 per basic and diluted share (a miss of -$2.08). This included a net unrealized loss of $54.8 million on RMBS; and a $13.9 million net realized loss on RMBS and other securities. WMC also had a $15.4 million net gain on derivative instruments and linked transactions. This resulted in a loss of book value from $21.67 as of December 31, 2012 to $19.42 per share as of March 31, 2013 (or -$2.25 per share). This all sounds ugly, and it was. Perhaps making it seem worse, the CPR (constant prepayment rate) on WMC's Agency RMBS portfolio was a meager 3.4% in Q1 2013. This was lower than the CPR of 3.6% for the Agency portfolio in Q4 2012. In other words, a big rise in the CPR was not responsible to WMC's losses.
On the plus side, WMC did have core earnings of $22.6 million or $0.93 per basic and diluted share. This is very close to the declared dividend of $0.95 for Q1 2013. This could mean that WMC could sustain its truly great dividend over the longer term. Leverage was 8.7x (including borrowings on linked transactions) as of March 31, 2013. This was down from 9.2x leverage as of December 31, 2012. It is hard to draw a significant conclusion from this; but WMC does seem to have gotten slightly safer.
The company has raised $204.4 million in the original IPO (May 15, 2012) and another $301.0 million in a follow on offering on October 3, 2012 for a total of 505.4 million. These monies have been invested mostly in MBS. The table below describes WMC's holdings as of December 31, 2012.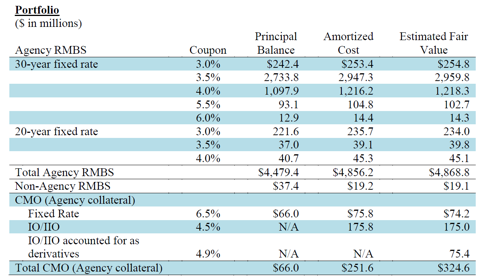 The table below describes WMC's holdings as of March 31, 2013.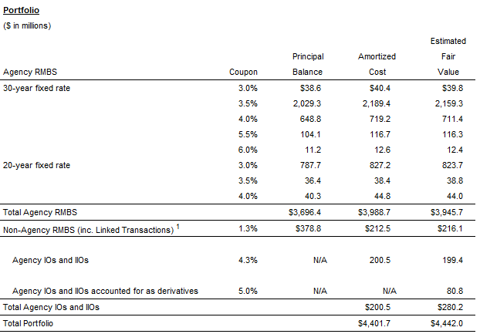 For an investor the most significant difference is the change in the amount of Non-Agency RMBS. The estimated fair value of these rose to $216.1 million at the end of Q1 2013 from $19.1 million at the end of Q4 2012. The $216.1 million at the end of Q1 2013 included linked transactions. The simple non-Agency RMBS were only $57 million. WMC does not make a big point of the earnings from this area. However, readers can see that most of the non-Agency RMBS were added in Q1. The company has further stated that it intends to add to its current non-Agency holdings over time. This should cheer investors. It should provide a significant hedge against rising interest rates. It should also provide significant profits in quarters to come.
If the economy improves significantly interest rates will rise. This will cause mortgage rates to rise. This will hurt the book values of the Agency RMBS, which have been bought at a premium to face value. WMC and other mortgage REITs hedge against this in a variety of ways, but there will still be losses of book value.
In the case of non-Agency RMBS, WMC has bought them at a huge discount to face value. You can see the approximate discount by comparing the principal value of the non-Agency RMBS in the table above to the cost of the securities, which is only a bit more than half of their principal balance. When the economy improves this discount to face value will tend to lessen substantially. In other words these securities will appreciate. This should tend to counteract any depreciation in WMC's Agency RMBS holdings.
How important can this be in a rising interest rate environment? Two Harbors (NYSE:TWO) recorded a huge loss on its Agency portfolio in Q1 2013 in much the same way WMC did. However, its non-Agency portfolio generated a $278 million economic return during the same period. These are riskier securities for the short term; but as the investor can see, they are very safe if you are counting on an economic recovery and a continuing recovery of the housing market. With the Fed strongly backing the housing market ("don't fight the Fed"), counting on a further recovery in the housing market seems like a good bet for the longer term. Hence the movement of WMC into non-Agency securities should cheer investors greatly. If you want to get a better idea of what happened in TWO's Q1 2013 follow this link.
In sum, WMC proved it could still produce good income during a troubled time. Weighted average net interest rate spread was 2.17% for its Agency RMBS portfolio, including IO (interest only) securities. However, WMC also proved it was very vulnerable to rising interest rates. Part of this vulnerability was due to the premium nature of its Agency RMBS. Agency RMBS with high CPRs might lose some of their value as interest rates rise, but they would gain some of it back as the CPRs of those RMBS likely fell simultaneously. Plus most managers hedge against interest rate rises; and such hedges would lessen any losses.
In WMC's case, the "specialness" of its RMBS (very low CPR RMBS) made it lose money on the change in interest rates, on the speculated further change in interest rates due to the Fed possibly ending QE sooner than later, and on the lessening of the premium value of the low CPR RMBS. On top of this, Agency RMBS became overbought (and hence overpriced) as the Fed began its QE MBS buying in the Fall. Part of the Q1 losses were simply the market correcting from this overbought and overpriced state. Q1 2013 was very ugly for WMC. However, things look brighter for the future, and the company does seem to be acting to protect itself more from a re-occurrence of the same event. It is participating much more in the non-Agency RMBS market; and it plans to increase this participation even more. The dividend may fall a bit due to this extra non-Agency participation. However, the book value should be much safer.
Finally the company's management feels that an exit from QE by the Fed is probably not going to happen until 2014. With this view and WMC's changing strategy, WMC is a buy or at worst a hold that pays a great dividend.
The two-year chart of WMC provides some technical direction for this trade.
The slow stochastic sub chart shows that WMC is near oversold levels. The Bollinger Bands in the main chart show that WMC is oversold. WMC's price line has broken through both its 50-day SMA and its 200-day SMA. In each case, this is a sell signal. However, its 50-day SMA is still significantly above its 200-day SMA. This indicates strength. WMC's price of $20.53 as of the close on May 17, 2013 is significantly above the book value of $19.42 at the end of Q1 2013. However, if you figure that about one third of the -$2.25 Q1 2013 book value loss has been regained in Q2 thus far, you get a current book value of approximately $20.17 per share. This is close to the current price of $20.53 per share. It seems reasonable for such a high dividend payer to trade at a premium to book value (by as much as perhaps $1-$2). Therefore WMC can be bought. I note that TWO also claims it has regained some of its Q1 2013 book value loss in Q2 2013.
Unfortunately, the overall market is far overbought. It is due for a pullback. Some are now saying this pullback will be 10%-15%. During such a pullback, WMC would likely fall with the market. For this reason, averaging in is probably a good strategy. Alternatively, investors could wait for WMC to become a bigger bargain when the market finally does pullback.
A further caveat is that you will probably want to keep a close eye on the quarterly earnings of this stock. It has shown weakness recently. It is changing its investment paradigm (likely for the better). Plus the talk about the Fed possibly curtailing QE is getting stronger. A prudent investor will want to watch all three of these things. I point out that WMC, even with the terrible Q1 2013 result, has generated a substantial economic return since its IPO date (15.5% on an annualized basis). Therefore it is still performing quite well overall; and Q2 gives every appearance of being a recovery quarter.
WMC has a five star CAPS rating. It is hard to ignore the 18%+ dividend, even if you think it may be cut to 10%-13% in the not-too-distant future. WMC is a bit risky, but is it risky compared to commodity stocks, etc.?
NOTE: Some of the fundamental financial information above is from Yahoo Finance.
Good Luck Trading.
Disclosure: I have no positions in any stocks mentioned, but may initiate a long position in WMC over the next 72 hours. I wrote this article myself, and it expresses my own opinions. I am not receiving compensation for it (other than from Seeking Alpha). I have no business relationship with any company whose stock is mentioned in this article.