American Tower Corporation (NYSE:AMT) is potentially a great long-term addition to your portfolio and is unknown to many investors.
What is American Tower Corporation?
AMT is a leading owner and operator of wireless communications towers in North America and worldwide. It is also expanding rapidly and establishing a presence in developing nations.
Financial Overview
AMT made $587.38 million in income on $2.98 billion in revenue, which represents revenue per share of $7.46 and an EPS of $1.47. That is a YOY increase in sales and income of 18% and 61%, respectively. This displays an increase in profitability, since income rose faster than revenue. They have a net margin of 18%. The current stock price is $83 and the market cap is $33.11 billion (at the time of writing). It has a current P/E of 56.57 and a forward P/E of 31.84, demonstrating an upcoming decrease in valuation relative to performance. AMT has assets totaling over $12 billion and current debt of $939 million. It pays out $1.04 per share in dividends. The preceding figures illustrate the fact that AMT has strong fundamentals and is a stable company in terms of financials.
Why is AMT a strong buy?
AMT has been rising steadily for a very long time. Take a look at this chart.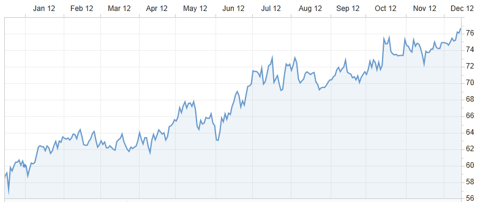 (Source: MSN Money)
As you can see, AMT has risen from below $60 to almost $80. That represents a year-over-year increase of 30.3%. Since then, it has risen (approximately) another $5. And this lucrative rise is set to continue in the coming months and years.
AMT is directly connected to the mobile telecommunications sector. As you know, it is a very competitive market with carriers, manufacturers, and developers battling for market share. However, AMT wins regardless of whom the leader is, and in fact benefits from competition. Since AMT is a tower owner and operator, it makes money from almost every single mobile customer. Its only competition is with other tower-based companies, none of which are as strong as AMT. Therefore, its growth is pegged to the growth of the industry, which is of course very strong. This is especially true in some emerging markets such as India and Brazil, where AMT is quickly expanding.
AMT launched its Indian operations in 2007 and has since grown to have over 10,000 towers nationwide. This is an ideal market for them, considering India's vast population. It has over 900 million mobile subscribers and the second-largest telecommunications network in the world. Demand for smartphones is growing rapidly in India, which puts even more demand on the towers. Brazil is a similar story, with AMT owning 4,300 towers there and a large and growing mobile base.
Possible Variant View
An AMT bear may contend that it's not a good buy because of its relatively high P/E ratio and a beta of 0.49, indicating AMT's performance is not satisfactory. However, I see AMT's strong growth and margins creating a large amount of value for investors in the future, as is shown by its lower forward P/E ratio.
Conclusion
While it is by no means exceptional, American Tower is a great long-term investment that pays a healthy dividend, meaning you can also hold it as a decent income stock.
Disclosure: I have no positions in any stocks mentioned, and no plans to initiate any positions within the next 72 hours. I wrote this article myself, and it expresses my own opinions. I am not receiving compensation for it (other than from Seeking Alpha). I have no business relationship with any company whose stock is mentioned in this article.