FX markets opened with a large pullback in the USDJPY, with some of the higher ups in the Japanese government beginning to taper expectations. Most notably, Japan's Economic Minister Akira Amari had this to say in a Bloomberg interview.
"It's being said excessive yen gains have been corrected a lot. If the yen extends losses a lot, people's lives will be negatively affected. It's our job to minimize that."
The corresponding price action: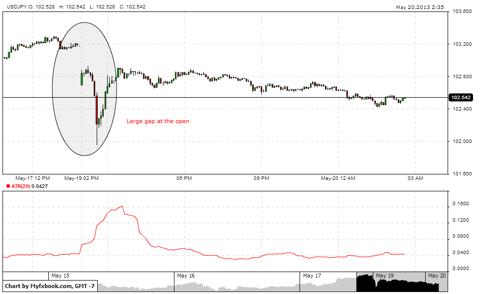 Click to enlarge
(Click to enlarge)
Any comments such of this have the potential to cause rallies in the JPY given the large leveraged position in JPY as indicated by the Commitment of Traders.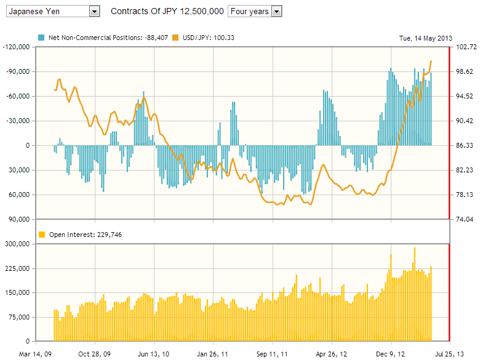 Click to enlarge
(Click to enlarge)
There is another action packed week ahead, but first a recap from last week's FX Outlook.
Summary of Last Week's Action
FX markets kept to the script this past week, with EU continuing to contract and Japan continuing to receive positive feedback from their revolutionary policies. The updated GDP numbers from last week's FX Outlook are below:

Click to enlarge
(Click to enlarge)
China's Industrial Production numbers and Retail Sales numbers were a mixed bag, with Industrial Production underperforming and Retail Sales meeting expectations.

Click to enlarge
(Click to enlarge)
The continuing decline in China's industrial activity is putting further downward pressure on the AUDUSD, which continues to hit multi-year lows. As long as China's industrial activity remains subdued, the AUD will weaken. In addition, if the Reserve Bank of Australia (RBA) was looking to weaken the AUD, the rate cut from 3% to 2.75% did the trick.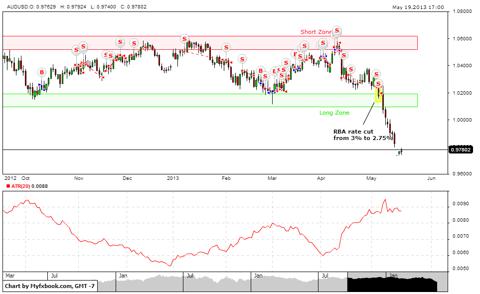 Click to enlarge
(Click to enlarge)
Keep in mind, the AUDUSD is still trading well above its long term average, meaning there is still plenty of room to the downside.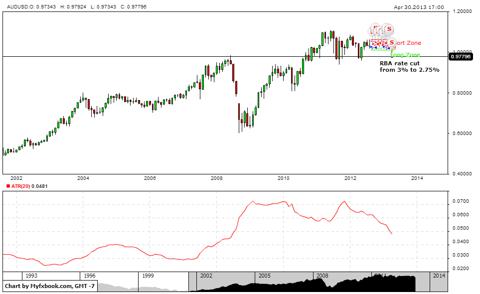 Click to enlarge
(Click to enlarge)
The most important numbers from last week were U.S. Retail Sales and Consumer Sentiment, as they both acted as downward catalysts in previous year's summer market sell-offs. Both numbers beat expectations, removing yet another hurdle from further gains in the S&P500.

Click to enlarge
(Click to enlarge)

Click to enlarge
(Click to enlarge)
Not only did both numbers beat expectations, they also were substantial improvements on previous readings. Retail sales is a reading on past data, and consumer sentiment a forecasting tool, so looking forward and backwards numbers are looking good in the U.S.
Monday May 20th
With the massive sell-off in the AUD after the RBA rate cut, the RBA minutes being released today at 17:30 Pacific Standard Time will be interesting. Although I wouldn't expect any major price action in the AUD post the release, it will be an important statement to get a sense of the mind state of the RBA and policy decisions going forward. I'll be looking to see what data points in particular they were concerned about, especially those relating to China, as they'll have wider implications on commodity prices.
The other number I'll be watching is the German Producer Price Index change, as with Germany's falling CPI, PPI is likely to also fall. The CPI numbers in Germany are very important to watch in terms of the EURUSD, as if deflation hits in Germany, it opens the doors for monetary easing for the greater EU, as Germany has been a hurdle to any major easing programs.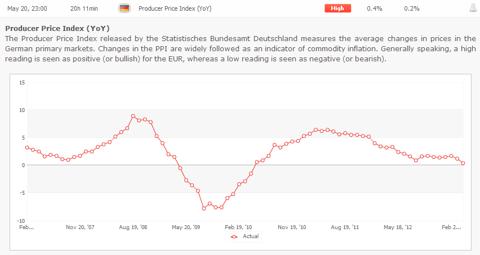 Click to enlarge
(Click to enlarge)
The EURUSD seems to be pricing this possibility in, as it has been in a downward trend year to date.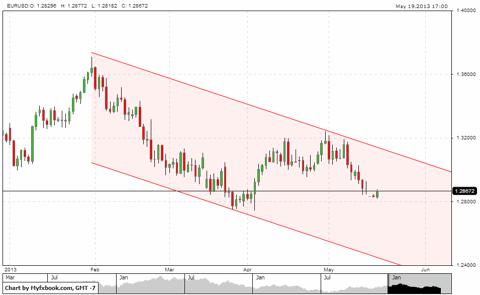 Click to enlarge
(Click to enlarge)
Tuesday May 21st
U.K. Consumer Price Index numbers are being released early Tuesday morning at 01:30 PST. I haven't been trading the GBPUSD as of late, so I'll withhold any long-winded comment, other than saying they'll be important and that a lower number brings more options to the table for Mark Carney when he takes over June 1st.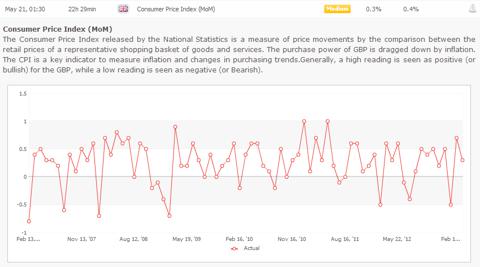 Click to enlarge
(Click to enlarge)
On the heels of Economic Minister Akira Amari JPY comments, the Bank of Japan (BOJ) Monetary Policy Statement and Interest Rate Decision will be one to watch for USDJPY longs (those shorting the JPY). His cautious tone may reflect deeper reservations in the BOJ about the amazing JPY depreciation and stock market rally, with the Nikkei Index now up 50% year to date putting the SPY's 17% to shame.

Click to enlarge
(Click to enlarge)
I'm taking the other side of this trade, with an order in to short the USDJPY at 102.75.
Wednesday May 22nd
Bright and early Wednesday morning Canadian Retail Sales are reported, a number to watch as the large beat last month was followed by a significant rally in the CAD.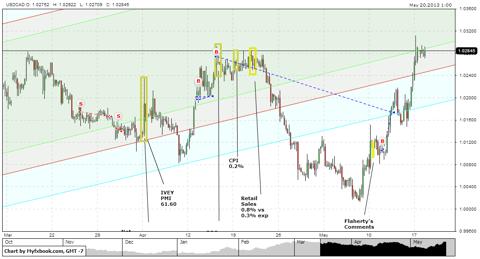 Click to enlarge
(Click to enlarge)
Of course, there was much else going on besides Canadian retail numbers, but with the CAD hovering at the big figure of 1.03, it could act as the catalyst to either break or bounce off of it.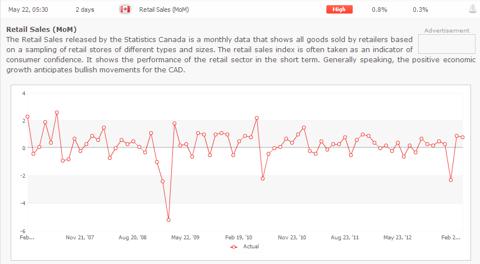 Click to enlarge
(Click to enlarge)
In the wake of the U.S. Housing Starts miss last week, the existing home sales numbers coming out Wednesday will be closely watched. They are forecasted for a modest increase from the previous month and well below the boom times of 2007.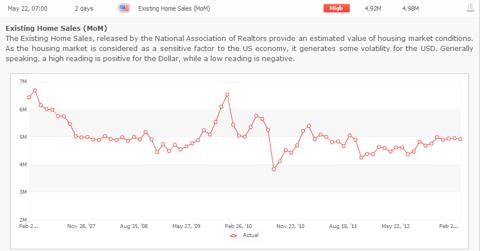 Click to enlarge
(Click to enlarge)
Much of the euphoria as of late is a result of the resurgence of the U.S. housing market. Any stumble could be a catalyst for the inevitable pullback.
Much like the RBA minutes, the FOMC minutes at 11:00 PST will be an important view in the psyche of the Federal Reserve, especially amongst the mixed comments from different officials as to when bond buying will be tapered. With the target for unemployment of 6.5% still well off, I'm not expecting any immediate action on this front, but it is a question of when, not if.
Next China comes to the forefront with HSBC Manufacturing PMI being released forecasting a small expansion from the previous month. I see this as a key reading, as the index is forecasted to just barely stay in the expansionary zone of 50.50 (anything above 50 signals expansion). If there were a large miss and manufacturing in China were to be shown as contracting, the impact on the AUD and commodity prices would be substantial. China's industrial production numbers missing the mark last week increases the probability of this.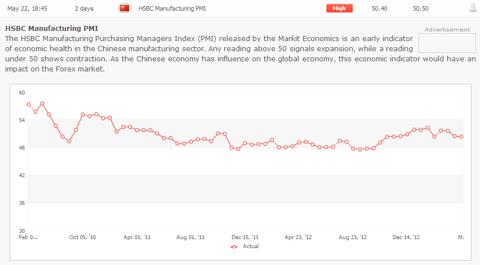 Click to enlarge
(Click to enlarge)
Thursday May 23rd
Early Thursday morning sees France, Germany and the greater EU's PMI numbers, all of which are forecasted for a rebound. This creates risk, as expectations matter as much as the actual readings, and it appears the expectations in Europe are relatively upbeat given the continual downside misses on CPI and GDP numbers. I'd be far more optimistic of these PMI numbers being a positive catalyst if the expectations were humbler.

Click to enlarge
(Click to enlarge)
U.K. GDP numbers follow the greater EU's positive expectations, once again diminishing the possibility of a positive surprise to improve investor sentiment and spark a rally. Although contrary to the EU, the U.K. seems to be bouncing off a bottom.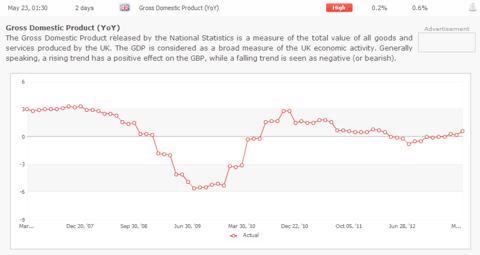 Click to enlarge
(Click to enlarge)
Then onto the all-important U.S. Initial Jobless Claims, and after last week's miss of 360k versus expectations of 330k, the expectations for this week of 347k appear beatable. The claims are in a clear trend downward, and I'm expecting a mean reverting beat to bring the numbers back in line with the trend.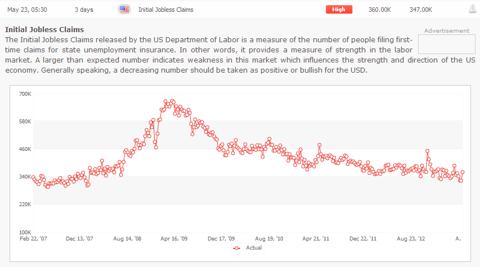 Click to enlarge
(Click to enlarge)
In years past, I'd say a better than expectations number would lead to a risk on move in the currency markets and thus a USD sell-off, but this relationship has broken down, with the USD rallying with positive news along with the SPY.
Friday May 24th
The week finishes quietly, with U.S. Durable Goods Orders being the number to watch. With the improved consumer sentiment reading of last week, improved durable goods would confirm the improved expectations of the U.S. population, as improving economic prospects lead to more purchases of durable goods (such as motor vehicles and appliances). April's numbers were poor, but the number has been historically mean reverting.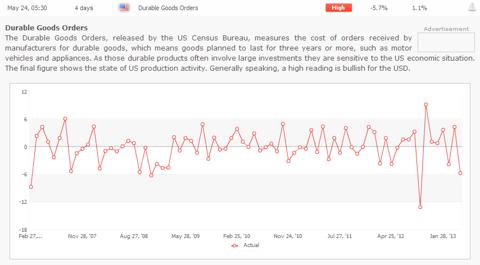 Click to enlarge
(Click to enlarge)
Disclosure: I have no positions in any stocks mentioned, but may initiate a short position in FXY over the next 72 hours. I wrote this article myself, and it expresses my own opinions. I am not receiving compensation for it (other than from Seeking Alpha). I have no business relationship with any company whose stock is mentioned in this article.