As you probably already know, BlackBerry (NASDAQ:BBRY) "rose from the dead" a few months ago when launched its new "BlackBerry 10" OS along with two brand new smartphones the Z10 and Q10. So far the Z10 sales seem to be ok so far with one million phones shipped and Q10 is expected to do even better.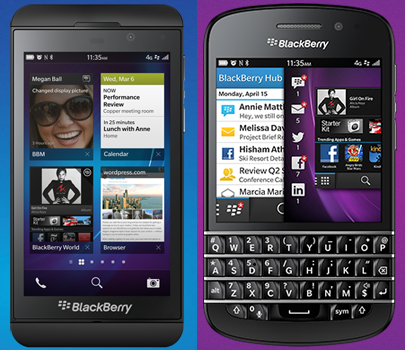 (BlackBerry's Z10 & Q10 smartphones)
Further good news for the company is coming from its home market, Canada. BlackBerry has more than doubled its market share within the first quarter of 2013. I expect this momentum to continue all over the world as BlackBerry's Z10 & Q10 become available in other countries and in greater quantities.
Another rather anecdotal indication that BlackBerry fans are coming back is a recent poll from TechRepublic that shows that 64% of converted BlackBerry fans are willing to return due to BlackBerry's Q10. This phone may stop BlackBerry's subscriber bleeding that has reduced its user base to 76 million as of the end of 2012.
However BlackBerry's comeback is neither simple nor easy. Its absence from the high-end smartphone market was for so long that certain of its once thought undisputed advantages are now challenged. More specifically IT chiefs now believe that the iPhone is now as secure as BlackBerry's phones removing a long-held advantage that BlackBerry had almost exclusively in the enterprise market.
Similar dynamics are in work even in emerging markets were BlackBerry was most loved among businesses. For example BlackBerry is trying to hold on its market share in the Indian market with little success despite the launch of its new OS and new phones.
But that's about the company, let's see how the stock is doing. There are two sensible ways to look at BBRY's valuation. We can focus on earnings where it seems overpriced trading at 21 times its expected EPS for fiscal 2014 (which ends Feb. 2014), or we can focus on the fact that it is trading almost 20% below its book value of $18 per share and has a clean balance sheet along with a significant net cash position of $5 per share.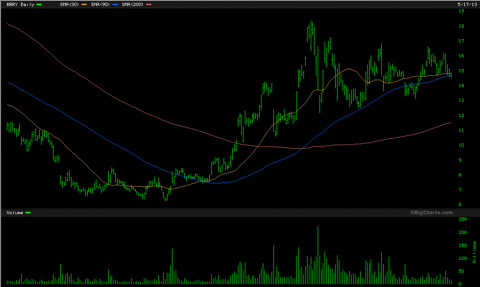 (Source: BigCharts.com)
My take is that if one believes than BlackBerry will continue to be profitable for the next few years then it seems sensible to buy it for at least a 20%+ gain. And if BlackBerry continues to gain market share one will enjoy the added benefit of expanding profits and a greater return over time.
Disclosure: I have no positions in any stocks mentioned, and no plans to initiate any positions within the next 72 hours. I wrote this article myself, and it expresses my own opinions. I am not receiving compensation for it (other than from Seeking Alpha). I have no business relationship with any company whose stock is mentioned in this article.