This morning we will see heavy trading in Chesapeake Energy as they have a new CEO and a lot of attention paid to the precious metals markets. The chart of the day shows silver is gaining strength as North American markets are poised to open, and this is the case for gold as well, but the point here is that we are down sharply again this morning. If the trend is your friend, then bears seem to have a really good one because the trend we have seen lately is no friend of bulls.
We continue to stay clear of buying these dips in the precious metals market and instead have our attention focused upon the oil and natural gas sector.
Chart of the Day: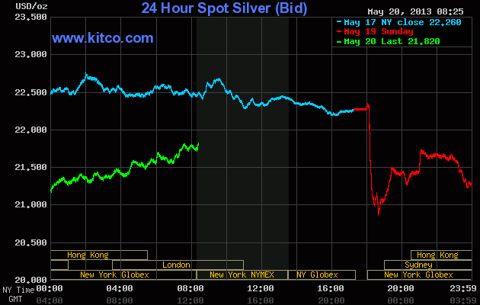 Chart courtesy of Kitco.com
Commodity prices this morning are as follows:
Gold: $1347.90/ounce, down by $16.80/ounce
Silver: $21.555/ounce, down by $0.797/ounce
Oil: $95.43/barrel, down by $0.59/barrel
RBOB Gas: $2.8993/gallon, down by $0.0076/gallon
Natural Gas: $4.151/MMbtu, up by $0.096/MMbtu
Oil & Natural Gas
This morning it appears that Chesapeake Energy (NYSE:CHK) has hired a new CEO to replace co-founder Aubrey McClendon. According to The Wall Street Journal, it appears the board has hired former Anadarko executive Robert Douglas Lawler who is a petroleum engineer and was in charge of international and deepwater operations at Anadarko (see Reuters article here). It is not obvious to us how that plays into Chesapeake's strengths but the fact that there is now fresh blood at the helm and the company was able to attract an executive from another peer does appear positive, although we suspect shareholders would much rather have preferred a name from one of the super majors instead. Shares are up in premarket trading.
We have discussed Kodiak Oil & Gas (NYSE:KOG) shares over the past month or so as ripe for trading and shares have broken through the $8.30/share level and on Friday broke above the $8.80/share level, which readers will remember has served as a springboard to the $9/share area quite a few times over the years. A few things have helped the shares recently, with oil's rise being one of them but also investors recognizing the value in places such as the Bakken, Permian and Eagle Ford once again. Continue to watch this name.
Playing the range trade has worked well over the past two years, we are hoping it will work again.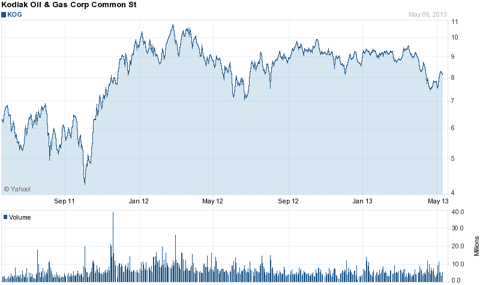 Chart courtesy of Yahoo Finance.
Diamondback Energy (NASDAQ:FANG) is one of those names which seems to defy gravity and although is a smaller player in the industry has been one of the companies leading the way higher. The rise has rewarded shareholders, but also helped Gulfport Energy (NASDAQ:GPOR) which rolled its Permian Basin assets into the entity and thus far has kept all of the equity it received in exchange. Readers know this is a name we have liked for some time and set up a position but sold out after a large return in a few sessions. We will highlight the company some more in the near future as we believe that they are beginning to attract some serious attention and could provide further gains to investors based off of their assets in the Permian.
One of the names we are following for the Tuscaloosa Marine Shale, or TMS, is Goodrich Petroleum Corporation (GDP) and we noticed shares tick higher by $1.02 (8.02%) to $13.74/share on Friday. The results thus far have been mixed in the area with some duds but also some 1,000 BOE/d being hit. It is still a science experiment at this time but even with that said it is still impressive just how strong this name has been with their below par news for investors. It is obvious that the market is betting on more of the 1,000 BOE/d wells being discovered and thus value being created, but so far investors have been left waiting. This is not a quarter-to-quarter story on earnings/revenues but a news flow story based on results. We are in the camp that wants to see more and until then we find it difficult to go long.
Precious Metals
This morning silver is getting crushed and Silver Wheaton (NYSE:SLW) appears poised to set a new 52-week low. The company recently altered its dividend policy which now appears as though it was put in place to keep the dividend high as the price for silver fell but with the deterioration in the price of all precious metals it sure appears that the move may have been in vain as future realized prices shall be lower than previously expected and the share price action confirms this. This is one of our favorite silver names, but we cannot be buyers right now. We shall wait until the shakedown has occurred and then maybe then we can be buyers. As we say, when we cannot wrap our heads around something we find it best to sit on the sidelines until we can understand it or see a tremendous amount of hidden value...and at this time neither of those have occurred.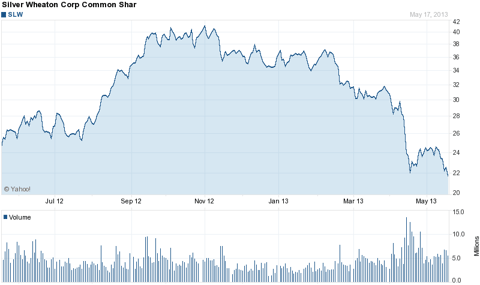 Chart courtesy of Yahoo Finance.
Disclosure: I have no positions in any stocks mentioned, and no plans to initiate any positions within the next 72 hours. I wrote this article myself, and it expresses my own opinions. I am not receiving compensation for it (other than from Seeking Alpha). I have no business relationship with any company whose stock is mentioned in this article.
Additional disclosure: I have no positions in any of the stocks, however I do own Gulfport Energy (GPOR) which holds shares of Diamondback Energy (FANG).