MEMC Electronic Materials Inc (WFR) has found its shares on an extended run in recent weeks. This is the case as a pickup in the solar industry has provided additional support for the company's shares. Shown in the chart below, a comparison with other peer companies in the industry has thus far shown that MEMC has faired well over the past year. Yet shareholders received another boost of confidence this past Tuesday. This was the case as the company's CEO, Mr. Ahmad Chatila, purchased an additional 68,100 shares on the open market as seen in the filed Form 4.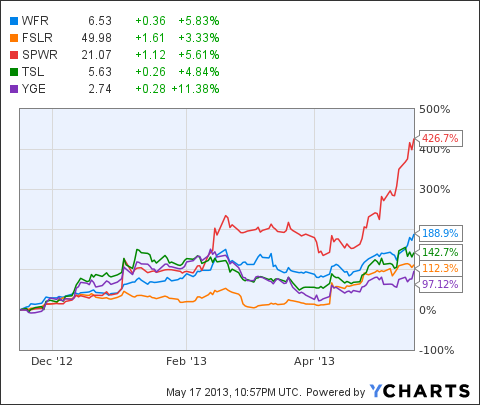 WFR data by YCharts
Mr. Ahmad Chatila has been a rather cautious investor in his company since 2009 when he took over the reigns of MEMC. After initially pouring nearly $500,000 into shares of the company back in 2010, the CEO dialed back his subsequent purchases. Though remaining bullish, he decreased the following transaction values down to $98,000 in 2011, and $203,000 in 2012, as the share price continued to decline. Yet as seen in the chart below, Chatila more than doubled the face amount of his previous purchase through this latest transaction even as the share price continued to climb higher.

Although already witnessed in his actions, the true sentiment of the insider can clearly be witnessed through his words. Found in the Q1 2013 earnings conference call transcribed here, Chatila had the following to say:
I remain very excited about the progress we have made and about our positioning as a company. Everything we have done over the past couple of years have prepared us for the eventual recovery in our markets, from being a first mover and implementing our restructuring and other significant cost reduction efforts, to strengthening our positioning, purposefully managing cash and significantly improving our market share position.
An overview of the same conference call shows several additional positive factors looking forward. Despite a wider-than-expected loss in earnings, the commentary indicated that the company's future remains bright. A few additional highlights of the company's report can be listed below:
The company continues to execute through an ongoing cost reduction plan, which has lead to improved efficiencies and a lowered breakeven revenue level. There remains an aggressive focus on cost reduction.
Heading into the 8th quarter of semiconductor industry downturn, the company's expectations for the industry remain positive. Moderate improvement is anticipated in the coming year.
The company expects continued weakness in the Solar business in Q2 just as it had seen in Q1 due to lower development spending from the prior year. However, management also believes there will be a rapid ramp-up in the second half of 2013 carrying forward into 2014 as well.
The company has effectively been implementing measures to reduce quarter-on-quarter volatility in the solar business. This has been done via the introduction of flow business development and by managing project development activities more effectively.
The company's project pipeline in the solar industry grew to 2.7 gigawatts along with a backlog of 925 megawatts. Both indicators were up 100 megawatts from the prior quarter.
MEMC continues to maintain good project diversity in terms of project size, geography, and customer base.
MEMC now trades with a market capitalization of $1.51 billion as of May 17, 2013. With analyst expectations of $0.44/share in 2014, the company trades with a forward price-to-earnings ratio of 14.84. Yet the price-to-sales ratio of the company remains rather low at 0.58. For comparison, First Solar (FSLR) and SunPower (SPWR) both trade as a price-to-sales ratio of 1.17 and 0.94 respectively. MEMC now carries total assets of $4.55 billion against total liabilities of $4.02 billion. The company ended the quarter with cash, cash equivalents, and restricted cash of $476.2 million.
With both the semiconductor and the solar industries on the verge of turning around, MEMC appears to be in a rather prime position for both market recoveries. The company has managed to navigate through the rough waters and effectively utilize its cash in order to reduce costs and fortify its market share. Additionally, the confidence being presented by the company's CEO remains rather convincing in light of his latest open market purchases. Investors looking for a long-term recovery play may do well in establishing a long position. Yet at the same time, the extended run in the market of late may also suggest that investors should continue to remain cautious altogether.
Disclosure: I am long WFR, SPWR. I wrote this article myself, and it expresses my own opinions. I am not receiving compensation for it (other than from Seeking Alpha). I have no business relationship with any company whose stock is mentioned in this article.