At a time when Vale (NYSE:VALE) needs all the good news it can get, its coal unit continues to suffer setbacks, with the latest being its announcement it is cutting its coal export target for 2013 from its Mozambique coal mine by about 30 percent.
This follows in the footsteps of a 2nd disruption at its Sena rail line operations, where on May 12 some potters blocked the line in an effort to extract further compensation for abandoning their homes in order for the mine to be developed. That has been resolved and shipments resumed, but it probably had more of a public relations effect on the company than warranted because of current weak market sentiment.
It isn't officially resolved yet either, as the potters agreed to withdraw only after Vale agreed to negotiate with the potters again. Vale has already paid $1,980 per oven for the potters.
Concerning the slashing of its coal exports from it Moatize coal mine in Mozambique, the reason is because of heavy flooding which has temporarily closed the railway line it used to transport the coal.
The original projection of 4.9 million tons of coal being exported from Moatize has now been cut back to 3.4 million tons, according to Altiberto Brandao, Vale Mozambique's director of coal operations.
Infrastructure constraints in Mozambique continue to weigh on Vale, as has had to almost cut in half its production and export goals in 2012 because of them.
Nacala Corridor
Vale has some ambitious plans for Moatize going forward, as it projects production levels of 6.4 million tons for 2014, and 9.2 million tons in 2015. Brandao said it wants to expand annual capacity at the mine to 11 million tons, and by 2018, the company wants to bring production levels to 22 million tons.
Again, the problem is infrastructure. Production is one thing, the ability to transport and export it is another. To that end, Vale has committed about $4.4 billion to expand and update the northern Nacala corridor. That would include a railway line through Malawi to the deepwater port of Nacala.
That has to be successful in order for the coal production numbers at Moatize to be economically meaningful to Vale.
Coking Coal Prices
To add insult to injury, the prices of coking coal, which is used in the steel industry, are falling, based upon rising supply from South Africa and Mongolian, as well as a drop in demand for steel in general.
In a recent report the National Australia Bank Ltd. said it cut its contract projections from $175 a ton to $155 a ton.
Goldman Sachs also cut its contract estimates to $165 a ton for the third quarter, and $164 a ton for all of 2013, a downward revision of 8 percent.
Buyers from Asia will probably pay about $165 a metric ton for the three-month period beginning in July, according to 5 analysts surveyed by Bloomberg. Since March spot prices for coking coal are down 11 percent.
Coal Revenues
The infrastructure challenges in Mozambique are the major catalyst for Vale's coking coal operations. Once the transportation and export system is in place, the company will ramp up operations, with expectations large-scale production will begin by 2015.
Coal revenues for Vale, other than the effects of the recession in 2009, have been steadily climbing. In 2007 revenue from coal stood at $160 million, soaring to $577 million in 2008. It pulled back to $504 million in 2009, jumping 52 percent in 2010. In 2011 coal revenue surpassed $1 billion for the first time for Vale, reaching $1.058 billion.
In the third quarter of 2012, coal revenue was $285 million, a fraction of the overall $12.76 billion generated by the company. For the year it broke its previous record, ending with revenue of $1.092 billion. Overall, it looks to account for between 4 to 5 percent of the stock price of the giant miner.
Assuming no major or unexpected glitches, coal should become a much more significant driver of the share price of Vale over time.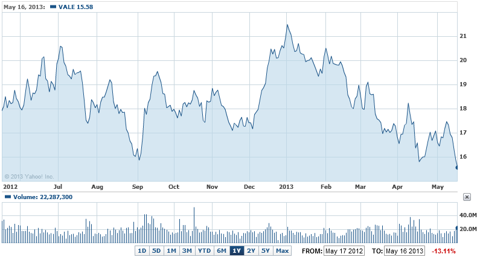 Click to enlarge
Cost Control
The last quarterly report from Vale exceeded expectations, at net quarterly profit climbed from a loss of $2.7 billion in the last quarter of 2012 to a gain of $3.1 billion in the first quarter. In the first quarter of 2012 net profit was $3.79 billion.
Vale said the reason it performed better than expected was the successful implementation of cutting costs and expenses. Until demand for iron ore rebounds, that will have to be the main focus of the natural resources company.
Conclusion
Declining demand for iron ore has created a sense of urgency for Vale that it must diversify its product line. Coking coal is a good choice, as over time demand for it will rise as steel production increases. It sold its thermal coal assets in Colombia, as it targets the more potentially lucrative metallurgical or coking coal market.
While the short-term effects of the Moatize coal mine in Mozambique will have some impact on the company, over the long term Vale is positioning itself for a solid, growing coal business.
The successful completion of the railway and port system will allow them to maybe quadruple its production at the mine, which could boost the impact it has on the share price of the company significantly beyond the estimated 4 to 5 percent it does now.
It looks like it will take a couple of years before that's operationally ready.
Disclosure: I have no positions in any stocks mentioned, and no plans to initiate any positions within the next 72 hours. I wrote this article myself, and it expresses my own opinions. I am not receiving compensation for it (other than from Seeking Alpha). I have no business relationship with any company whose stock is mentioned in this article.