The euro/USD (NYSEARCA:FXE) broke down from a month-long trading range and drifted lower last week. At the same time, European equities (and bonds) traded up and the Frankfurt DAX again closed at a record high. European economic news suggested weakness, including Q1 GDP contraction in France and minimal GDP growth in Germany. A soft euro had been a catalyst for weakness in global markets, but the divergence between the euro and European equities may suggest otherwise. This divergence seems to indicate that investors are expecting more action from the ECB, which would likely weaken the euro even more but benefit European stocks and bonds. In this article I will examine the recent trends in Europe and the implications for the euro.
Euro Diverging
The following chart compares the euro (represented by the FXE ETF) and the iShares MSCI EMU ETF (BATS:EZU), a proxy for European equities, since January 1, 2012.
Last summer the euro and European equities declined together, but more recently they are trading in opposite directions.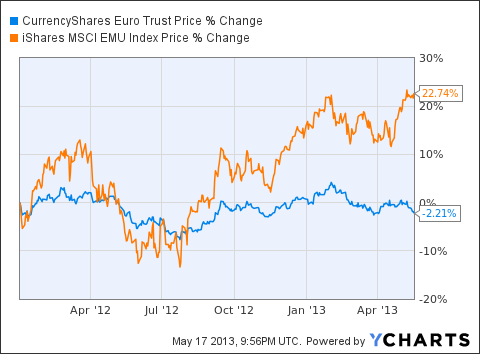 FXE data by YCharts
ECB Watch
In my previous article about the euro I discussed that the diver for the euro may be shifting from external factors (quantitative easing in Japan and the U.S.) to internal factors, such as the potential for more ECB action and economic data (see Will An Internal Or External Catalyst Drive The Euro's Next Big Move?).
There was a lot of news last week that may suggest that the ECB is getting ready for more action. It is important to note that the ECB will probably not embark on a QE program like in the U.S., but may pursue other policy actions.
France officially slipped back into recession as Q1 GDP growth dropped -0.2% (here). German Q1 GDP growth only increased 0.1% and overall GDP in the euro area contracted -0.2%.
In his last press conference, Mario Draghi said that the ECB's monetary policy easing has more of an impact on core European countries as opposed to peripheral countries. The Q1 GDP weakness in core Europe gives the ECB a good reason to cut rates further and pursue other policy actions.
The weak GDP numbers add urgency for the ECB to act because inflation is low and declining. As of April, the inflation rate was 1.2%. Inflation is the ECB's primary objective and it will likely need to act to ward off the threat of deflation.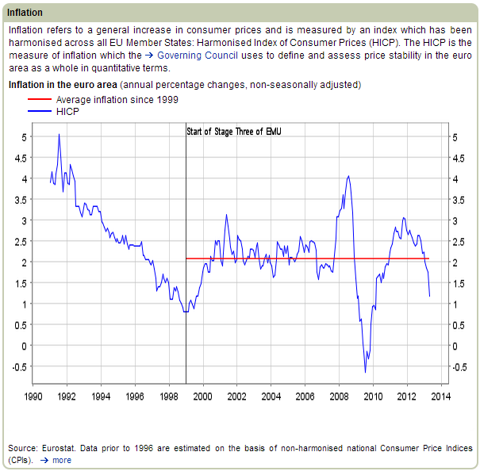 As I mentioned last week, the ECB seems to be moving at a faster pace. The rate cut seemed to come sooner than expected. Furthermore, there is increasing chatter about the ECB launching a program to buy asset backed securities (ABS) to help lending conditions in Europe.
The gathering rumors and speculation about further ECB action seems to be the driver for euro weakness.
Euro Price Action
The euro closed the week at $1.28. From April 5, to May 10, the euro traded in a tight range in between the 20-, 50-, 100- and 200-day moving averages, but then drifted lower. The move away from these levels could be the start of a big move lower.
The $1.26-$1.29 zone has been an important level over the last few years. During the Europe crisis last summer the euro broke through this zone to the downside. However, during the Cyprus crisis it marginally breached the zone before bouncing back. The euro is now back in the zone and may be headed quickly to the bottom around $1.26. Importantly, this time the euro is not trading down because of a big crisis.
The euro has now given up the gains from the post-Cyprus crisis bounce. That bounce was also aided by global liquidity coming from QE in Japan, and to a lesser extent in the U.S.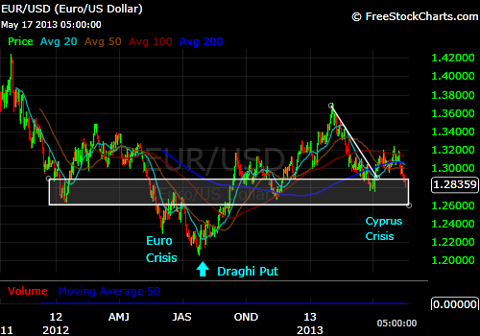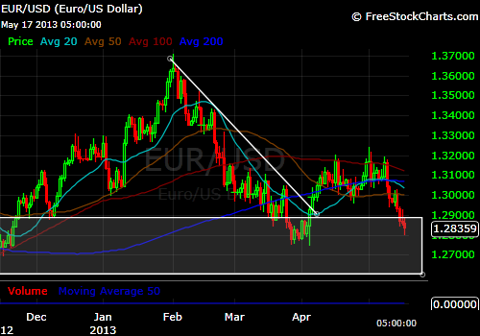 (Source: FreeStockCharts.com)
European Sovereign Bonds
There were some interesting movements in the European sovereign bond markets that I follow.
Last week, yields on the German and French 10-year bonds declined, as prices increased, while yields for Spain and Italy were unchanged. However, the big moves came from Portugal and Greece, which saw big declines in yield.
These moves came as Fitch upgraded Greece's credit rating to B- from CCC (here).
I wonder if the rally in Spain and Italy's bonds is coming to an end as their bonds did not move up with the stronger or weaker parts of Europe last week.
The big picture continues to be that Europe's sovereign bond markets are much healthier than there last year, which may be a positive for the euro as global investors seem to be investing in European bonds as they search for yield.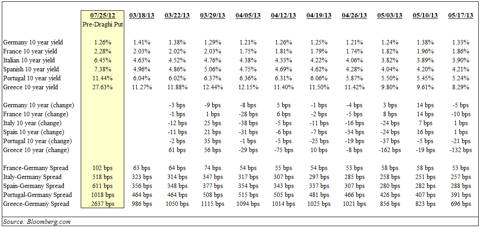 European Equity Markets
European equity markets were mostly up last week and the DAX again closed at an all-time high. However, the Spanish market lagged.
The following chart shows the five-day price action for the iShares MSCI Germany Index Fund (NYSEARCA:EWG), iShares MSCI France ETF (NYSEARCA:EWQ), iShares MSCI Italy Index Fund (NYSEARCA:EWI), and iShares MSCI Spain Capped Index Fund (NYSEARCA:EWP), and the SPDR EURO STOXX 50 ETF (NYSEARCA:FEZ).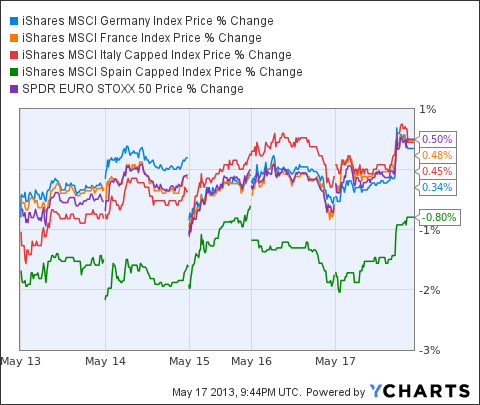 EWG data by YCharts
On a year-to-date basis, all these ETFs are now in positive territory after they rebounded from the losses leading into the Cyprus crisis.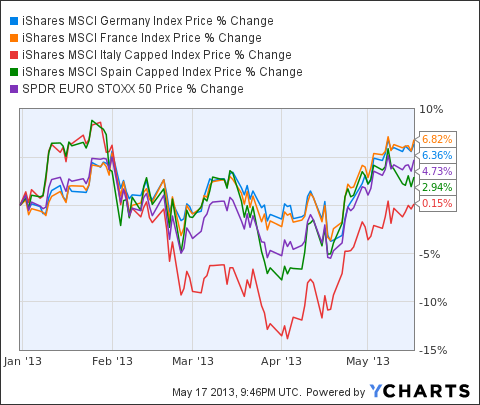 EWG data by YCharts
European Banks
There has been a lot of news about European banks lately. In general, they are benefiting from the rally in sovereign bonds and the improving capital market conditions.
Last week, Commerzbank (OTCPK:CRZBF) launched a rights offering (here). This follows the $3.9 billion offering from Deutsche Bank (NYSE:DB) (here). It is a good sign that these banks are using the strength in the markets to raise capital.
Furthermore, new rules in Spain are forcing the banks to reclassify their problem loans (here). This will probably be a positive for Spain and Spanish banks in the long term, but could hit earnings in the short term and may accelerate additional capital raises.
The following shows the year-to-date performance for the iShares MSCI Europe Financials ETF (NASDAQ:EUFN).
I have a position in Banco Santander (NYSE:SAN) as a play on the European banking sector. Banco Santander underperformed last week.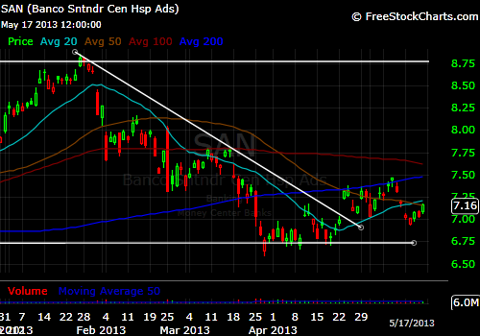 (Source: FreeStockCharts.com)
Impact of European Equity Markets on U.S. Equity Markets
The euro and European markets are not serving as a catalyst for global declines like last summer.
The following compares the S&P 500 (NYSEARCA:SPY) and the Financial Select Sector SPDR ETF (NYSEARCA:XLF) with their European counterparts, the EZU ETF and the EUFN ETF.
The European markets are catching up to S&P 500 after some weakness a few months ago.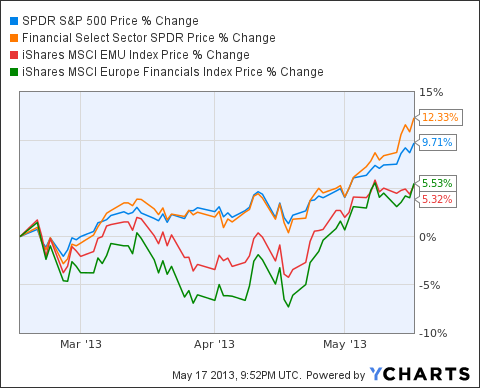 SPY data by YCharts
Conclusions
The euro is drifting lower from a month-long trading range. However, unlike previous periods of euro weakness there is no crisis in Europe. Furthermore, the move by the euro represents a divergence from the strong equity and debt markets in Europe. The action by the euro and these other asset classes seem to indicate that investors are expecting more action by the ECB.
The economic data last week, as well as declining inflation, are setting the stage for a potential move by the ECB. There are rumors and speculation about the ECB buying asset-backed securities. Over the summer we will see if the ECB actually pursues this course.
After a period of relative strength, thanks in part to the end of the Cyprus crisis and global QE, it looks like the euro is headed lower.
Disclosure: I am long SAN. I wrote this article myself, and it expresses my own opinions. I am not receiving compensation for it (other than from Seeking Alpha). I have no business relationship with any company whose stock is mentioned in this article.
Additional disclosure: I may trade any of the securities mentioned in this article at any time, including in the next 72 hours. Also, I am long SPY puts, which stand to gain in value if the SPY declines.
Disclaimer: The opinions expressed above should not be construed as investment advice. This article is not tailored to specific investment objectives. Reliance on this information for the purpose of buying the securities to which this information relates may expose a person to significant risk. The information contained in this article is not intended to make any offer, inducement, invitation or commitment to purchase, subscribe to, provide or sell any securities, service or product or to provide any recommendations on which one should rely for financial, securities, investment or other advice or to take any decision. Readers are encouraged to seek individual advice from their personal, financial, legal and other advisers before making any investment or financial decisions or purchasing any financial, securities or investment related service or product.
Information provided, whether charts or any other statements regarding market, real estate or other financial information, is obtained from sources, which we and our suppliers believe reliable, but we do not warrant or guarantee the timeliness or accuracy of this information. Nothing in this article should be interpreted to state or imply that past results are an indication of future performance.
THERE ARE NO WARRANTIES EXPRESSED OR IMPLIED AS TO ACCURACY, TIMELINESS, COMPLETENESS, OR RESULTS OBTAINED FROM ANY INFORMATION IN THIS ARTICLE OR ANY LINKED WEBSITE.