Pharmaceuticals have been fairly unloved by investors for a number of years. However, as the equity rally continues and prices increase, to me, a number of these companies look incredibly cheap.
The healthcare story is one many can relate to; demographics are changing, people are living longer as medicine and healthcare technology advances. Furthermore, the developing consumer demand in emerging and frontier markets for pharmaceutical goods offers an excellent growth opportunity.
Although there are a number of companies worth investing in, AstraZeneca (NYSE:AZN), the UK's second largest drug maker, is in a great position to offer significant upside in both its share price and earnings. Over the past few years, there have been concerns with Patent Cliffs as a number of patents for blockbuster drugs created in the late 1990s run out. The loss in earnings can be significant, hence the overly suppressed valuations. This however does not detract away from current drugs that generate a large proportion of revenue and the growing demand for basic medicines which should continue to drive revenue growth going forward. Pipeline drugs are often hard to factor into revenue projections as rigorous FDA approval is required. However, AstraZeneca recently outlined their plans to return to revenue growth and achieve scientific leadership in their core areas.

The chart above shows the performance over the past 13 years has been choppy, and during this time earnings per share growth has remained low.
First quarter results this year showed the effects felt from losing some key patents, such as Seroquel where revenues dropped by a staggering 99% after losing the patent in March 2012. The following table shows the decline in revenues from Q1 2012 down 12% to $6,385m (CER - with constant exchange rates priced in).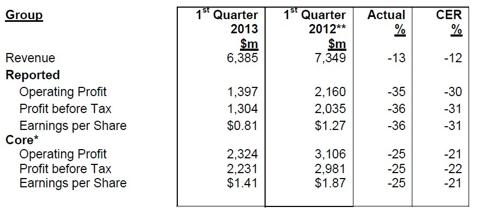 AstraZeneca expects full-year revenue to decline in the mid-to-high single digits, and while this is not a particularly attractive prospect for investors, they outlined their 'return to growth and achieve scientific leadership' strategy which is encouraging.
A major problem for pharmaceuticals is the generation of new drugs, and we are seeing a more strategic approach to R&D from companies in order to develop pipeline production.
AstraZeneca's aim is to have a more focused innovation-driven approach utilizing their strengths in immunotherapies and protein engineering allowing them to increase chances of successful drug development and become scientific leaders in three core areas:
Respiratory, Inflammation & Autoimmunity
Cardiovascular & Metabolic Disease
Oncology
This more focused approach has led AstraZeneca to bring their research, development and commercial people closer together and these should both facilitate in drug development and cost efficiency.
By accelerating a number of molecular entities, they believe their phase III pipeline has the potential to double in size by 2016.
Although this more efficient approach to drug development is positive news and will be fundamental going forward, achieving growth through existing assets is also key to returning to revenue growth. As such they are focusing on five key growth platforms:
•Ensuring Brilinta reaches the patients who can benefit, capturing the multi-billion dollar potential of this important medicine.
•Working with their partner, BMS, to achieve a leading position in the non-insulin diabetes market.
•Investing to drive growth in emerging markets, of which China offers the biggest single opportunity. They are targeting annual high-single digit revenue growth in emerging markets
•Maximizing the potential of their on-market respiratory portfolio, which continues to grow in key markets, and accelerate the pipeline of respiratory projects
•Capturing the potential from their established brands and new launches in Japan, the world's second largest pharmaceutical market and one that is showing steady growth.
Although AstraZeneca have not given any specific growth forecasts and timings, they did however say, "Based on our focused investment in key growth platforms and our pipeline, we believe we can significantly exceed current market consensus for 2018 revenues of $21.5 billion."
Allocation of cash flow to value creating business will continue and develop through acquisitions and return cash through share repurchases if no suitable opportunities arise.
The pharmaceutical business is very cash generative, as such AstraZeneca have been able to return money to their shareholders for many years.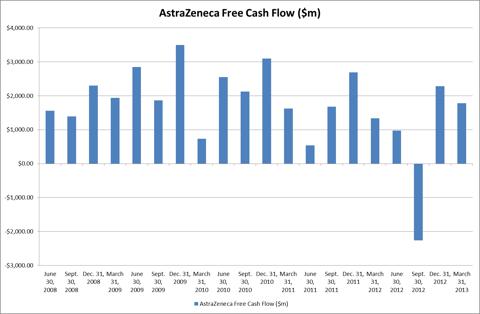 Dividends per share has grown significantly over the past 10 years and the current yield of 5.34% is an attractive figure, especially as high yielding equities are being snapped up.
While the growing dividend and strong free cash flow profile looks attractive, when combined with declining revenues and falling EPS, the payout ratio has increased to 62%, well above the sector average of 39%. With further patent expiries over the next few years for Nexium and Crestor, which made up over 35% of 2012 total revenue, dividend growth looks unlikely for the medium term.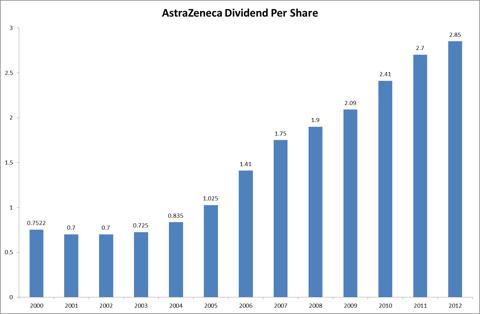 For those investors looking for stable dividend growth companies, this may not be for you, however, despite the worries ahead and contracting revenue in the short-to-medium term, for those investors that can stomach a temporary fall in yield, this share has the potential to offer significant upside over the long term. Year-to-date performance has been relatively strong rising 15.97%.

The healthcare sector as a whole is an attractive investment for the long term and especially for those seeking strong yields, the large cap names such as Pfizer (NYSE:PFE), Merck & Co (NYSE:MRK), GlaxoSmithKline (NYSE:GSK) all have great potential going forward. As demand from emerging markets increases, the large cap companies already have an established product portfolio which revenue can be scaled upon. Furthermore, the likelihood of new quality drugs being developed from these names is high.
Summary
Revenues for AstraZeneca are likely to continue to decline in the short-to-medium term as Patents run out for some key drugs. The positive steps taken to strategically approach growth and scientific leadership will hopefully transpire into positive EPS growth going forward. Drug creation is now a priority for many large cap names, and will be paramount going forward; some positive signs from stage III pipeline drugs are encouraging. While the history of dividend growth may falter in the short term, the current yield of 5.34% is still attractive. All dividend portfolios should have healthcare companies in them, and this one may offer great capital appreciation as well.
Disclosure: I am long AZN. I wrote this article myself, and it expresses my own opinions. I am not receiving compensation for it (other than from Seeking Alpha). I have no business relationship with any company whose stock is mentioned in this article.