pSivida (NASDAQ:PSDV) is a leading provider of miniaturized, sustained-release drug delivery products, and is continuing the evolution of these systems. The company has developed three of only four products approved by either the U.S. or EU for long-term, sustained-release delivery of medication to treat chronic eye disease. It currently has 13.7 million in cash and no debt. The company expects to have enough cash to fund its operations until the fourth fiscal quarter of 2014 (stated here at 9:20 of Conference call).
The Iluvien intravitreal insert to treat Chronic diabetic macular edema (DME), made by pSivida, is a tiny cylindrical polyimide tube. The device is a mere 3.5mm in length, 0.37mm in diameter, and contains 180 μg of fluocinolone acetonide. It is one quarter the size of a grain of rice, and is designed to provide a low daily dose of Fluocinolone, a non-proprietary corticosteroid with a history of treating ocular disease. Iluvien is inserted into the patient's eye using a proprietary inserter with a 25 gauge needle, which allows for a self-sealing wound. Iluvien is inserted into the back of the eye, in the vitreous humor, to take advantage of the eye's natural fluid dynamics for delivery of the drug to the retina. A single Iluvien insert is designed to provide sustained therapy for 24 to 36 months.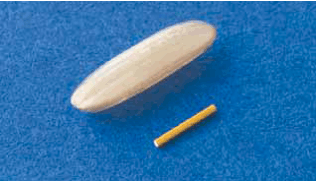 Iluvien compared to a grain of rice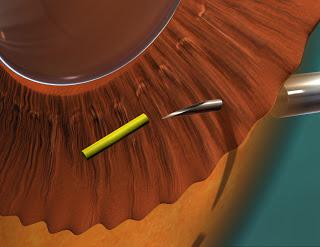 Insertion into the Vitreous Humor
Iluvien for DME has received marketing authorization (approval) in the U.K., Austria, France, Germany, Portugal, and Spain with an approval in Italy anticipated in the coming months. Revenue from the six European countries will start to roll in the remainder of 2013.
On May 7th, it announced that ILUVIEN, the first sustained release pharmaceutical product for the treatment of DME, is now commercially available in Germany. On the same day, it was also announced that they had treated the world's first patient with the implant injection since the product had become commercially available.
Here is a breakdown of the potential revenue for Iluvien, which I discussed in a previous article. To read this article in full click here.
Approximately 10% of diabetics will develop Diabetic Macular Edema. The proposed price for Iluvien in Europe will be somewhere between $5,500 to $8,800. For the purpose of this article I will use the average, which is $7150.

Austria:

Has approximately 400,000 diabetics.

400,000 * 0.10 = 40,000 potential patients

40,000 * $7150 = $286,000,000 sales

Portugal:

900,000 * 0.10 = 90,000 potential patients

90,000 * $7150 = $643,500,000 sales

France:

3,945,753 * 0.10 = 394,575 potential patients

394,575 * $7150 = $2,821,211,250 sales

Spain:

Has approximately 3,635,946 diabetics

3,635,946 * 0.10 = 363,594 potential patients

363,594 * $7150 = $2,599,697,100 sales

Germany:

Has approximately 7,372,226 diabetics

7,372,226 * 0.10 = 737,222 potential patients

737,222 * $7150 = $5,271,137,300 sales

United Kingdom:

I will use a cost of $5500 for the U.K. since it is most likely to be lower in the U.K.

Has approximately 3,636,375 diabetics

3,636,375 * 0.10 = 363,637 potential patients

363,637 * $5500 = $2,000,003,500 sales
Approximately 10% of diabetics will develop Diabetic Macular Edema. The proposed price for Iluvien in Europe is between $5,500 and $8,800. For the purposes of this article I will use the average, which is $7150.
Using these conservative estimates, the potential revenue possibilities are enormous. pSivida fully diluted share count is 23,297,011. At today's price per share value of $2.83, it would have a market capitalization of $66 million. If the company produces even 15% of the above projected revenues, this would equate to $2.1 billion. This is excluding the U.S. market, which I feel will be a slam dunk approval later this year.
Alimera Sciences (NASDAQ:ALIM) shares the revenue with pSivida Corporation, in which 80% goes to ALIM and 20% goes to pSivida. Therefore, based on the above projections, presuming that pSivida will get 600 million in revenue, the share price target of pSivida should be way north of $15.00. pSidiva is definitely under the radar at the moment, with a ridiculous valuation (66 million market cap), but will definitely be gaining steam as it marches towards its Prescription Drug User Fee Act (PDUFA) hearing in October. pSidiva's PDUFA has a targeted date of October 17, 2013. This will be its third try at approval in the United States. Approval will add a significant amount of revenue, which was not included in the above calculations.
GTx, Inc. (NASDAQ:GTXI) is developing enobosarm (Ostarine®;GTx-024), a selective androgen receptor modulator, or SARM, for the prevention and treatment of muscle loss in patients with non-small cell lung cancer and for other muscle wasting diseases. It currently has 36 million in cash, no debt, and is able to fund operation until mid year 2014. With an O/S of 62.8 million, 69.8% are held by insiders, leaving a float of 20.57 million shares.
The company recently announced that as per protocol safety review of unblinded safety data on Friday April 12, 2013, by an independent Data Safety Monitoring Board (DSMB), resulted in the determination that GTx continue as planned its two pivotal Phase III clinical trials of Enobosarm. This is monumental news for GTx. Further driving an expedient approval, on January 8th the FDA granted Fast Track Designation to Enobosarm. This expedites the FDA review process to 60 days, and confirms that Enobosarm has the potential to fill an unmet medical need.
Citi is aware of the potential of this drug, and this high regard prompted them to raise their price target on GTXI from $8 to $19. Citi estimated that positive results from enobosarm Phase III data alone would be worth $11/share to potential biopharma company bidders. In the note, Citi stated that GTXI is "currently one of the most compelling small-cap biotech companies." link
Topline data from the studies should be released during the third quarter of 2013. I anticipate an uptrend from now until Phase III results, to around $8.00 per share and a share price of $12.00 per share upon positive results.
Conclusion
Both pSivida Corporation and GTx have significant catalysts in the short term. I feel that these companies are two of the most undervalued in the biotech sector. These valuations will soon be noted by the astute investor, and share prices will follow accordingly.
Disclosure: I am long PSDV, GTXI, ALIM. I wrote this article myself, and it expresses my own opinions. I am not receiving compensation for it (other than from Seeking Alpha). I have no business relationship with any company whose stock is mentioned in this article.