Shares of ViaSat (NASDAQ:VSAT) received a nice boost after reporting excellent Q4 FY 2013 numbers, up 17% in mid day trading. Since I first profiled ViaSat in September 2012 when it traded around $38 per, shares are up about 85%.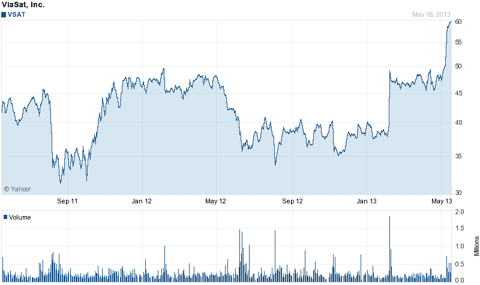 Business:
ViaSat, Inc. provides fixed and mobile broadband services, and satellite and wireless networks, as well as secure networking systems, products, and services for government and commercial customers worldwide. (source Yahoo! Finance)
It appears like the single most important competitive advantage will be ViaSat's series of high speed satellites, allowing ViaSat to reach users globally, in a scalable way.
Earnings Highlights:
FY 2013 record revenues of $1.1 billion, up 30% year-over-year.
FY 2013 record orders of $1.4 billion, up 36% year-over-year.
FY 2013 adjusted EBITDA grew 10%, to $163 million.
ViaSat-2: The Highest Speed Satellite
Investors also cheered the announcement that ViaSat-2 is now under contract with Boeing (NYSE:BA), which will be the highest speed satellite, providing double the bandwidth and 7 times the geographic coverage of ViaSat-1.
CEO Mark Dankberg described the ViaSat-2 satellite offering:
So we're really happy to announce, we've got a contract for ViaSat-2 with Boeing. ViaSat-2 is not just more of ViaSat-1 technology. It's a fundamentally more powerful satellite architecture that builds on the networking foundation of ViaSat-1. We and Boeing believe it to be unlike anything else in the satellite industry. It advances the broadband state-of-the-art. We're leveraging the very powerful Boeing 702HP platform and a number of unique Boeing payload technologies, but the payload architecture, design and systems approach are ViaSat's. The performance and operational benefits are compelling. We'll about double the bandwidth economics of ViaSat-1, while simultaneously increasing the coverage footprint by over sevenfold. Those performance gains will substantially improve our competitive position in all the broadband markets we're developing, including residential, in-flight connectivity, maritime, LAN mobile, enterprise and especially government. Plus, we gain very valuable operational flexibility, performance and capital investment benefits. The satellite schedule calls for a mid-2016 launch.
With the ViaSat-2 satellite under contract with Boeing, ViaSat's growth story continues to unfold. With an estimated 19 million people in the rural US with no access to terrestrial high speed internet, ViaSat and its satellite competitors such as EchoStar (NASDAQ:SATS) will be vying to acquire those subscribers.
Additionally, ViaSat-2's range covers all of Canada, Mexico, other parts of Central America, the Carribean, Greenland, Iceland and Ireland (yes, the coverage is that wide, check out the map here), allowing coverage for rural subscribers in all of those places too.
Consequently, ViaSat has a large growth opportunity with respect to serving rural customers with high-speed internet connectivity.
Other Catalysts:
Resolution of intellectual property ("IP") litigation with Space Systems/Loral and Loral, where ViaSat is seeking monetary damages and a permanent injunction based on Space Systems allegedly improper use of ViaSat's IP.
Penetration into the in-flight connectivity segment, with an expected Exede launch with Jetblue (NASDAQ:JBLU) sometime in the second half of 2013 (pending regulatory approvals etc.)
Continued penetration in the retail broadband segment for the Exede service. Q4 installations increased by over 98,000, at a higher average revenue per user ("ARPU") than previously expected.
Conclusion:
ViaSat continues to build out its capabilities in providing scalable satellite communications in both commercial and government segments.
Valued at $3 billion, ViaSat looks like it still has room to grow based on its ability to build out a global operating model, and ability to service more users in unaddressed and/or underserved markets for high speed broadband services.
Disclosure: I have no positions in any stocks mentioned, and no plans to initiate any positions within the next 72 hours. I wrote this article myself, and it expresses my own opinions. I am not receiving compensation for it (other than from Seeking Alpha). I have no business relationship with any company whose stock is mentioned in this article.