If De-Branding is even a word, then Bank of America (NYSE:BAC) just gave it a definition. Their decision to drop the iconic Merrill Lynch bull from their logo has to be one of the worst branding moves I can think of in recent history. As if it weren't enough to see Citibank (NYSE:C) gradually destroy the elite Solomon Smith Barney brand. Now Bank of America is doing the same thing? Was effort even involved in the creation of their logo?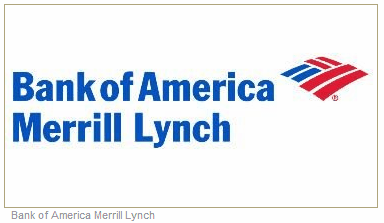 To call this re-branding would assume some increase or at least maintenance of brand value. That's impossible here. This is a self-inflicted own-goal, an act of de-branding. A legacy destroyed by a single (Microsoft Paint?) graphic.
And with the unforgettable bull gone, I think we all know that the remaining Merrill Lynch days are numbered. It's barely hanging onto the logo as it stands already.
I bet a lot of old-Merrill employees really enjoyed the caché that came with being from Merrill Lynch. And I bet a lot of Merrill customers liked to tell people they used Merrill Lynch for their services. It oozes elite, it oozes high finance. Even despite our recent financial crisis. Entrenched brands can weather quite a bit of bad news.
While for US retail banking, the safe, everyman's Bank of America brand might make sense, in finance, where you hire small groups of people to do very complex things involving large sums of money and a lot of posturing, caché and elite-branded teams are a huge advantage. Bank of America is thus shooting itself in the foot on this front.
It's even worse if you think in terms of global recognition, since Bank of America has none. Merrill Lynch, on the other hand, screams top tier finance internationally. Again, even despite what has happened in the crisis.
Finally and most importantly, Merrill had mental ownership of one of the most powerful and recognizable market symbols... the bull. Do the BAC's brand gurus realize what it would take to rebuild a such dominant position around such a common market term? Obviously not.
The revamp, created by The Brand Union, will be backed by an international ad campaign for its global commercial, corporate and investment banking businesses. The campaign breaks today.

The new logo is based on the previous Bank of America identity with its predominant blue and red colouring. Merrill Lynch's bull motif has been dropped from the corporate branding, although it will appear in an ad campaign for Merrill Lynch Global Wealth Management later this year.

The press ad, also by The Brand Union, states: 'Since the coming together of Bank of America and Merrill Lynch, we've emerged as a business of strength, size and capability.' It uses the strapline, 'Signed, sealed and delivering'.
Signed, sealed, and delivering says absolutely nothing. In another parallel to Citi, it's as bad as Citi's "Let's Get it Done" or "Never Sleeps"... all these things say is "We're working." You better be working, you're a business. Everyone is getting it done, losing some sleep, and delivering these days. This communicates nothing to people.
And while BAC might still bring the bull back from pasture now and then for an ad, I'm sure it will have clearly lost its edge. Again look to Citi's Smith Barney brand in the US. Ok it's still there, but it's massively devalued from what it used to be. It's cheap, it's now a gimmick for US retail investors and nothing more.
To me the value of Merrill's old logo is so obvious that it makes me think perhaps Bank of America's own arrogance was the problem, and got in the way of making the highest value decision. After all, they acquired a floundering Merrill and now probably feel they are the dominant male. Anyhow, will BAC survive this? Sure, but I tell you this: If two people called me with the same job and same salary... one for a company called Merrill Lynch and another for Bank of America... I know immediately where I'd be going despite the crisis. And the same probably goes for most people in the world. This is the kind of intangible brand value BAC has destroyed and I'm sure a lot of Merrill employees will feel its loss.