By: Brendan Gilmartin, VP Research & Content
Best Buy (NYSE:BBY) is scheduled to report 1Q 2014 earnings before the opening bell on Tuesday, May 21. The earnings are expected at 7:00 a.m. EST and will be followed with a conference call at 8:00 a.m. Best Buy is expected to garner close scrutiny this period given the recent turnaround efforts and the fact that the shares have more than doubled year-to-date to a recent high near $27.00, a level not seen since mid-2011.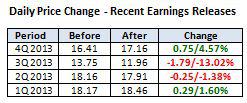 Outliers And Strategy
Best Buy is expected to post a profit of $0.25 per share for the 1Q 2014 period. Forecasts range from $0.14 to $0.32. (Source: Yahoo! Finance)
Revenue for the period is seen dropping 8.3% from the year-ago level to $10.64 bln. Some estimates are running has high as $11.0 bln.
Comparable Store Sales: According to Zack's Institutional Research, Best Buy's comparable store sales are seen falling 5.3% for the 1Q period.
Best Buy shares are quite active on earnings. The average move in response to quarterly results is just over 6% while the options market is currently pricing in a 8% change in the stock price.
Despite the recent run-up in Best Buy (+127% YTD), shares are trading for just 11.16x forward earnings and a mere 0.2% sales. The debt load is manageable and the company has $5.38 per share in cash on its books while paying a 2.5% dividend.
Recent News
04/30: Best Buy sold its 50% interest in Best Buy Europe, the joint venture it created in 2008 with Carphone Warehouse Group plc (CPW). The sale price was GBP 500 million (approximately $775 million as of April 29, 2013).
04/30: According to a report on Barron's Online, Deutsche Bank upgraded Best Buy from Hold to a Buy rating and increased the price target from $17 to $28. The firm reportedly cited expectations for stronger than expected 1Q earnings, cost-cutting efforts, waning competitive pressures through effective price-matching and a solid balance sheet. The firm also boosted the 1Q earnings estimate to $0.32, well above consensus estimates.
04/22: Wedbush reiterated an Underperform rating on Best Buy, with a price target of $9.00, according to a post on StreetInsider.com. The firm cited doubts over the company's turnaround efforts and smaller margins.
03/25: Best Buy Founder, Richard

Schulze, retur

ned to the company as its Chairman Emeritus to support transformation efforts.
03/04: Best Buy authorized payment of a regular quarterly cash dividend of $0.17 per share. The current yield is 2.53%.
Technical Review
Best Buy shares have been breaking out in recent months, climbing to the highest level since mid-2011, following a 127% YTD increase. The shares are now just shy of longer-term resistance in the $27.50 area. Failure to overcome that mark or a tepid earnings release could drag the shares toward near-term support near $26.00, with downside risk to the 50-Day SMA near $24.00, followed by $22.00 (chart courtesy of StockCharts.com).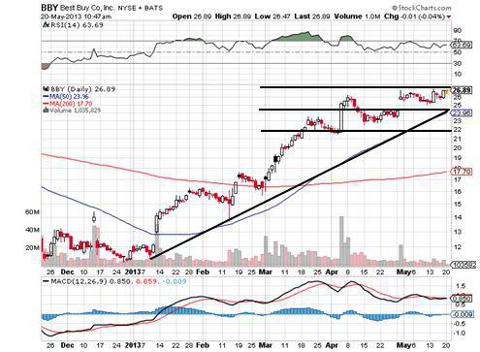 Summary
Best Buy shares have been on a tremendous run YTD, benefiting from initial upbeat results from its turnaround efforts, cost-cutting to support margins, the sale of its stake in Best Buy Europe, and a robust balance sheet, with more than $5 per share in cash on its books. But given the magnitude of the recent run-up, the shares nearing a multi-year technical resistance zone, and diminished volume in recent weeks, Best Buy could be poised for a pullback, barring a stellar earnings release.
DISCLAIMER: By using this report, you acknowledge that Selerity, Inc. is in no way liable for losses or gains arising out of commentary, analysis and or data in this report. Your investment decisions and recommendations are made entirely at your discretion. Selerity does not own securities in companies that they write about, is not an investment adviser, and the content contained herein is not an endorsement to buy or sell any securities. No content published as part of this report constitutes a recommendation that any particular investment, security, portfolio of securities, transaction or investment strategy is suitable for any specific person.
Disclosure: I have no positions in any stocks mentioned, and no plans to initiate any positions within the next 72 hours. I wrote this article myself, and it expresses my own opinions. I am not receiving compensation for it (other than from Seeking Alpha). I have no business relationship with any company whose stock is mentioned in this article.