I've been searching and researching for new drugs that have a high potential to become blockbusters and big stock winners and I came across one that looks particularly interesting. CPP-115 is an exciting new drug that was designed by the world-renowned drug developer, Dr. Richard Silverman, professor emeritus at Northwestern University. Dr. Silverman is a proven drug designer who is responsible for the synthesis of some of the world's most successful drugs in the neurology domain including Pfizer's (NYSE:PFE) $2 billion dollar plus blockbusters, Lyrica and Neurontin.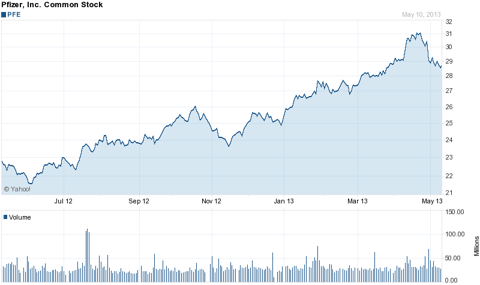 Both Neurontin and Lyrica were originally approved to treat neuropathic pain and subsequently won approval in a range of other indications including epilepsy.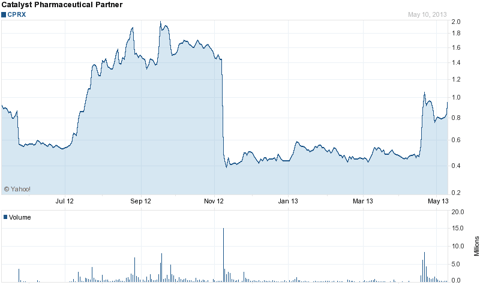 In 2009, Catalyst Pharmaceutical Partners, Inc. (NASDAQ:CPRX) entered into a license agreement with Northwestern University, under which it acquired worldwide rights to commercialize new GABA aminotransferase inhibitors and derivatives of vigabatrin that were discovered and patented by Northwestern. Catalyst has designated the lead compound to be developed under this license as CPP-115.
CPP-115 is an analogue of the existing approved vigabatrin that is being sold under the name Sabril. Sabril is currently used to treat Epilepsy and Infantile spasms.
Sabril U.S. sales in 2012 were $72 million, up 22% from 2011. It is reasonable to assume that if it were not for the adverse side effect of permanent loss of peripheral vision, Sabril sales would be substantially higher. In animal studies, CPP-115 has shown substantially less side effect in dose 20 times the effective dose.
Sanofi (NYSE:SNY) markets Sabril in Europe and Lundbeck owns the United States rights.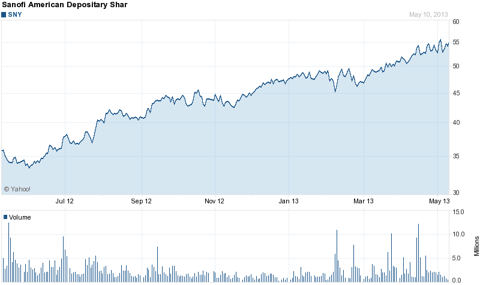 CPP-115 is 200 Times More Powerful than Sabril and it is Safer
Although a derivative, CPP-115 is very different from Sabril because it is estimated to be 200 times more powerful and has also demonstrated that it does not have the same potential adverse side effect of peripheral vision loss. Because of its improved safety profile and potentially greater potency, CPP-115 is believed to have a substantially broader range of applications for indications than vigabatrin (Sabril) implying far greater sales potential.
On May 22, 2012, Catalyst reported positive results from a double-blind, placebo-controlled, clinical trial evaluating the safety, tolerability and pharmacokinetic profile of CPP-115. The key findings were:
CPP-115 was well tolerated at all six doses administered in the study; there were no significant adverse events, and no cardiovascular or respiratory events were reported in the study; and
CPP-115 was rapidly absorbed (time to peak blood concentration was about 30 minutes).
Catalyst hopes to begin further human clinical trials evaluating CPP-115 later in 2013 and intends to pursue grants from the NIH and foundations. In addition, Catalyst is seeking a strategic partner to work within the development and future commercialization of CPP-115.
CPP-115 has already been granted orphan drug designation by the FDA for the treatment of infantile spasms and orphan medicinal product designation in the European Union for West's syndrome (a form of infantile spasms). Orphan drug designation has the several advantages of extended marketing exclusivity times, faster FDA approval times and substantially higher pricing than traditional drugs.
Epilepsy
Epilepsy affects about 2 million people in the United States and about one-third or about 650,000 are "refractory" meaning that they are resistant to treatment. CPP-115 offers the potential to treat epilepsy patients including the 650,000 refractory patients who are without treatment options and in need.
Infantile Spasms
"Infantile spasms" is a difficult-to-treat epilepsy syndrome that usually strikes infants between three to six months old. An estimated 8,500 infants in the US have been diagnosed with Infantile Spasms. Each year, approximately 2,500 new cases of "IS" are reported in the US and until now, no FDA-approved treatments have been available. Sabril may not be appropriate for use in all "IS" patients given the potential risk of permanent vision loss, but CPP-115 with fewer adverse effects may have a much broader appeal.
New Indications for CPP-115
Catalyst is seeking to develop new prescription therapies for a wider range of other central nervous system therapies, beyond infantile spasms, epilepsy and/or other selected diseases in which modulation of GABA levels might be beneficial, such as Tourette Syndrome, Post Traumatic Stress Disorder and other movement disorders.
Tourette Syndrome
It is not known how many people have Tourette Syndrome but a Centers for Disease Control and Prevention study has found that 3 of every 1,000 children 6 through 17 years of age and living in the United States have been diagnosed with TS based on parent report; this represents about 148,000 children. Other studies using different methods have estimated the rate of TS at 6 per 1,000 children.
There is no cure for Tourette syndrome but there are a number of drugs that are prescribed for treatment. One of the more frequently used drugs is generic clonidine made by Teva Pharmaceutical Industries Limited (NYSE:TEVA).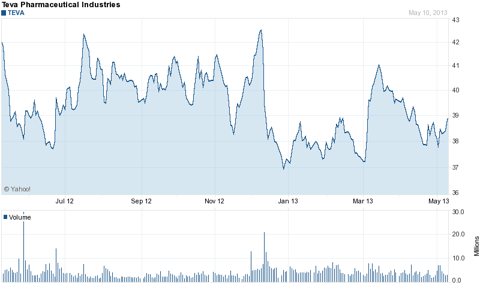 In conjunction with scientists at New York University and the Feinstein Institute for Medical Research, Catalyst filed a patent application with the USPTO for the use of GABA aminotransferase inhibitors, including their CPP-109 and CPP-115, in the treatment of Tourette syndrome. The firm also entered into a license agreement with NYU and the Feinstein Institute granting Catalyst worldwide rights to the claims covered in this patent.
Catalyst is currently providing CPP-109 (the less powerful predecessor to CPP-115) and financial support for a small Phase 1/2 study being undertaken at Mt. Sinai School of Medicine in New York to evaluate the use of CPP-109 in treating patients with refractory Tourette Syndrome. This is an open-label study designed to enroll 6 to 10 subjects, from which Catalyst expects results during the fourth quarter of 2013. If data shows evidence of reduction in the number of tics, Catalyst intends to develop CPP-109 and/or CPP-115 for this indication.
Movement Disorders
There are dozens of movement disorders such as Parkinson's Disease, Dystonia, Ataxia, Cerebral Palsy, Tremors and several others, that combined, affect millions of patients. The potential for CPP-115 is enormous because of the large number of movement disorders that remain without adequate treatment. CPP-115 has the potential to treat several of these illnesses.
Post Traumatic Stress Disorder
The National Institute of Medical Health estimates that 3.5% of the U. S. population suffers from some form of Post Traumatic Stress Disorder. In addition to traumatic events, the world is changing rapidly and millions are facing extreme stress from challenging economic times and a rapidly changing world. CPP-115 may have the potential to treat and alleviate this stress that is known to be very damaging to our health because of the toxic adrenaline and cortisol produced in our bodies.
CPP-115 Timeline
Over the next year, Catalyst plans to advance the development of CPP-115 by completing a series of non-clinical studies designed to demonstrate critical safety and efficacy characteristics of CPP-115, as follows:
CPP-115 has already been evaluated through the Anti-convulsant Screening Program at the U.S. National Institutes of Health using a variety of recognized and widely accepted animal models for the evaluation of the effectiveness of potential anti-epileptic drugs.
The visual safety of CPP-115 has been evaluated and compared to the only FDA approved GABA aminotransferase inhibitor drug, vigabatrin. Catalyst hopes to demonstrate that CPP-115's enhanced mechanism of enzyme inactivation results in reduced or eliminated visual field defects compared to vigabatrin.
If approved, the company expects CPP-115 to generate revenues beginning in 2019 or sooner. If CPP-115 is approved for the multiple indications it is believed to potentially treat, then revenues could grow very large and very rapidly.
Firdapse - Icing on the Pipeline
In October 2012, Catalyst in-licensed the North American rights to Firdapse from BioMarin (NASDAQ:BMRN).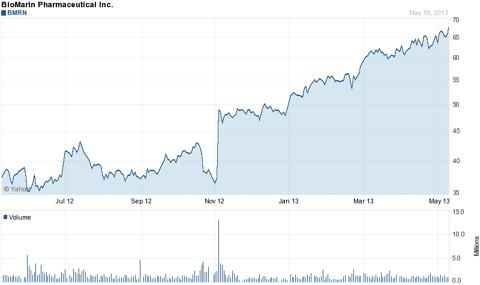 BioMarin also invested $5,000,000 in Catalyst shares. Firdapse is used to treat Lambert-Eaton Myasthenic Syndrome, a rare and sometimes fatal autoimmune disease characterized by muscle weakness and is already approved for sale in Europe. Firdapse sold over $10,000,000 in Europe last year and sales are expected to grow substantially in Europe and the United States once approved. Catalyst has already begun phase III trials for Firdapse.
New Analyst Report
Aegis Capital recently released its report on Catalyst and projected a $2.50 target in the next 15 months. With the potential for CPP-115 to treat so many indications, the $2.50 price target could easily be amended upward.
The Aegis report projects CPP-115 peak sales at 1.6 billion.
Current Financial Information
The company's most recent financial statements for the quarter ending March 31, 2013, show a cash position of $14,467,991 and total liabilities of only $1,548,413.
Conclusion and Risk
Catalyst Pharmaceutical Partners, Inc. is a micro cap company and therefore carries the inherent risks of earlier stage micro cap companies. There is risk that CPP-115 and or Firdapse may fail future trials or that CPP-115 may not be approved for as many indications as are currently expected and there is also the possibility that the company may not be able to raise adequate capital to be an ongoing enterprise.
CPP-115 appears to have greater than normal potential and if it lives up to expectations and if the company is able to remain financially able, then the future for CPP-115 and Catalyst Pharmaceuticals is looking very bright.
Disclosure: I have no positions in any stocks mentioned, and no plans to initiate any positions within the next 72 hours. I wrote this article myself, and it expresses my own opinions. I am not receiving compensation for it. I have no business relationship with any company whose stock is mentioned in this article.