Between the Casino stocks that I have been covering recently with exposure to Macau, MGM Resorts International (NYSE:MGM) is the company with the largest exposure to the Las Vegas Strip market. MGM Resorts is the largest gaming company in the Las Vegas Strip gaming and hotel market, its properties include approximately 30% of all rooms on the Strip. The majority of the company's revenue comes from the USA with MGM China currently contributing approximately 20% of the company's revenue and EBITDA.
MGM China is much safer from competition, because only six companies are licensed to operate in Macau (as discussed extensively in my articles about Las Vegas Sands (NYSE:LVS) and Wynn Resorts Ltd. (NASDAQ:WYNN) because they have comparatively large stakes on the island), effectively that grants the operation a solid economic moat for the foreseeable future.
MGM Resorts is a turnaround story after flirting with bankruptcy in the recent past. Trying to valuate the company I encountered several difficulties. At the heart of the matter is debt load. It's huge and for many investors, it's a turn-off and to many, it should be. Yet, I will spend considerable time examining it, because getting some insight into the debt load is necessary to get an idea about this investment prospect.
Under the destructive tenure of former MGM CEO Terry Lanni, who overpaid for acquisitions funded by leveraging the company, one of them the massive City Center project that nearly drove MGM into filing for Chapter 11, MGM's stock price was driven into the ground.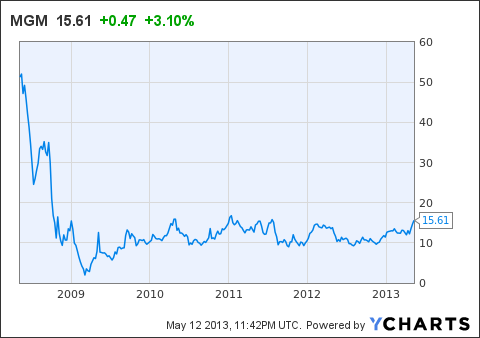 CEO Jim Murren who took over in December 2008 (after being COO since 2007) is halfway through turning the company around. Bankruptcy is not an immediate threat but the company is still significantly more levered than I think is ideal. This is the information the company gave about the issue in their Q1 2013 earnings report:
"We have significant outstanding debt and contractual obligations in addition to planned capital expenditures. We expect to meet our debt obligations and planned capital expenditure requirements with future anticipated operating cash flows, cash and cash equivalents, and available borrowings under our senior credit facility. Excluding MGM China, at March 31, 2013 we had $1.1 billion of principal amount of long-term debt maturing, and an estimated $826 million of cash interest payments based on current outstanding debt and applicable interest rates, within the next twelve months. At March 31, 2013, we had $13.7 billion of indebtedness, including $2.9 billion of borrowings outstanding under our $4.0 billion senior credit facility and $553 million outstanding under the $2.0 billion MGM China credit facility. On April 1, 2013, we used a portion of the cash balance to repay our $462 million 6.75% senior notes at maturity."
In the Q1 2013 earnings report they break down the debt as follows: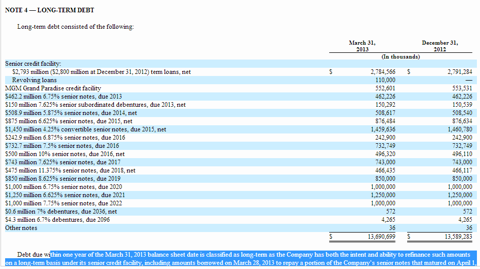 The senior credit facility is the crux of the matter. I apologize about the flood of dry material but I think it's important I quote the latest 10-Q because the company lays out how these loans are collateralized and what conditions are tied to the credit facility.
Senior credit facility.
At March 31, 2013, the Company's senior credit facility consisted of $1.2 billion of revolving loans, a $1.05 billion term loan A facility and a $1.75 billion term loan B facility. The revolving and term loan A facilities bear interest at LIBOR plus 3.00% and are subject to credit rating adjustments six months after the initial loan. The term loan B facility bears interest at LIBOR plus 3.25% with a LIBOR floor of 1.00%.
The revolving and term loan A facilities mature in December 2017 and the term loan B facility matures in December 2019. The term loan A and term loan B facilities are subject to scheduled amortization payments on the last day of each calendar quarter from and after March 31, 2013 in an amount equal to 0.25% of the original principal balance.
The Company permanently repaid $7 million in the first quarter of 2013 in accordance with the scheduled amortization. The Company had $1.05 billion of available borrowing capacity under its senior credit facility at March 31, 2013. At March 31, 2013, the interest rate on the term loan A was 3.28%, the interest rate on the term loan B was 4.25%, and the interest rate on the revolving loans was 3.18%.
The land and substantially all of the assets of MGM Grand Las Vegas, Bellagio and The Mirage secure up to $3.35 billion of obligations outstanding under the senior credit facility.
In addition, the land and substantially all of the assets of New York-New York and Gold Strike Tunica secure the entire amount of the senior credit facility and the land and substantially all of the assets of MGM Grand Detroit secure its obligations as a co-borrower under the senior credit facility, initially equal to $450 million and subject to gaming authority required annual amortization.
In addition, the senior credit facility, upon receipt of the necessary gaming approvals with respect to the properties located in Nevada, will be secured by a pledge of the equity or limited liability company interests of the subsidiaries that own the pledged properties.
The senior credit facility contains customary representations and warranties and customary affirmative and negative covenants. In addition, the senior credit facility requires the Company and its restricted subsidiaries to maintain a minimum trailing four-quarter EBITDA and limits the ability of the Company and its restricted subsidiaries to make capital expenditures.
Beginning with the quarter ended March 31, 2013, the Company and its restricted subsidiaries are required to maintain a minimum EBITDA (as defined) of $1.0 billion. The minimum EBITDA increases to $1.05 billion for September 30, 2013 and December 31, 2013, with periodic increases thereafter. EBITDA for the trailing twelve months ended March 31, 2013 calculated in accordance with the terms of the senior credit facility was $1.2 billion. The Company and its restricted subsidiaries are within the limit of $500 million of capital expenditures for the calendar year 2013.
The senior credit facility provides for customary events of default, including, without limitation, (I) payment defaults, (ii) covenant defaults, (III) cross-defaults to certain other indebtedness in excess of specified amounts, (iv) certain events of bankruptcy and insolvency, (V) judgment defaults in excess of specified amounts, (vi) the failure of any loan document by a significant party to be in full force and effect and such circumstance, in the reasonable judgment of the required lenders, is materially adverse to the lenders, or (VII) the security documents cease to create a valid and perfected first priority lien on any material portion of the collateral.
In addition, the senior credit facility provides that a cessation of business due to revocation, suspension or loss of any gaming license affecting a specified amount of its revenues or assets, will constitute an event of default.
Again, I'm sorry to quote so extensively but I feel it's justified because of the importance of the debt situation. There are quite a few pretty scary things in there. Although current ttm EBITDA with $1.82 billion is well into the safe zone, there are periodic increases on the minimum EBITDA as soon as September 30, 2013. If earnings keep growing MGM will actually be able to decrease yearly interest payments by a few hundred million but that doesn't increase EBITDA numbers.
In addition, MGM is restricted to capital expenditures of 500 million a year, so it's hard to cheat their way into additional EBITDA (by acquisition), although this does offer the investor some protection against another overextension.
Given the current numbers and forecasts MGM will be able to pull through. What I'm trying to assess is how much headwinds can they sustain before seriously jeopardizing the company. To get a more clear picture I assembled a few graphs illustrating how gross profits are developing: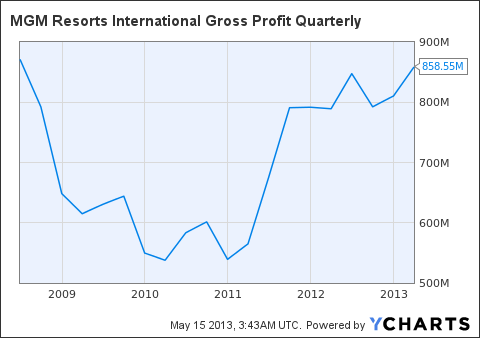 MGM Gross Profit Quarterly data by YCharts
After determining that gross profits are moving in the right direction and actually looking good, let's move on to the quick ratio. This ratio tells investors approximately how capable the company is of paying off all of its short-term debt without having to sell any inventory. (also called the acid test.) Formula = (cash + accounts receivable + short-term investments) / current liabilities: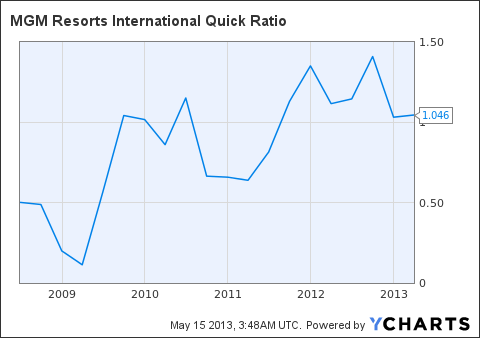 MGM Quick Ratio data by YCharts
The quick ratio isn't looking that great. If MGM would for any reason get close to defaulting on their bank loan (which in my opinion would be disastrous to the share price). They would not be able to quickly pay it off without strong measures, selling off some asset in a fire sale, most likely.
The bright side of having a large debt load is that if you survive while paying it down, you get to increase your net income in a very consistent way.
Morningstar provides a comprehensive financial history of the recent past of MGM. To give you an idea, where operations have been during the downturn and are developing now. However note that MGM turned a small net profit in Q1 2013 of $6.5 million as shown in the 10-Q.
What do Insiders Think?
Insiders don't appear to be entirely convinced of smooth sailing from here as ownership of shares outstanding is at 0.02% by key insiders and although it improved TTM with 47%, this is not signaling 100% conviction to me.
Earnings Forecasts
Given the current complex situation of MGM, which is very sensitive to future developments and can result in highly polarized results, depending on how the future will turn out, it is important to examine outlook.
Historically the summer is a very good time for Las Vegas. People spend their vacations there and there are a myriad of events going on.
The housing market in Las Vegas is in a recovery and recently property values increased by 15% in Las Vegas (one of the hardest hit markets).
The world's largest economy is forecast to expand 2 percent this year, according to the median estimate of 81 economists surveyed by Bloomberg. Americans will spend more to travel, prices for oil and gasoline falling helps.
MGM stands to benefit the most from an improving economy and a rebound in convention visitors (the number of which the company forecasted to increase during the next quarter during the Q1 call). One of the indicators for a profitable summer being the seating capacity of airlines into Vegas going up a few %.
These positive forecasts have probably had their effect on the MGM stock that has been trending upward lately. The economic forecast data tells the story that most likely, Vegas (and MGM is very much tied to it) will do better this year than last year. The frequency with which shock events or an otherwise unexpectedly disappointing summer is still an unknown.
Given there is quite some positive data available and the summer is very close I think by putting a number like a 10% chance of disastrously disappointing future results, is sufficiently conservative.
Value of the Brands
Recently the State of New Jersey started the process of legalized online gambling. Although MGM is in no position to make huge investments in the market, it is relatively easy to either license existing software or license out their brands. The first of these options probably being more likely. I intend to write a piece entirely about this subject, if it appears federal legalization is an option or at least a few major states are getting on board. There might be some hidden value in these brands.
Valuation
Cyclical companies barely escaping bankruptcy and continuing to battle debt load are hard to value when looking at ongoing operations. Earnings are still understated because of properties not being fully utilized (like the new City Center, where business is now picking up) and the cyclical Las Vegas operations being stuck in a bad part of the cycle.
At the same time it's easy to paint a future that is much too rosy, MGM still has to prove it can improve operations and fight down the $13 billion in debt they carry.
To try to convey the situation MGM is in, here is a table showing Enterprise Value/EBITDA and the commonly used Price/Book. EV/EBITDA is more useful in this situation and it shows MGM is a little bit more affordable than WYNN and a lot more affordable than LVS, when we are evaluating the company on the basis of this metric alone.
| | | |
| --- | --- | --- |
| Company | Enterprise Value / EBITDA | Price/Book |
| MGM | 10.84 | 1.71 |
| LVS | 15.92 | 6.51 |
| WYNN | 11.74 | N.A |
If we look at a more traditional metric used in valuation, forward P/E stands at 6.9 according to YCharts, which is a modest number in comparison to its competitors that admittedly face better growth prospects because of their larger stakes in overseas operations. These stakes have a much more solid competitive advantage because the number of competitors is limited because of only six available licenses. Which translates into higher growth expectations.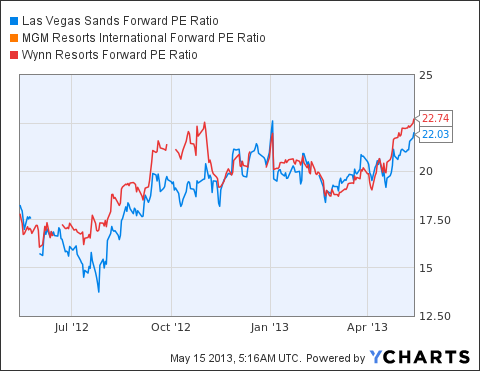 LVS Forward PE Ratio data by YCharts
I also attempted to valuate the company doing a DCF calculation. This calculation is much more useful when cash flows are steady or easy to predict. I don't recommend putting too much weight on this calculation while valuing MGM right now.
However given what I think were representative numbers of its current situation and possible future developments, for what it is worth, I value the company by DCF at approximately $18.
Conclusion
If the Casino did always win, the decision whether to invest in MGM Resorts International would be much less of a headache.
The only thing I'm sure off regarding MGM, is that an investment in the company carries a lot of risk. At the same time, the odds appear to be slightly favorable.
If you operate by Buffett's rule: "Never lose money" you should probably stay away, if you bet whenever the odds are right, there might be an opportunity here. When in doubt: Listen to Buffett, is something I try to live by. That means, that to me MGM at the current price ($15.34) and in this situation is not sufficiently undervalued given the likely future volatility of the investment.
Disclosure: I have no positions in any stocks mentioned, and no plans to initiate any positions within the next 72 hours. I wrote this article myself, and it expresses my own opinions. I am not receiving compensation for it (other than from Seeking Alpha). I have no business relationship with any company whose stock is mentioned in this article.