The S&P 500 (NYSEARCA:SPY) closed the week at 1,667 and again set a record high. A few weeks ago I wrote Can An Extended S&P 500 See Further Gains? and said that I was bullish. As the S&P 500 moved up I stuck with the bullish perspective, but made some small adjustments to my tactics to lock in some gains along the way. Every week I look at the S&P 500's earnings, valuation and estimates to get a sense of the fundamental framework of the market. Although the S&P 500's price chart looks very extended, it does not seem that the S&P 500's fundamentals are as stretched. In this article I will look at these dynamics and examine the top 100 companies in the S&P 500 in more detail.
S&P 500 Price Action
The S&P 500 traded through the top of a channel that has been supporting the rally from the November lows. Furthermore, the S&P 500 extended its distance from the major moving averages. All this suggests that the S&P 500 is extended.
The S&P 500 may be due for a pause, or even a pullback. In fact, the S&P 500 can always sell off for any reason, not only when it is at record highs.
Given this environment it is important to look at the S&P 500's fundamentals to determine if a pullback is a buying opportunity or a sign of more declines to come.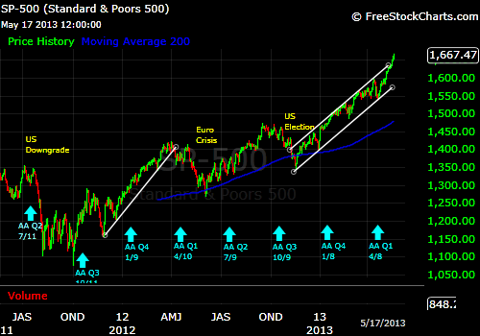 (Source: FreeStockCharts.com)
S&P 500's Q1 2013 Earnings So Far
Standard & Poor's did not update its earnings data last week, so the following comes from Factset.
Four hundred sixty-three companies in the S&P 500 reported Q1 earnings and 70% beat analyst earnings estimates. However, only 47% beat analyst revenue estimates.
The "blended earnings growth rate" for Q1 2013 is 3.2% and the "blended revenue growth rate" for Q1 is -0.3%.
For a few weeks I have described Q1 earnings as good, but not great. The bears will focus on the fact that the revenue trends are weak and earnings are only growing by a small amount. However, this has been the case for several quarters and is not "new" news.
Importantly, it looks like Q1 earnings growth will be a bit stronger than we have seen in a few quarters. Furthermore, the Q1 numbers seem to be giving investors optimism about the rest of the year.
The Q1 results were likely negatively impacted by the fiscal drag from tax increases and the sequester. Investors may be adjusting the results for the fiscal drag and becoming more positive on the rest of the year when the fiscal drag will be less severe.
Please see my last article about the S&P 500 (S&P 500 At Another Record: Update On Earnings, Valuation And Estimates) for a detailed analysis of the P/E multiple of the S&P 500.
Although the S&P 500's P/E multiple has been rising, it only seems high compared with the last few years. On a multi-decade time frame, the S&P 500 is still trading at a low multiple.
Focus On The Top 100 In The S&P 500
Every week I focus on the top 100 companies in the index, which comprise 64% of the value of the S&P 500.
Below are four charts about the top 100 companies in the S&P 500: (1) 5-day price change, (2) forward P/E multiples, (3) analysis of companies with FY1 P/E multiples lower or higher than the median for the group and (4) changes in analyst estimates for FY1 over the last 7 and 30 days. I want to highlight a few key points.
Apple (NASDAQ:AAPL) was a notable laggard last week. Apple has bounced back from its pre-earnings low, so maybe the price action last week just represented a pause.
I watch the analyst estimates for Apple closely to gauge sentiment about the company (see fourth chart). After months dropping rapidly, estimates for Apple's earnings have been flat recently.
This could be a bottom in sentiment, but the real test comes before next quarter's earnings. Analysts generally change their forecasts around earnings time. Here is a closer look at Apple's EPS estimates.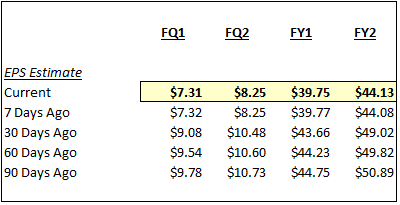 (Source: Yahoo Finance)
In contrast with Apple, Cisco (NASDAQ:CSCO) was one of the big gainers in the S&P 500 last week. Cisco's gains came mostly as a result of very strong quarterly results.
From a big picture perspective, the rally in the S&P 500 was very broad last week.
The fourth chart shows the changes in earnings estimates over the last seven and 30 days. There does not seem to be a clear pattern with the changes to earnings estimates and it seems that they are roughly split on the positive and negative side.
Last year at this time it seemed like there was a heavy bias toward negative revisions, so this seems like a positive development.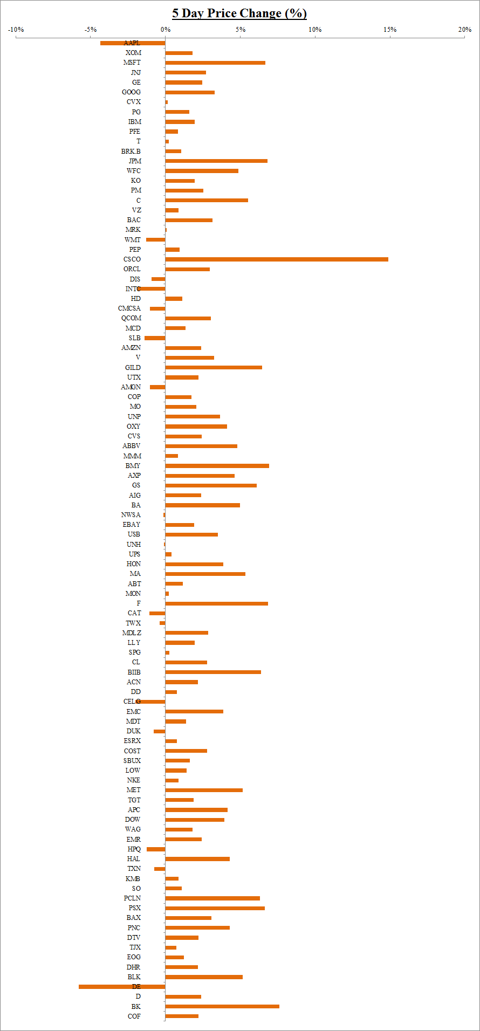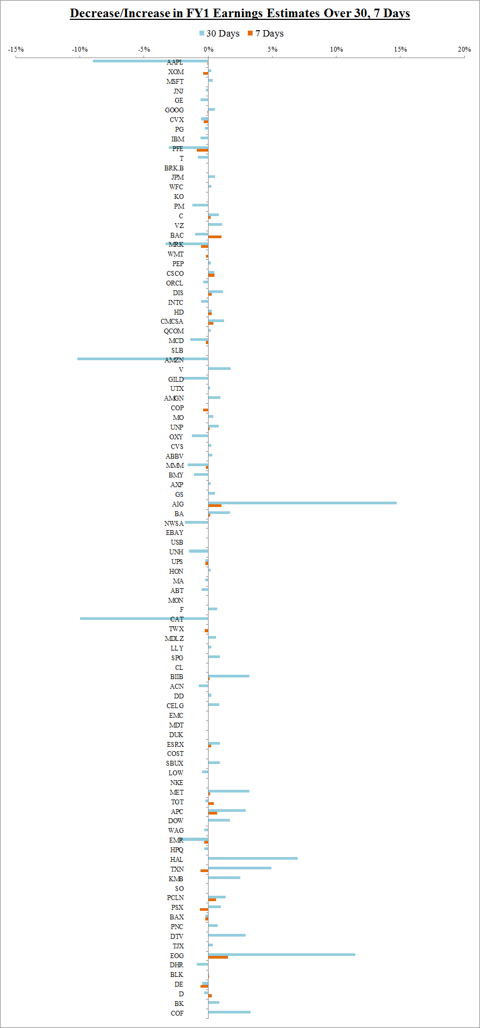 (Source: Yahoo Finance, see further notes below.)
Conclusions
The chart of the S&P 500 suggests that it is extended. I do not want to make a prediction about a possible top, but prefer to focus on analyzing the fundamentals.
Q1 earnings season looks like it will be one of the best in a while. Earnings are not great, but seem good enough. Furthermore, Q1 earnings seemed to give investors incremental optimism about the rest of the year.
On a valuation basis, the S&P 500 only looks stretched compared with the last few years, but not the last few decades. It is hard to make a bearish argument based on valuation alone.
Finally, earnings estimates for the top 100 companies seem to support the bullish case. This time last year there were a lot of negative revisions, but now the dynamic seems balanced.
There are many factors that impact the S&P 500 (and I hope to write about some of the macro factors again soon). However, the fundamentals seem to support the bullish case on a mid/long term perspective.
Notes
The tables exclude the following: P/E multiples greater than 100 and P/E less Median values greater than 50. Additionally, some information about Amazon, Berkshire Hathaway, AbbVie, Mondelez and Abbott Laboratories was not available.
The mean and median figures presented in this article represent the unweighted mean and median of the metrics for the 100 components in the SPDR S&P 500 ETF Trust and are not capitalization-weighted like the index itself.
Earnings Estimates are based on data from Yahoo Finance as of May 18, 2013.
Disclosure: I am long AAPL, BAC, F, ORCL, WMT, GS, SBUX. I wrote this article myself, and it expresses my own opinions. I am not receiving compensation for it (other than from Seeking Alpha). I have no business relationship with any company whose stock is mentioned in this article.
Additional disclosure: I am long puts on the SPY, which stand to gain in value if the SPY declines. I am long AAPL through call options, not common stock.Please not that I may trade any of the securities mentioned in this article at any time, including in the next 72 hours.
Disclaimer: The opinions expressed above should not be construed as investment advice. This article is not tailored to specific investment objectives. Reliance on this information for the purpose of buying the securities to which this information relates may expose a person to significant risk. The information contained in this article is not intended to make any offer, inducement, invitation or commitment to purchase, subscribe to, provide or sell any securities, service or product or to provide any recommendations on which one should rely for financial, securities, investment or other advice or to take any decision. Readers are encouraged to seek individual advice from their personal, financial, legal and other advisers before making any investment or financial decisions or purchasing any financial, securities or investment related service or product.
Information provided, whether charts or any other statements regarding market, real estate or other financial information, is obtained from sources which we and our suppliers believe reliable, but we do not warrant or guarantee the timeliness or accuracy of this information. Nothing in this article should be interpreted to state or imply that past results are an indication of future performance.
THERE ARE NO WARRANTIES EXPRESSED OR IMPLIED AS TO ACCURACY, TIMELINESS, COMPLETENESS, OR RESULTS OBTAINED FROM ANY INFORMATION IN THIS ARTICLE OR ANY LINKED WEBSITE.